This weekend, I'll hop on a bus and ride it for 10 hours, into another country, where I'll have my first out-of-homeland threesome. We've been planning it for six weeks. Those weeks have felt like years.
See, both of my previous threesomes were impromptu – happy accidents of timing and circumstance. This one was deliberate, chosen, considered. I can see the merits of both approaches: spontaneous sex gives my anxiety less time to take root and psych me out, while long-haul schemin' allows for excitement to build like a pre-record-launch hype campaign.
Any activity is more fun if you're doing it with people who love it. That's true of sex, and it's also true of planning sex. Both of my threesome co-conspirators in this case – Bex and a gentleman friend of ours – are as nerdy about sex as I am. This made our brainstorming, scheduling and co-ordinating into a delightful process, like planning a party… except with more sexting.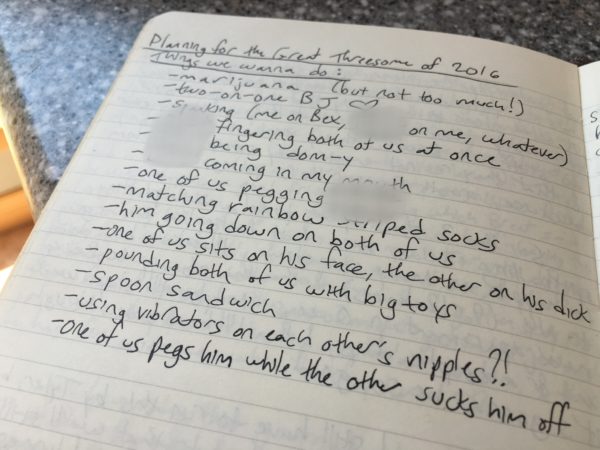 The Negotiations
When you think about sex critically and deeply on a regular basis, you become more aware of what you want, what you like, what turns you on – and what doesn't. Once you know what you want, the next step is to ask for it. That can be scary sometimes: our carnal cravings are so close to our hearts and entrenched in cultural shame that often our inclination is to downplay our desires. But I'm lucky enough to be having a threesome with two people I deeply trust, who I know would never shame me for articulating what I want.
In weeks of chatting and spitballing, we came up with some mutually exciting activities to include in our threesome docket. And the best part of it is, all three of us are so easygoing and invested in each other's enthusiastic consent that we know we can abandon anything on the list if it feels wrong on the day of. "We'll just be like a bunch of little puppies," dude said to me in one of our many excited exchanges about threesome logistics. "We'll try stuff out."
Bex and I are solely-platonic friends who engage with each other sexually on a very limited basis, so part of our negotiations involved setting boundaries for what we will and won't do to each other. Fortunately, we were on the same page about everything we discussed: we're cool with doing a double BJ, making out, and some boob stuff, but below-the-belt action is off the table except for maybe manoeuvring dildos.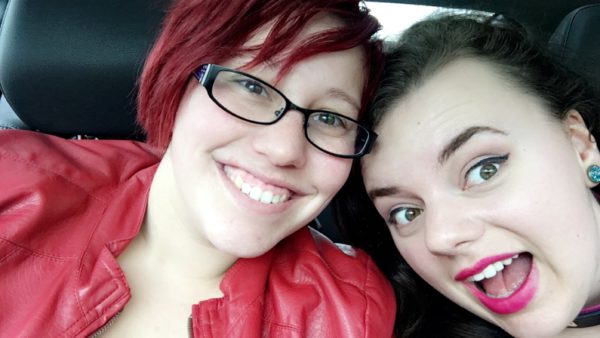 The Feelz
Sex nerds understand that sometimes sex stirs up feelings, and the best defense against icky feelz is to talk them out, before, during and after your experience of them. Good communication where everyone feels respected, heard, and valued = good sex, with minimal drama.
The dude in our trio is someone with whom I have sexual history. He also gives me hella heart-eyes feelings, and I sometimes struggle with jealousy when I really like someone. Both he and Bex repeatedly made sure I was okay with "sharing him," before and during the planning of our ménage. Though I might have felt gross if he'd jumped into the three-way headfirst without regard for my feelings, the amount of care he took with me put me at ease. As of right now, I'm not feeling a shred of jealousy – but I know that if I do feel strange on the day itself, I'll have two friends there to talk it out with.
If you find yourself dealing with similar jealousies leading up to a threesome, think about what kinds of accommodations might help with that. I asked Bex if I could be the one to swallow dude's cum after we blow him together, because being "rewarded" with jizz at the end of a beej feels satisfyingly intimate to me and I think I'd be sad if I missed out on it. Bex said yes, 'cause they're an angel.
Bex has also recently started using they/them pronouns full-time and publicly identifying as non-binary, and that entered into our pre-threesome talks as well. Dude was amenable to learning about gender stuff, especially since he knows getting it wrong could kill the moment – so we talked about what pronouns, names and titles were and weren't okay. Yay, respect and correctness!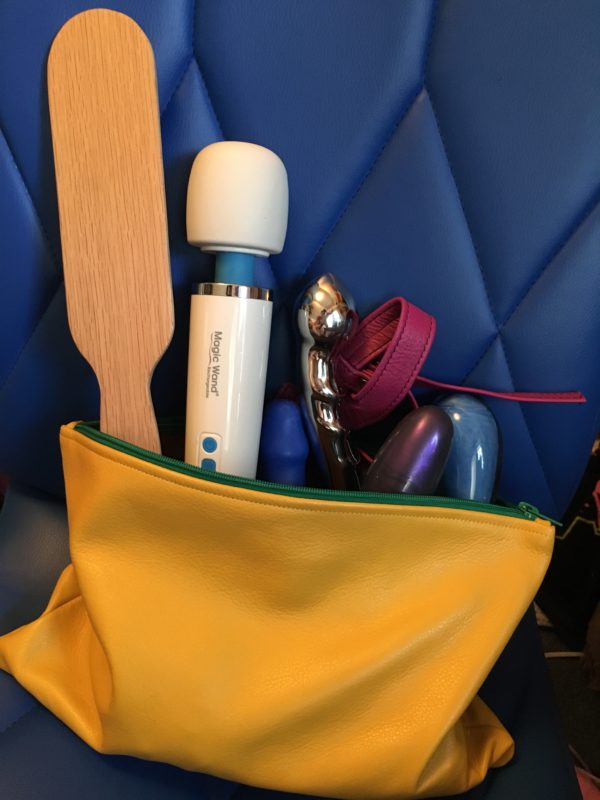 The Gear
I know all you sex toy nerds are curious about what I'm bringing, so here's a rundown:
• Pegging may or may not happen, depending on the Whims of the Butthole. I've packed my pink Aslan Jaguar harness. Assuming we get the go-ahead, it could either be me or Bex who'll do the fucking; we'll see how we feel. I've also packed my bright blue Happy Valley Perk, because it feels the most like "my cock," though I'm open to strapping on other dildos too.
• Dude likes using toys on people, and has proven his prowess at doing so. Bex and I think it's hilarious to imagine him fucking us each simultaneously with our own Eleven or Double Trouble, so I've packed both of mine. Dual-wielding!!
• Vibe-wise, I'm bringing my Magic Wand Rechargeable and maybe my Tango. I just need something reliable to hold on my clit while dude finger-bangs me or pounds me with a toy or fucks me… Um, no, I'm not blushing! Why would you say that?!
• Bex and I like when I spank them, so that'll probably happen during this threesome. They own all our favorite implements (including the almighty Pelt), so the only impact toy I'm bringing is my Maddie's Dungeon wooden paddle, 'cause it's cool.
• I threw my Ryder in there because last time I slept with this dude, he liked how tight my vag felt when the Ryder was in my butt. I am always eager to please.
• Like a Boy Scout, I am prepared as hell: my sex toy bag is topped off with dude's favorite condoms, some lube samples, and black latex gloves.
Have you ever planned a threesome? What was the process like for you? (And what toys did you bring?!)