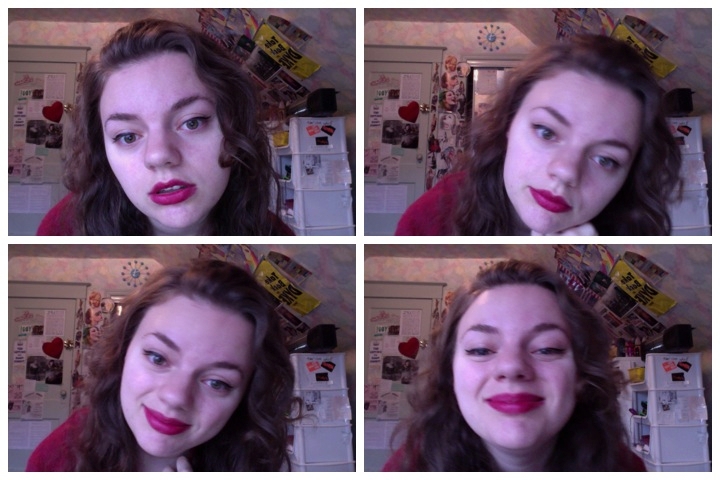 Being in a new long-distance relationship has me pondering ways to create intimacy across vast expanses.
I know it's possible because I've felt it. Sometimes partners who lived just a quick streetcar ride from me made me feel distanced, shut out, because their hearts were walled off to me; comparatively, my darling in New York pulls me close to him via texts, images, and filthy phone-sex soliloquies. Intimacy can exist wherever you make space for it, wherever you fight for it.
We've been playing with digital intimacy in many forms – salacious sexts, obscene FaceTime calls, adventures with app-controlled vibrators – but I'm also drawn, lately, to combining analog romance with the digital. Photo booths are a prime example of our cultural hearkening-back to the analog: like gifting your partner a vinyl LP or sending them a handwritten love letter, snapping instant photos together in a darkened booth is a hot hit of vintage romance.
Here are 5 sexy, kinky, and/or sweet things I'd like to do involving photo booths…

"Strip" tease. I could be ordered to get as naked as I feasibly could in a photo booth, showing off first my lingerie and then my skin. I'd be respectful, making sure no one walked in or got close enough to see – but I'd have to do it, some way and somehow, because my beau'd told me to. I'd grab the strip from its slot surreptitiously on my way out, and slide it into my purse before anyone could see. Four little naked Kates, arranged so neatly for a suitor's later consumption.
Bruise archive. In many of my past kinky relationships, part of our protocol – whether informal or more official – was the taking and sending of bruise photos in the days after particularly intense scenes. It's a way to stretch out the sadomasochistic intimacy of those encounters for days or weeks after they occur. For dominants, I hear it can also be nice to receive confirmation that your submissive not only likes their bruises but is proud of them, wants to show them off, wants to make them last. If I had a photo booth in my neighborhood, perhaps I'd instate a tradition of heading there the day after a good beating – and the week after that, and so on, until the marks had faded – to capture my bruises blooming into glory. What a charming album that'd make.
Cuteness quartet. It's nice to receive a "traditional" gift, like a DVD I've been wanting, a gift certificate to my favorite store, or a soft sweater in my power colors. But I'm even more thrilled by personalized and offbeat gifts. I could see a partner snapping a few photo booth strips of himself for me, making all my fave faces and wearing that shirt that makes his eyes look extra blue. Maybe he'd slide it between the pages of a book he thought I'd like and mail it to me, like the photos were an afterthought, a mere bookmark – but I'd know better. I'd see in the shots how much effort had gone into them, and I'd know that meant he cared. A lot.
Date documentation. I love romantic traditions: these little touchstones we return to again and again, simply because they bring us so much joy. That diner you always go to after all-night fuck-fests; that movie you watch together every year around the holidays; that one alley you can't walk past without making out in it for old times' sake. I like the idea of taking photo booth pictures together at meted milestones in your relationship. I'm a sap, so I'd probably tape them into my journal, or have them framed.
Phone sex. A photo booth would be an interesting place to call up a beau and have them breathe hot and heavy in your ear. You could capture your authentic reactions to their words – gasps, blushes, moans – and snap your lapful of photo strips on your smartphone to send them. And hey, not to get crass, but I wonder what happens to photo booth ink when the strips get splattered in cum…!
What sexy/kinky/sweet things would you like to do in a photo booth?
This post was sponsored by the lovely folks at Ninja Photo, who will rent you photo booths across Canada and so many other places!