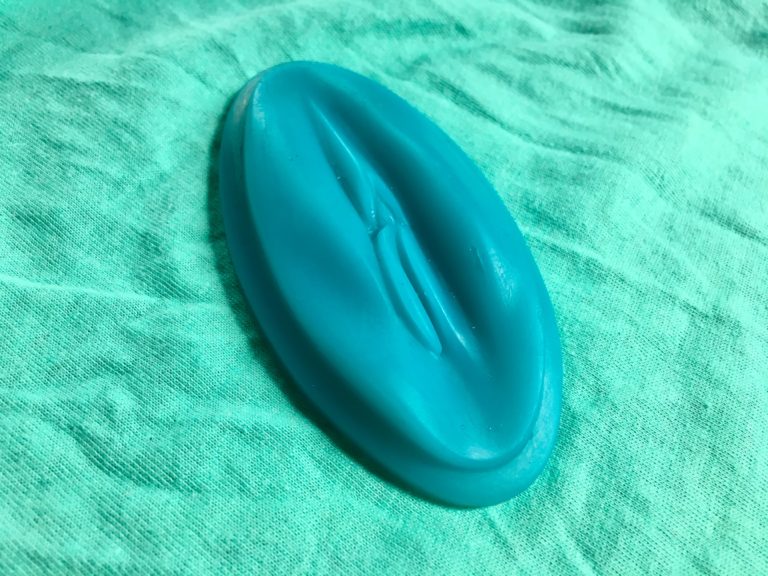 You know that OkCupid question that's like, "How much communication is ideal during sex?" and two of the answers are "A lot!" and "Just enough to get things right"? This question always throws me for a loop, because for me, "enough to get things right" is often "a lot."
My clit, you see, is a diva, a snob, a picky toddler throwing a tantrum. It requires things to be just so. If you were to count up the words I've expended on instructing sexual partners over my lifetime, I'm sure at least half of them would be clit-focused. "Higher, please." "A little softer." "Can you go slower?" "Here, let me move your hand…"
The problem is that my clit is exquisitely sensitive – too sensitive, some might say, though I'm usually quite happy with its sensitivity level. But many of the cis men I bang, being accustomed (one can assume) to their own less-sensitive sexual response, go straight for my exposed clit like it's a button they can mash until they win the game. They mean well, but they lack the nuanced know-how to please my delicate clit without overwhelming it. And I know I'm not the only one this is happening to: I've commiserated with many vulva-having friends about men whose clit-stim techniques are more painful than pleasurable.
Here, then, are some methods of indirect clit stimulation. Try them on your partner(s), or yourself, if a super-sensitive clit is part of your sex life. As with any new sexual exploration, be sure to communicate, check in, and adjust your touch according to its recipient's wishes. And for the love of god, don't skimp on the lube.
Dry-humping. Unf. Is there another sexual act so underrated as this one? I looove the process of getting turned on together by grinding body parts against other body parts while kissing, groping, and giggling. This endeavor is the sort of thing that often falls by the wayside as relationships become more established, but if I had my way, dry-humping would be a part of my sexual repertoire forevermore.
While makeouts and other fun things are happening, you can tease a partner's clit by grinding your thigh, hip, or boner against it, while naked or clothed. Some people can even come from this friction alone. If spanking's on the menu, the over-the-knee position is fantastic for indirect clit stim: your sub can writhe against your lap while you spank them, making them the filling of a delicious pain/pleasure sandwich. *sexually frustrated sigh*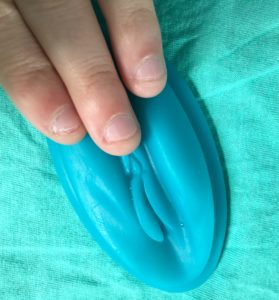 Rub it through the hood. This has been my standard, go-to, failsafe masturbation technique for over a decade, so it seemed almost too obvious to include – and yet, many men I've been with have found this notion confusing, so I'm including it just incase.
The clitoral hood functions much like the foreskin of an intact penis: it serves to protect the underlying structure, keep it moist, and assist in frictionless pleasure. Like rubbing the foreskin up and down over the head of the penis, rubbing the clitoral hood over/around the clit stimulates all those yummy nerve endings without being as overwhelming as direct touch would be.
I like to have little circles rubbed on my clit hood; some people like up-and-down or side-to-side motions, or some combination thereof. Some people have a particular side of their clit that likes to be touched more than the other. Experiment, communicate, and see what works.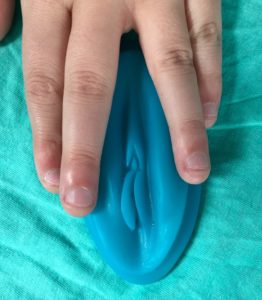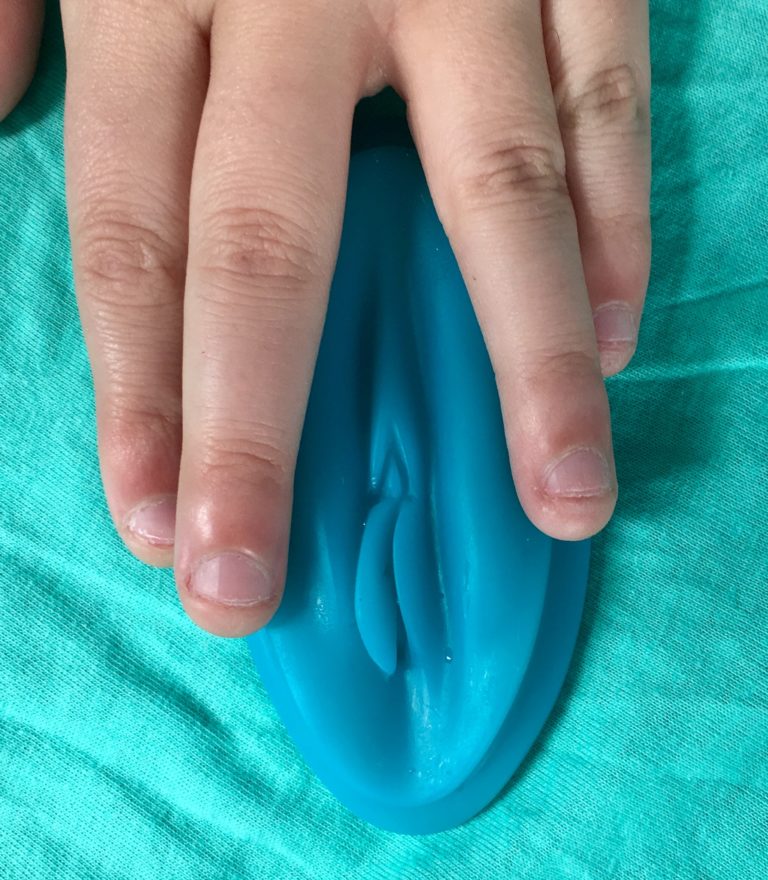 Squeeze the outer labia together. Using two or more fingers, do what Reid Mihalko calls "the Vulcan": sandwich the clit between the two outer labia. From there, you can apply gentle pressure, squeeze your fingers together, roll 'em around, and so on.
This stimulates the head and shaft of the clitoris indirectly, and also puts pressure on the clitoral legs, an oft-ignored portion of the internal clitoris. This can be a fantastic warm-up/foreplay technique before you move on to more direct forms of stimulation, or it can be a delight all on its own.
Rub the mound. The pubic mound is the fleshy part above the clit. Rubbing this area – especially the spot toward the bottom of it, where it dips and starts to turn into the clitoral hood – can be a great way to stimulate the clit super indirectly. I like mine rubbed in big, firm circles with the flat of a partner's palm, maybe while the heel of their hand is digging into my external G-spot. This makes a lovely warm-up for more intense stimulation.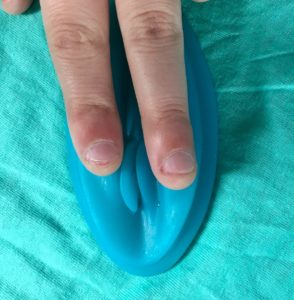 Squeeze the inner labia together. You would think this wouldn't feel all that different from doing the same with the outer labia, as mentioned above, but it can feel much more intense and targeted. Gently squeeze-'n'-roll the shaft and head of the clit between the inner lips. Vary the pressure and location of your touch. See if you can feel the legs and bulbs of the internal clitoris under the skin.
Rub the vulval vestibule. The vestibule is the part of the vulva in between the clit and the vaginal opening. I just think of mine as the underside of my clitoral shaft. Know how blowjob guides always say that the underside of the shaft is the most sensitive part of a dick? Yeah, that's true for many clitorides as well.
Very important: because this area is extremely sensitive for many folks, I would recommend using a lot of lube and a very light touch. I like mine stroked in a gentle, slow, up-and-down motion. Also make absolutely sure your hands are clean before attempting this, because the urethra is in this area and you do not want to get bacteria in there.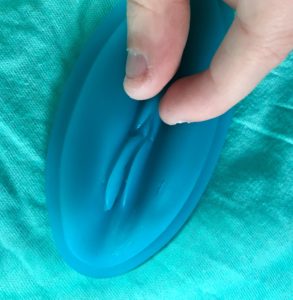 Jack it off. This technique can be affirming for folks who have vulvas and don't identify as female, so I'm told. As for me, I just like it because I like clitoral shaft stimulation. Gently hold the shaft of the clit between your thumb and forefinger (this is easier to do when the clit is already aroused and engorged) and move the labia and hood up and down over it like a little foreskin on a little penis. Keep in mind that you probably don't need to use as much pressure as you'd use on a penis, though, as always, check in with your partner if you're not sure.
I've had some partners manage to jerk off my clit between two knuckles while they also had two other fingers inside me at the same time… but that takes some next-level coordination and dexterity. Practice and maybe one day you'll get there!
Palm it. Lay your whole hand flat over the entire vulva. You can experiment with placement as per your person's preferences, but I usually like the heel of the hand to rest just above my clit. Deep pressure in circular or up-and-down motions feels really good here; I find the warmth and weight of a partner's hand on my junk both sexy and comforting.
Depending on the placement and size of your hand, you may also be able to penetrate the vagina with a few fingers while you do this, resulting in some great blended stimulation and maybe even a blended orgasm.
Vibrate it through clothes. This is my go-to recommendation whenever I talk to someone who owns a Magic Wand (or another super-powered vibe) and finds it uncomfortably strong. Each layer of clothing adds a little insulation between the vibrations and the nerve endings of the clit. If I'm wearing jeans or underwear with a defined seam up the centre of the crotch, applying vibration to that seam can feel direct and focused without overwhelming me with sensation. Plus, hey, there's something satisfyingly lazy about not even having to disrobe to get off.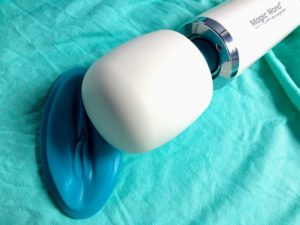 Vibrate beside it. If you place a decently strong vibrator on the pubic mound, vaginal opening, or one outer labia, the vibrations will stimulate the clit indirectly while also rumbling the parts of the internal clit that reside under whatever part you're vibrating. It's a delicious way to build arousal and engorgement in the area, and to tease a partner before giving them what they really crave.
Have you been with (or been) a person with a super-sensitive clit before? What are your favorite methods of indirect clit stim?