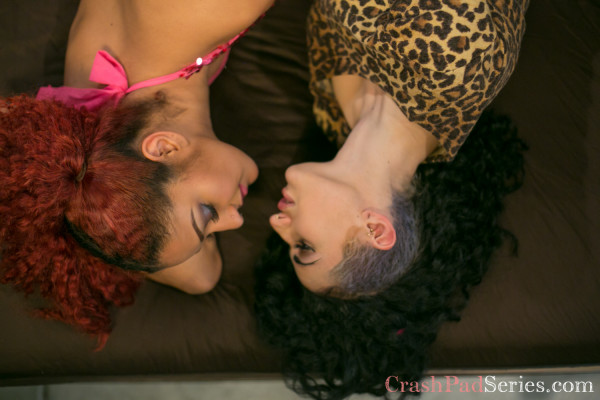 I love Crash Pad Series because their porn is obviously made for the non-male gaze, unlike all mainstream porn – but it lacks the frustrating clichés that tend to show up in "female-friendly" porn.
Crash Pad's founder and director, Shine Louise Houston, understands that just because women may not always like the rough-and-tumble, penetration-focused template of mainstream porn, that doesn't mean we want our porn to depict only soft, "romantic," gentle sex. We like rough and kinky sex too – we just want it to be geared toward our gaze.
Crash Pad's porn is also racially diverse, sexually varied, and features folks from all the way across the gender spectrum. Basically, if you're tired of mainstream porn's boring template, by-men-for-men pandering, and racist tropes, you'll probably dig Crash Pad.
This month I was allowed to review episode 196, which is based on a super interesting premise. Arabelle Raphael and Daisy Ducati are tired and overworked sex workers who have recently spent so much time catering to their clients' fantasies that they haven't had much time for the kind of sex they like.
Daisy is wearing the cutest pink sequinned halter dress, while Arabelle's decked out in leopard print. Their friendship seems very genuine: there's lots of giggling and finishing each other's sentences. Arabelle complains about all the cis straight dudes she's been boning lately, and whines adorably, "I wanna fuck something pretty." Which, of course, leads to Arabelle and Daisy playfully starting to make out.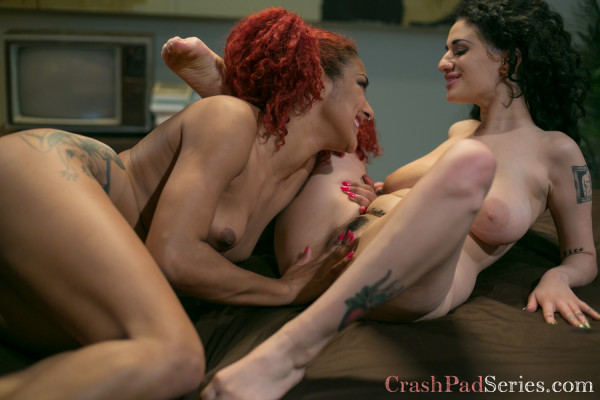 The ensuing scene is so much fun, and so unstructured, which is one of the things I love most about Crash Pad scenes. It always seems like the performers are just doing whatever the hell they want, instead of following some pre-ordained schedule of events like so many mainstream scenes do (kissing, BJ, 15 seconds of cunnilingus, then fucking in 3 different positions). Both performers alternate between finger-fucking each other, going down on each other, 69ing, using a goddamn leopard-print Hitachi on each other (!!), sitting on each other's face, and so on. And they seem to do it in whatever order they feel like, for however long they feel like.
Although this clip is femme-on-femme like most mainstream lesbian scenes, it doesn't feel like those at all. The performers are clearly actually attracted to each other, obviously have experience fucking other women and know how to do it properly, and they do acts that actually get them off (vocally and repeatedly!) instead of trying to make their scene appealing to a straight male eye.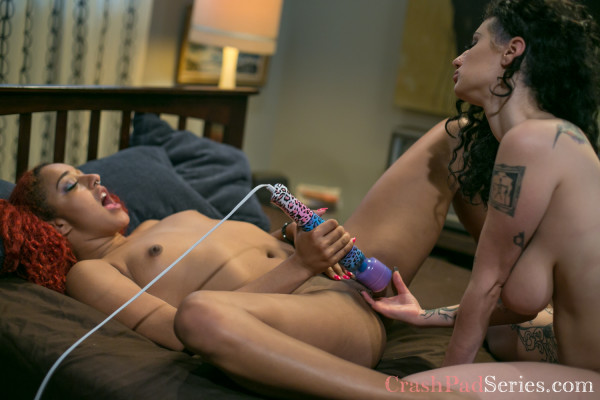 The one mainstream-girl/girl trope that appears here is super-long fingernails, but Arabelle actually refers to hers and makes sure that she's not hurting Daisy when she fingers her. This is such a nice touch! I am always terrified of the talons that women subject each other to in so many lesbian scenes.
As per usual for Crash Pad, this scene is shot beautifully. The cinematographic style captures the action without being distracting.
Some highlights for me: Arabelle telling Daisy, pre-cunnilingus, "This is gonna fuck up all your makeup." Daisy going "Yesyesyesyesyesyes!" as she's about to come. The aforementioned customized Hitachi. Daisy's curly red pigtails. Arabelle's backseam tattoos. The performers telling each other, "Treat yourself!" and "This is better than a spa day!" while they lie in the afterglow.
Episode 196 is damn cute and I think it could entertain and arouse anyone who's a femme, a sex worker, or both. It's incredible to see folks on screen who actually represent you and the sex you enjoy having, and that is something Crash Pad Series does exceptionally well.