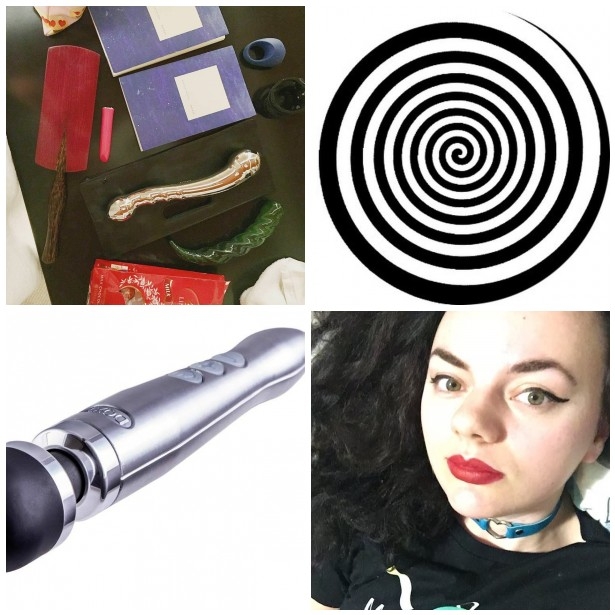 Gosh, it's been a minute since I've done one of these, huh? I had… a lot of amazing sex this month. With three lovely folks who I enjoy banging a great deal. It was an auspicious start to 2018, lemme tell ya! Here are some highlights…
Sex toys
• My Sir bought me a Doxy #3 for Christmas, because he is an absolute gem, and I love it. It's got all the power I need, like a regular-sized Doxy wand, except it's small enough to fit in a purse (or a carry-on suitcase – cough, #LongDistanceLyfe).
• A New Year's Day phone sex sesh reminded me of how great the We-Vibe Sync is. If you're looking for an app-compatible vibrator a long-distance partner can control in some super fun ways, this is 100% the one I would recommend. It succeeds in two key areas where a lot of vibes in this category fail: its motor rules, and its remote-controllability actually works.
• I am rediscovering my Fleshjack dildos lately. I love the firm-to-flexible ratio of their silicone. Plus sometimes you just need to display a hyper-realistic dildo on your nightstand…
Fantasy fodder
• Wow, I'm really into phone sex lately! It's long been a proclivity I didn't understand, since I'd always rather be touched by a partner than touch myself to their voice, and I get nervous about saying filthy shit out loud. But my new beau is exceptionally gifted in this arena so I've been having phone-sex orgasms aplenty. It's so simultaneously hot and astonishing to me when someone knows my sex-brain well enough to be able to whip out a phrase or image that practically makes me come on the spot…!
• Another thing my new partner is into: hypnokink. Woof. I'm not quite sure to what extent being hypnotized is a sexy thing for me versus just a fun, relaxing, intimate thing – but there's a lot of overlap between those two categories for me anyway (spanking, choking, and face-slapping, anyone?). I'm gonna write about this in more detail soon, because holy hell, we've been doing some interesting stuff.
• I'm in a new DD/lg dynamic! Eee! We just made it "official," or whatever. It feels really good to be calling someone "daddy" again after avoiding that for quite a while due to getting my heart broken by my last daddy dom. I love and value this type of dominance so much and had missed it a lot. I'm so glad I found someone else I trust enough to go into "little space" with, and who is worthy of that trust.
Sexcetera
• This month I had, without exaggeration, one of the best dates of my life, involving a very nervous dinner at a very fancy restaurant, exceptionally good period sex involving lots of toys at a beautiful hotel, lots of new scratches and bruises, and waking up next to a mega-handsome boy. Throw me to the wolves. I wish upon all of you the magic and wonder and starry-eyed smittenness I got to feel this month.
• Some of my work elsewhere as of late: I wrote about women's sexual fantasies and my sex spreadsheet for Glamour. Over at Ignite, I explored sexting, fantasies, orgasms, and vibrators. On our podcast, Bex and I discussed our 2018 sex goals, debated the merits of 69ing, and answered listeners' questions.
Femme stuff
• Last month at the Pink Market, I bought a turquoise suede collar from L'Amour-Propre, and I'm absolutely enamored with it. Their suede is super comfortable and conforms to my skin nicely, making these collars good choices for all-day wear. I love how simultaneously bright and understated they are.
• On these bitterly cold days we've been having here in Toronto lately, there's nothing like a hand-knit cowl to keep you cozy. My favorite one in my arsenal is a royal blue one my friend Cadence knitted me a few years ago. Its bold shade keeps me feelin' optimistic even when it's bleak as fuck outside.
• I haz a new Coach satchel and it's so prettyyy. It's kind of a strange robin's-egg blue color, like the sky on a bright but cloudy day, and I'm into it.
Little things
Ringing in the new year with good friends, pastry straws, and a thorough spanking. Max buying me a Hippo Campus T-shirt and Dick buying me a Hippo Campus vinyl EP. "How's your NRE doing?" Vanilla donuts as writing fuel. Exciting meetings with editors. Co-writing a song with my Sir. Going to the theatre with my mom. Sir seeing my journal in my bag and asking, "Can I touch it?" Blowjob experiments. Solo writing dates at ye olde greasy diner. Being interviewed by people who've done their research. Nerdy overanalytical aftercare. Bex picking me up at the airport with homemade cookies in tow. Bagels and cream cheese on Long Island. Elegant cocktails. Hearing Sir singing "Story Telling" in the shower. Subtle public D/s at an improv show. Mutual vulnerability. My new Hitachi-shaped pipe from Bex! Getting to write for a long-time dream publication of mine (just you wait!). Listening very fucking hard.