It's hard to pick selfies that sum up your whole year, but these are some strong contenders! (Content note: there are boobs in this post!)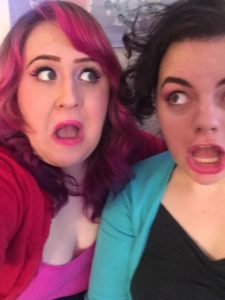 Femme friends were so important to me this year, and every year. One such pal is Rosaline, a pink-haired pixie who's always around to cheer me on and pump me up over a bottle of white wine.
We had lots of goofy adventures together this year, mostly involving pre-drinking for various parties, doing our makeup together, and then marching into said parties all flirty and long-lashed like queens. I love how my femme friends remind me of immutable truths: being a femme person in this world is hard but it is also wonderful, and femmes are even more brave and powerful than the misogynist cultural forces that aim to keep us down. I hope to continue to foster my femme friendships in 2018 and beyond.
---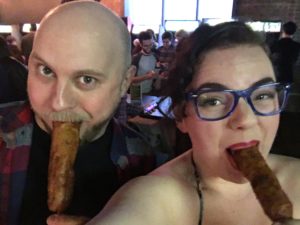 Speaking of good friends… I didn't get to spend as much time with Brent this year as I have in previous years, because he wasn't in Toronto as much. But when we did hang out, we made it count: we laughed a lot over beers, played a ton of Use Your Words, and on one memorable occasion, he saved me from a bunch of pill bugs I accidentally sat on. Our friendship is strange and lovely.
The night this photo was taken, I attended Use Your Words' Toronto launch party because I was a staff writer on the game (fancy!). Between talking, schmoozing, and playing the game, Brent and I decided to order a couple of corndogs from the bar kitchen. "Can I take a selfie of us eating these?" I asked him, to which he replied, "Only if we both put 'em in our mouths like we're fellating them." Stuff like this is why we're friends.
---
In March, my local community discovered someone we thought we could trust was actually a misogynist shitbag, and it shook the foundations of what we thought we knew. For weeks, I felt unable to trust any men (moreso even than usual). What was the point, if any so-called feminist man could turn out to be a total garbage fire?
I had coincidentally been invited to a party later that week whose theme was "femme witch power." We were encouraged to wear whatever made us feel feminine and powerful. I slung on a navy skater dress, rimmed my eyes in dark eyeshadow, and painted on a deep maroon liquid lipstick. At the last minute before leaving the house, I added my glass eyeball necklace, pulled my tits out of my dress, and took some fierce-faced selfies on my laptop webcam.
I didn't feel like smiling that day. I wanted to wield my femininity and sexuality like a weapon. So I resisted the urge to pull a smile or make a "pretty" face, and just stared down the camera, fierce and unforgiving. I felt beautiful, but in a way that was just for me – not for the consumption of the abusive fuckfaces who think they can just take and take and take.
---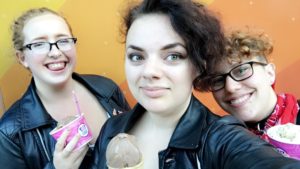 I took this while out getting ice cream with Suz and Bex before a jaunt to Tell Me Something Good, our local sexy storytelling night. It was a lovely evening out with friends, and equally wonderful was that sometime either before or after this photo was taken, someone came up to us on the street to tell us they read and loved all three of our blogs. Getting recognized in public is a special kind of thrill, and the more it happens, the more my impostor syndrome melts away and I feel like a Real Writer doing Real, Important Things!
---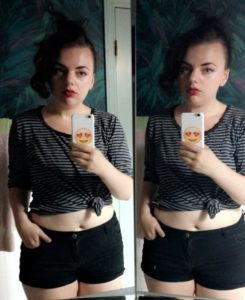 This was taken on one of the first days I actually felt slightly cute, competent, and coherent after a breakup that totally devastated me. I like how you can see in my facial expression that I'm still kind of a mess: I've heard fellow depressed people describe feeling "like an alien" who can't even tell whether their face is forming appropriate and normal facial expressions, because they're so numb and blunted, and that's how I felt on this day. Unsure how all my different components hung together, but attempting to make a good show of myself nonetheless. Like Tony Kushner wrote on heartbreak in his magnum opus Angels in America: "Just mangled guts, pretending."
It's telling that I'm wearing short shorts and have tied my shirt into a crop top. Depression makes me want to hide, but as I surface from that cave, I begin to want to show off again. Maybe just a little. Maybe still from the safety of monochromes and familiar fabrics. Bit by bit, I always come crawling back to my joy, even if it takes all the strength I can summon.
---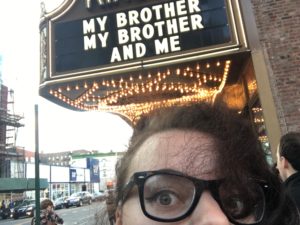 (Content note for suicidal ideations in this one, folks.) One of the most exciting events of my year was going to a My Brother, My Brother and Me live podcast recording at the Kings Theatre in Brooklyn. I first started listening to MBMBaM almost three years ago, and in that time, these boys have literally saved my life on countless occasions. When I'm too mind-numbingly depressed to be trusted with my sad thoughts in solitude, let alone to get out of bed and rejoin society, I put on a McElroy podcast. They keep me occupied until I can get back to living without wanting to die.
I went to this show by myself, because I didn't know anyone else who was both as McElroy-obsessed as me and financially and temporally able to get to the venue. I snapped this photo quickly, self-consciously, as I stood in line amongst throngs of other fans. Moments later, when the line moved ahead and I walked into the theatre, tears burned down my cheeks. I couldn't believe I was so physically close to these boys who had saved my life, walked me through dark days, made me laugh when nothing else could. Thankfully, no one seemed to think my weeping was weird. I bought a poster, waited in line for a radioactively green cocktail, settled into my seat surrounded by jovial strangers, and laughed the night away.
---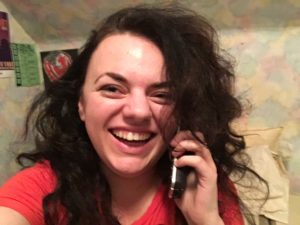 I'll close here with a moment of genuine joy; it's a good note to go out on.
One night earlier this month, I was on the phone with someone who makes my heart feel all fuzzy and stupid. We exchanged goofy selfies while we talked, trying to disarm each other, to feel physically close though we were not.
He had asked me about the way my hair was cut, so I shook it out to its full glory so I could capture it in a selfie. Just as I went to hit the shutter, he made some dumb joke that set off sparks in my heart, and I burst into giggles and snapped this shot. "Aw, you made me laugh mid-selfie," I commented, looking at the result on my phone screen and trying to decide if it was too silly to send.
No, I thought. This is how I wish I looked all the time. Lost in giggly reverie.