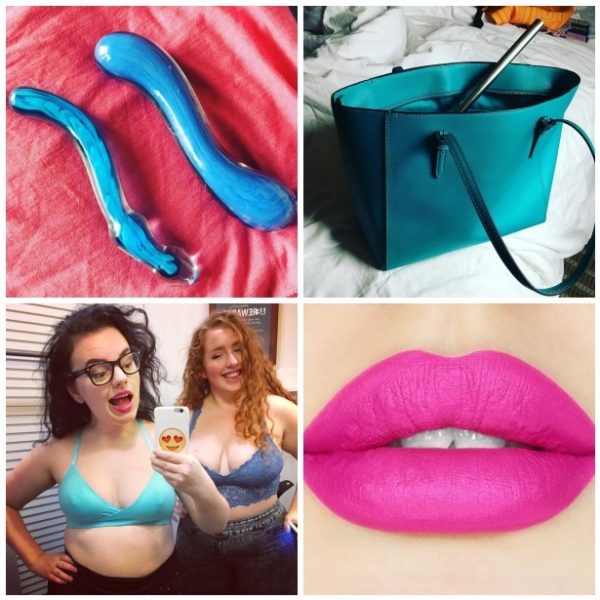 It feels ridiculous to talk about anything not geopolitical at the moment. But I still believe in goodness in the world, in the form of legal and financial supporters of the cause, brave protesters doing what's right, or even something as comparatively mundane as good sex. If you need to tear your attention away from the news for a while and read about less pressing matters, like dildos and lipstick, I'm your girl. Let's dive in and talk about what I loved most in January…
Sex toys
• Bex bought me the best gift this month: a Standard Glass S-Curve dildo in my signature shade of turquoise. When they handed it to me, they said, "It'll hit your A-spot," but I wasn't sure – the curve looked too extreme for that. But of course, they are a genius and were totally right. My fuckbuddy pounded me with the S-Curve within 24 hours of me receiving it, and he declared it was "like the Double Trouble on easy mode": it hits my A-spot just as well but is much lighter, smaller, and easier to manoeuver. I'll never doubt Bex again!
• I bought myself a kinky Christmas present: an 8-ball Billiard Banger from KinkMachineWorks. It's soooo thuddy, almost like being punched. As always, I can't recommend this li'l Etsy shop's impact toys highly enough. (Look how pretty!!)
• I felt a particular appreciation for the We-Vibe Tango this month, both because I used it a lot (including for THREE ORGASMS during a hotel sex-date with my hardworkin' FWB – swoon!) and because I've been selling plenty of them in my new job as a sex-shop salesgirl. It's still the best, rumbliest rechargeable clit vibe on the market – and at only $80, it's cheaper than a lot of comparable-but-less-good vibes out there.
Fantasy fodder
• I've had a thing for gloryhole porn on-and-off for years, and this month it came back with a vengeance. Right now I'm particularly enamored with "TheCarnivore," who films himself sucking cocks in his home-built gloryhole shed in Florida. His deepthroating skills are a thing to behold!
• I've also been enjoying a fella named CumControl101 who makes videos of himself manually edging dudes til they're whining and begging to come. Men's pleasure sounds are one of my biggest turn-ons, so I like the ones who make a lot of noise…
• An eccentric confession: sometimes, when I am high, I masturbate to makeup tutorials on YouTube. I am not jerking off over the prettiness of the ladies therein, in the way of that creep who probably wanks to your Facebook photos without your knowledge; there is, instead, some connection my high-brain makes between femme glee and carnal joy. When I'm just the right amount of intoxicated on just the right type of weed, my usually chaste excitement about glitter and lipstick can take on a saucy tone. Brains are strange, man.
Sexcetera
• I've been keeping a spreadsheet of all my orgasms thus far in 2017, like a fuckin' nerd. It's titled "Orgasm Registry" in my Google Drive, and yes, it is a separate document from my partnered-sex spreadsheet. It's been interesting to track the ebbs and flows of my libido (predictably, it ebbs when I'm tired and overworked, and flows when I'm blazin' on the regs), the toys I use most often (the Magic Wand Rechargeable, Double Trouble, and Tango), and how many orgasms I had in January (30!). But what interests me most is the "fantasy fodder" column – such a pure and true reflection of my innermost perviness. It sure is humbling to have to write down what you were thinking about right before orgasm!
• Some of my writing elsewhere this month: I wrote about the connection between promiscuity and empathy for the Establishment, and complained about mediocre men and femininity-diminishing anxiety on Medium. On our podcast, Bex and I talked about masturbation, social media flirting, shitty sex toy marketing, and being a publicly sexual person (that last one featured special guest Cooper S. Beckett, who was a dream!). As always, you can pledge to my Patreon for regular updates on what I'm up to.
Femme stuff
• I've been really into perfume lately, thanks in large part to the influence of The Dry Down and the ladies who write it. I read Tynan Sinks describe John Varvatos cologne as smelling like "if you spilled a chai latte into an old leather jacket," so, obviously, I ordered a sample immediately. It's supposedly a masculine scent, full of balsam, coriander, and vanilla, but it wears so beautifully on feminine little me. It makes me feel like a cupcake wearing a black leather ballgown to a kink soirée. I love it so much that when I lost my sample vial of it, I ordered another one immediately.
• Lipstick-wise, I've been oscillating steadily between Rouge d'Armani in "Lucky Red" (which I wrote about in November) and Sugarpill's "Girl Crush." A cool-toned red and a hot pink – how predictable pour moi! Sometimes I wish I were more adventurous in this realm, but hey, sometimes you just find what works for you and want to stick with it.
• A beauteous turquoise leather Coach tote (the "turnlock tote in crossgrain leather") was on sale for half-price, so I snapped it up. I am in love: it's roomy as hell, has secret pockets galore, and is the most brilliant, aggressively bright color. I brought it with me to New York as my carry-on and it comfortably fit my laptop, charger, journal, headphones, travel documents, makeup bag, wallet, glasses, and a book. Amaze.
Little things
Ringing in the new year with a bunch of sex-positive weirdos. Samantha giving us Alka-Seltzer tablets to take home after a rowdy New Year's Eve party. Respecting and working with the natural rhythms of my mental health. Empathetic friends. My cozy new bedding and fluffy pillows. Good moisturizer. My mom bringing me Jamaican chickpea soup because wintertime makes me grumpy. The mental health mantra "No moment is unendurable." Hitting 5,000 Twitter followers! My new phone wallpaper. Writing by candlelight. Shooting new headshots with Cadence, forever my favorite person to be photographed by. Good interviews with sweet sources over coffee. My new job at a sex shop! Giggly bralette-shoppin' with Suz and Rosaline. Editing podcasts in cafés and train stations and hotel rooms. Recording Dildorks episodes with Brent and Kenton (they'll be out over the next couple months!). Bex showing up to rescue me from an anxiety attack at a New York subway station, wearing a Batman onesie and a collar and carrying a bright yellow box of Kleenex. The Daily Mail writing about me (!). Excellent editors. My new pipe. When Bex and I tried not to burst out laughing while a waiter served me cacio e pepe from a giant block of cheese. Coffee Crisp bars. A boy telling me he can only wear mesh boxer-briefs for a couple hours at a time because they're "very taxing on the sac."
What sexy or sex-adjacent things did you enjoy this month, babes?