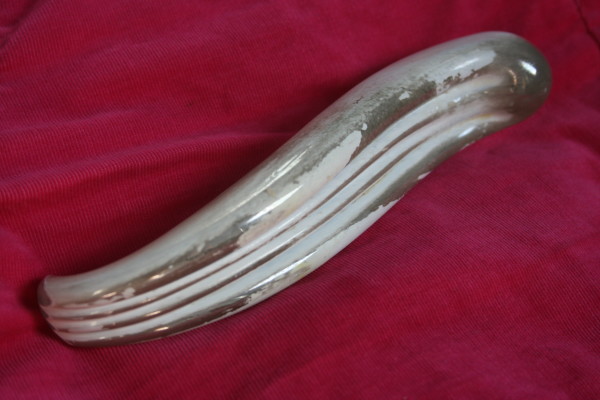 Last month, I went to 7 West with some friends for lunch. After our meal, we decided to get some dessert, and I ordered the restaurant's legendarily good dulce de leche cheesecake.
Admittedly, I was a bit drunk at this point, and had also been watching a lot of X Files, so I was in a slightly dramatic and science-fiction-y mood. So upon tucking into the cheesecake, I went on a rant something like this:
"This cheesecake is TOO GOOD. I feel like I am doing something illegal by eating it. Like it's too delicious and wasn't meant to be discovered by humans. Like it was found on an alien planet and brought back to earth and kept in quarantine by the FBI because it could actually be dangerous for human ingestion. But somehow I broke in and found it and now I'm eating it and I'm going to get in trouble on a national scale. And will possibly get an extraterrestrial illness for my gluttony, thereby starting a worldwide pandemic."
Fortunately, my friends just find my drunken loquaciousness charming instead of weird…
I told you this story because I feel the same way about really good A-spot stimulation as I feel about that cheesecake. It feels inhumanly good, too good for this world – like I've hacked into the pleasure mainframe and am accessing something not meant for me. And that's pretty fucking cool.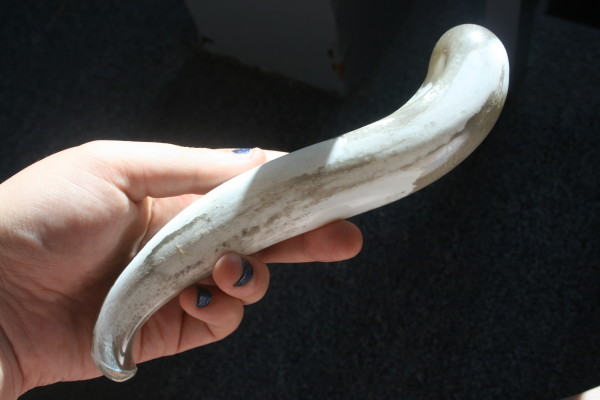 The G-Spoon is a glass dildo made by artisanal sex toy company Fucking Sculptures, and despite the "G" in its name, for me it's really more about the "A" – A-spot, that is. Or "anterior fornix," if you wanna get fancy about it.
I first lusted after the G-Spoon when I read Aerie's review of it. One thing Aerie and I have in common, which we discussed a bit at DildoHoliday, is our shared love of A-spot stimulation. In their review, Aerie describes the G-Spoon's A-spotting abilities as "perfect," "mind-blowing," and "incredibly pleasurable." They noted that the toy is long enough to hit the spot and has the right curve and angle to hit it without making cervical contact (which hurts and is best avoided). I was intrigued. If the G-Spoon worked for Aerie's A-spot, I suspected it would work for mine.
And, holy fuck. Thank you, Aerie. Because this dildo is an A-spotting machine, the likes of which I've never encountered before.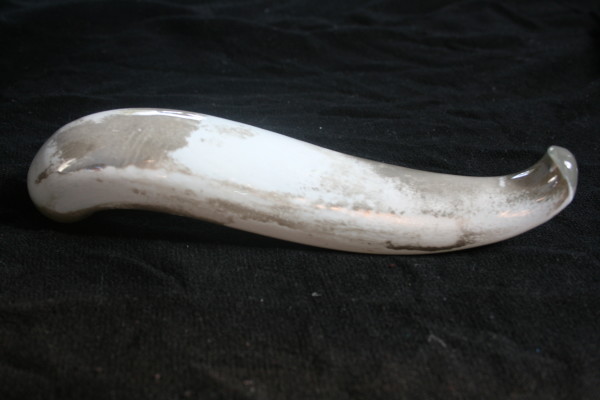 But before I get to that… let's talk specs. All Fucking Sculptures toys are handmade and one-of-a-kind, so there are variations in terms of shape, size, surface appearance, etc. Mine is technically a "large" one, but it's on the smaller end: large G-Spoons can range from 4.7″ to 5.9″ in circumference and 7.5″ to 9.8″ in length, and mine is 4.8″ around and 7.5″ long. Really large G-Spoons can apparently get pretty heavy (soda lime glass is dense!), so if that bothers you, you might want to stick with the medium size. Mine is basically on the cusp between medium and large.
The width of my G-Spoon is ideal for sliding past my cervix and gettin' all up in my A-spot, but I do sometimes wish it was a bit longer. At maximum arousal, my vag is about 6″ to 6.5″ deep, meaning that I have to insert my G-Spoon almost all the way inside in order to reach my spot. This leaves only an inch or two of handle with which to manipulate the toy – and while I can certainly manage it, I can see that it would get annoying if my sessions went on for longer or if I got too much lube on the handle portion of the toy.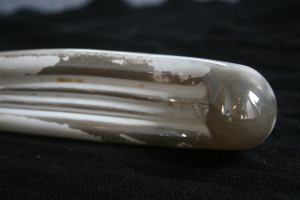 The deep grooves along the top side of the G-Spoon provide a little welcome friction during use, but they also collect vaginal fluids and cling onto 'em, necessitating a good toothbrush scrubdown with every wash. I like that these grooves end before the head of the toy, because that smoothness feels divine on my A-spot; I'm not sure I would respond as well to rough scraping in that area.
My G-Spoon is white with silvery-grey patches. I think it's beautiful and eccentric-looking, but two different people (a friend and a hookup) both asked me, "Did you use this so much that the paint scraped off?!" While the premise of this question is hilarious, no, Fucking Sculptures toys are definitely not so shoddily-made that you can flake off the colors with heavy use! Like any good-quality glass toy, the pigment is inside the toy so it'll stay put no matter how much you use it.
Also like any good-quality glass toy, my G-Spoon is pretty resistant to breakage. Soda lime glass is more temperature-sensitive than borosilicate glass, so you're not supposed to boil or freeze Fucking Sculptures because they might crack if you do – but in regular, everyday use, the G-Spoon is fabulously sturdy. I even dropped it on my Eleven by accident and both toys were unharmed. (Don't try this at home, kids…)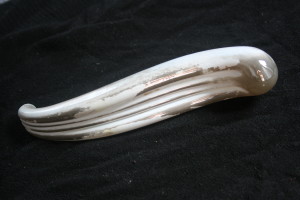 So, let's get to the good stuff: sensation. Because this dildo feels like a freight train is hitting my A-spot, in a good-and-not-literal way. The thing about perfectly-executed A-spot stimulation is that it leaves me breathless and sated like nothing else – and I'm usually limited to experiencing this type of orgasm with partners, because so few of my toys can stroke my A-spot as consistently and directly as I like. Average-sized penises and long fingers can reach it with ease, but most toys? Not so much. The G-Spoon, however, is like an A-spot whisperer: it goes right for it, with minimal effort, and ravages that spot like it's meant to be ravaged.
This results in the kinds of orgasms I usually only get from the efforts of skilled and patient partners. Sometimes I actually writhe around and make involuntary noises while using the G-Spoon, which normally doesn't happen for me when I'm having solo sex. I think it's an A-spot thing. It makes me lose control of my body a little bit. Hnnngggg.
I have also tried the G-Spoon on my actual G-spot, as it's intended to be used. That just entails thrusting it a little more shallowly and maybe applying a little more pressure, since my G can handle roughness that my A cannot. This dildo is definitely up to the task if you need some focused, firm G-spot stimulation. I have other toys I like better for that purpose, but I don't think anyone would be disappointed by the G-Spoon's abilities in this department. It's a multitalented little dude!
I know I've been writing a lot of positive reviews lately. I hope you aren't starting to lose faith in me as a reviewer because of that. I promise I'm not sugar-coating any of this – I am just genuinely lucky enough to own some incredibly well-designed toys, especially in recent months. And the G-Spoon is easily one of my favorites I've received in ages. It's jaw-droppingly gorgeous and cunt-meltingly effective. It makes me feel like a pampered queen, because it's so luxurious and brings such effortless pleasure. Sometimes my mind wanders to my G-Spoon and I just think, "Why isn't that inside me right now?!"
If you want to explore your A-spot and/or your G-spot, and you've got the budget to splurge on something stunning, you probably need a G-Spoon. Any sense of "Holy fuck!" you feel when looking at the price tag will be replaced by the "Holy fuck!" you'll experience when you put this toy in your vagina.
I daydreamed about my G-Spoon for my entire shift today. Goddamn. What seductive evil hath possessed me?!

— Girly Juice (@Girly_Juice) August 6, 2015
Thank you so much to the terrific people at Fucking Sculptures for sending me this toy! You can buy their products at their website, at SheVibe, or at various smaller shops.