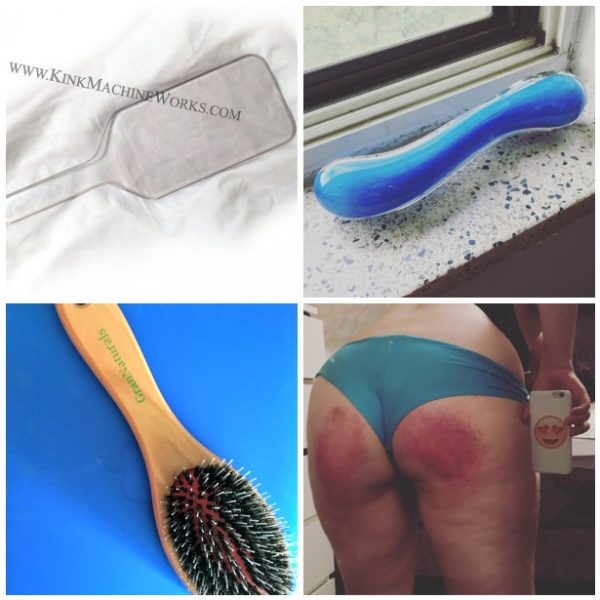 Not to be bragadocious, but July was a month of good, consistent, frequent sex for me. I am a lucky lady. I also gave more BJs this month than I perhaps ever have in my life. When it rains, it pours… Wink wink!
Sex toys
• I've loved my Fucking Sculptures Double Trouble ever since I got it, but this month my love for it was particularly intense. I had two different partners use it on me – it's one of my favorite toys to get fucked with! – and they did a wonderful job every time. I love the moment when a partner tilts the Double Trouble just so and they find my A-spot; it's a triumph for both of us. When Bex and I stayed in an Airbnb for a couple days to throw a party and make porn in mid-July, the only two toys I brought were the DT and my Magic Wand; I had a bunch of sex that weekend and those were the only toys I needed.
• A total sweetheart bought me a wooden hairbrush from my wishlist. It surprised me by becoming one of my favorite spanking implements almost immediately: it's my ideal blend between thuddy and stingy. And, as a bonus, when my hair gets all messed up from a spanking and the sex that ensues, I can smooth it into submission with the brush. I have a feeling this toy will hold a place of honor in my purse from now on.
• Two impact-play toys in one list? Sure, why not… I bought a paddle from KinkMachineWorks that's made of Lexan, a transparent material similar to plexiglass or acrylic. It's unusually thuddy for a paddle (yes, good, yes please). My friend Georgia gave me some killer bruises with it, one sad drunken night, after which I felt a great deal better.
Fantasy fodder
• Remember when I told you I wasn't that into PIV (penis-in-vagina) sex anymore? Yeah, turns out that when I'm seeing someone who's really good at fucking me the way I like, I get right back on dat PIV train. There were even times this month when a partner was fucking me with a toy and I imagined it was his dick, which… isn't how that usually goes for me.
• I love a good erotic audio. This one was a favorite of mine this month. God bless people who have the gift of a beautiful voice and put it to use in the form of kinky smut. (This one is also wonderful if you, like me, like to use sex and kink as motivators for productivity.)
• Binge-watching House always gets my sexual wheels spinning… I've gone through phases of being carnally obsessed with Chase, Wilson, and Thirteen, but I think my sexual tastes are growing up because it's House himself who I've been fantasizing about a lot recently. Bex wrote up some of their dom-House headcanons and I kinda melted onto the floor. House is waaaay too much of an unstable asshole to date, but I'd sure as hell let him hit me with that cane while I was bent over his desk…
Sexcetera
• A sexual highlight of this month was when I made blowjob porn with a partner and then gave him another blowjob off-camera as aftercare. It's interesting how much the mental context within which you perform a sexual act can influence how that act makes you feel. Giving head on camera was hot, fun, and a novelty for me, but it left me feeling a bit empty and sad because it lacked the validation and intimacy I'm used to when I go down on someone. Giving him a "real" BJ less than an hour afterward was exactly the fix I needed, and maybe that's strange, but hey, it worked for me. (And he sure as hell wasn't complaining.)
• It was a particularly spanking-heavy month for me. Various people – sexual partners and platonic friends alike – consensually spanked me with a wide array of items: a silicone paddle, a Lexan paddle, a suede flogger, a stone crop, a book about spanking, a wooden hairbrush, a glass dildo, and of course, hands. The deeper I dive down the rabbit hole of impact play, the more convinced I am that it's vital to both my sexuality and my personal psychology.
• I had two important sexual anniversaries this month: the 5th marked five years since the first blowjob I ever gave, and the 22nd marked eight years since the first time I ever had sex. I didn't really celebrate these milestones, except by having a lot of sex (including blowjobs aplenty, natch).
Femme stuff
• I am currently obsessed with doing my hair in a pompadour with lots of bobby pins and a bandana. It's an easy and relatively quick style that keeps my hair off my face in this sticky summer heat. It involves a lot of teasing and smoothing, which I do with the aforementioned wooden hairbrush!
• Bex and I went shopping specifically for clothes to do porn in. We were very efficient: after quick stops at American Apparel and Ardene, I'd amassed some pink striped knee-high socks, a low-cut black crop top, a translucent pink tank top, a pink headband, a pink bow barrette, a pink dog collar, and a black lace-up crop top that I should probably wear to cosplay as Sexy Wednesday Addams. I feel more balanced now that the slutty section of my wardrobe is more thoroughly fleshed out.
• I was super into the lip combo I used when getting mega-glam for porn: ColourPop lip pencil in "Heart On" + a hot pink Bite Beauty gloss. Pretty, sexy, and obnoxiously pink. Yeah, that sounds about right.
Little things
Dramatic late-night back-porch nudes. Taking American friends to their first Toronto weed dispensaries. A boy telling me he wants to date me by sending me this song. "How did the clothes end up all on the floor? Didn't we just break each other's hearts?" Sharing a sundae with a handsome pal while thoroughly stoned. Sharing fuckbuddy disaster stories. Sasha doing my makeup for a kinda-date-that-wasn't-a-date. Getting fingerbanged so good and then being told that making me come that way is "like wrestling with a little monster" because my vag muscles clench so hard when I'm close. The outpouring of support I got when my Establishment article went up. A boy giving me one of his shirts to wear home when we couldn't find my dress. Accidental I-love-you's. Sophie Delancey interviewing me on Sex City Radio. Lavender oil. Drunkenly discussing sexual astrology on the subway. Taylor misreading Georgia's Twitter handle (LikeYourSilence) as "Like Your Silicone." Monster Factory. "I want you to come all over daddy's cock like you did earlier…" Beautiful porn cinematography. Hippo Campus. Bravery. When vanilla partners inadvertently dom me. Friends who understand and accept my introversion and other psychological quirks. Kate McKinnon. Therapy spankings.