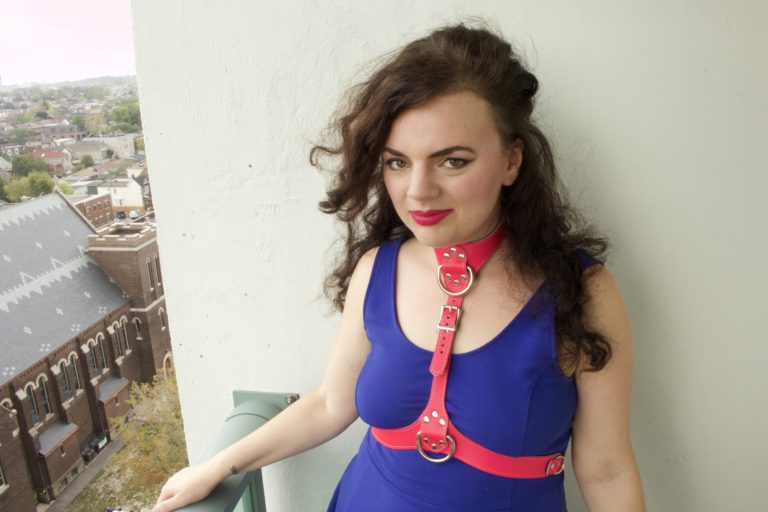 Content warning: this post has boobs in it!
I've been increasingly interested in leather chest harnesses over the past year or so. The more I learned about them, the more I wanted one. While I'm a frivolous femme and definitely appreciate aesthetic trappings for their visual appeal, what really made me want a chest harness was when I found out they have practical kink applications as well. When you're strapped into a chest harness, it's that much easier for a partner to pull you toward them, throw you around, and get you exactly where they want you. Excuse me; I'll be in my bunk.
So I was excited when Stockroom offered me some products to review and I saw that they carry (among sooo many other things) a hot pink leather chest harness. SIGN ME UP.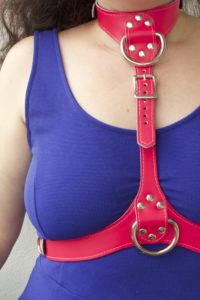 The Neon Angel bust harness is made of pink leather with nickel-plated hardware. It isn't as buttery-soft as my Aslan Leather products, but I expect it'll soften up the more that I wear it (that's one of my favorite things about leather!).
It fastens in two places: behind your neck, like a collar, and on your back, like a bra. As a femmey, submissive person with boobs, I love how simultaneously feminine, small, curvaceous and helpless it makes me feel to be cinched and squeezed in those two places. It's the mild throat constriction of a collar combined with the very slight boob-lifting of a wireless bralette, and the effect is super cute.
The T-strap connecting the collar to the underbust is adjustable, to allow for different torso lengths. You can also detach the two parts of the harness using this strap, if you want to wear the collar and underbust portions separately, though they each look a little lonely and incomplete without the other!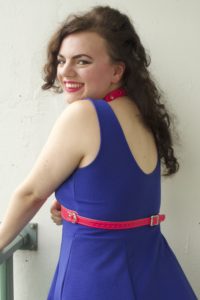 The collar portion can fit necks ranging in circumference from about 10″ to 13″. The underbust portion, meanwhile, can get as small as 24″ and as large as 35″. Unfortunately, this means it probably won't fit most plus-size folks. My dress size is 12, I usually wear large-size shirts, and I have a 33″ underbust, so it fits me comfortably with a few holes to spare – but a size-14 friend tried this on and couldn't get the underbust part fastened comfortably. There's only about an inch of extra space at the end of the leather strap to add extra holes if you wanted to.
As a fashion item, I find this harness surprisingly versatile! I've worn it over dresses, as pictured, and also over crop tops, T-shirts, and lingerie. However, it works just as well when I wear it while otherwise naked, or while just wearing panties. It has a submissive babygirl aesthetic that I adore, and which is obviously pretty on-brand for me! In addition to the pink color, you can also snap up this harness in bright yellow or black – and the black version is even available in vegan PVC if you'd rather not buy leather.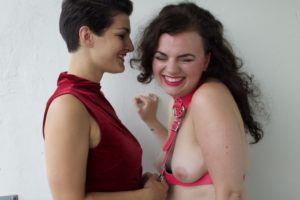 Worn naked, the leather is slightly chafey against my skin if I'm moving around a lot, but not moreso than other leather items I might wear during sex, like cuffs or a collar. My past experiences with leather tell me this chafeyness will lessen up over time, too, as the material softens and starts conforming to my shape.
One of my favorite things about this harness is those big 1.5″ D-rings on the front – one by my throat, one right between my boobs. As with any D-ring, you can use these to attach the harness to rope, cuffs, a leash, or other bondage accessories to create elaborate predicaments if you so desire. For example, I once had a partner attach two carabiners from my under-the-bed restraints to the D-ring on a collar I was wearing, effectively chaining me to the bed so I couldn't move. There are lots of fun things you can do with these D-rings!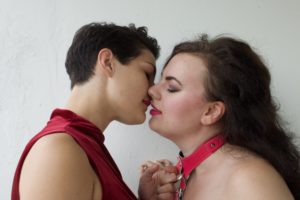 One of their best and simplest uses, however, is as a handle for pulling and manipulating the person wearing the harness. As you can see from these photos, if you've got a partner wearing this harness, you can grab 'em by a D-ring to pull them in for a kiss – or to throw them around as part of various other kinky activities. I love, for example, being tugged around by a chest harness when I'm blindfolded; it adds to my feeling of being helpless and needing my dominant partner's guidance for everything.
Overall I'm delighted to own this harness! I've found it unexpectedly versatile, both for fashion purposes and for kink purposes. I think it'll get a lot more wear in the future!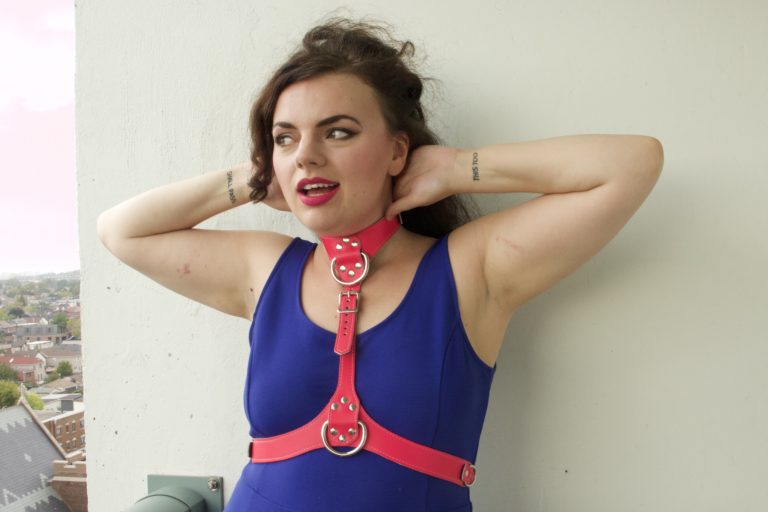 All photos in this post were taken by Taylor J Mace. Thanks to Taylor, and also to my lovely co-model in some of these shots, A.! Thanks also to Stockroom for sending me this product to review. Check out their wide selection of body harnesses!