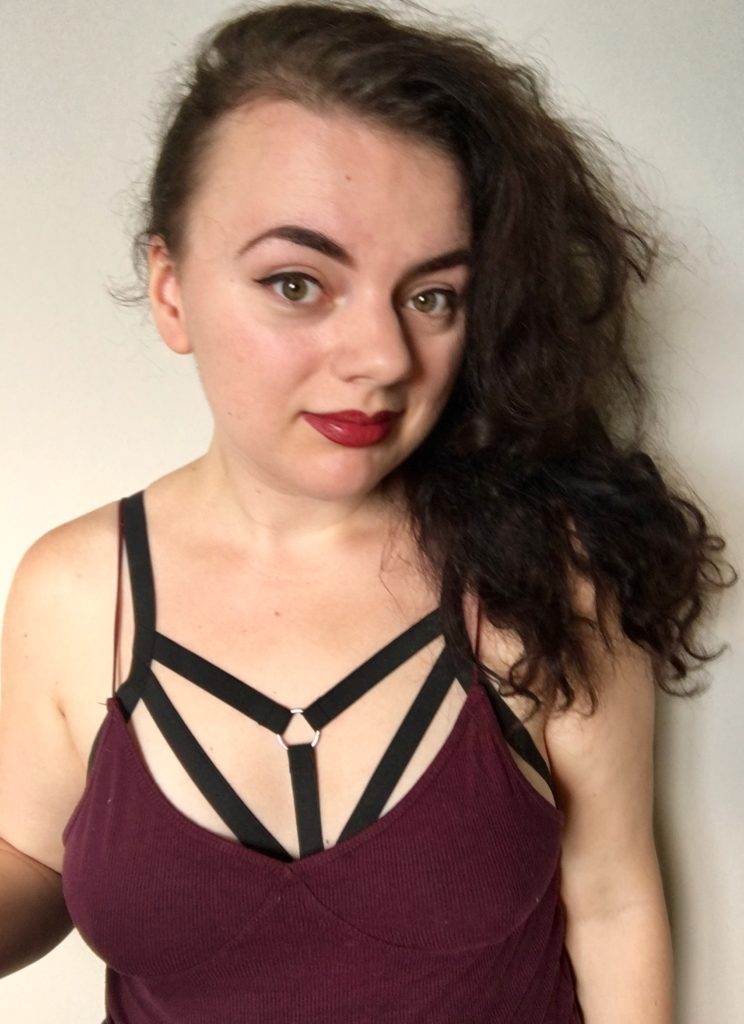 Content note: there are boobs in this post! It is, therefore, NSFW – so don't scroll down if you're at work. Unless your workplace is unusually boob-friendly, in which case, kudos to the administration!
I looove the aesthetic of cage bras. For me, they conjure up visions of modern-day witches: hard-nosed millennial babes in smudgy eyeliner and quartz point necklaces, sketching pentagrams in the margins of their journals and leaving vampiric lip prints on bone-white coffee mugs. It's a look I adore, so when Bargain Hunterz offered me my choice of item from their cage bra collection, I was on-board.
The one I chose, after much deliberation, was the Sienna Cage Bralette. I liked that its design is ornate but not excessive, and that it evokes that mild witchiness I enjoy so much without being a literal pentagram.
It took me a few minutes to figure out how to put on my new bralette. Looking at the product image online, I was able to figure out where each of the two circles go, one on my upper chest and one between my breasts. From there, I slipped my arms under the right straps and did up the two clasps on the bralette: one in the back-centre, like a regular bra, and one under my right arm.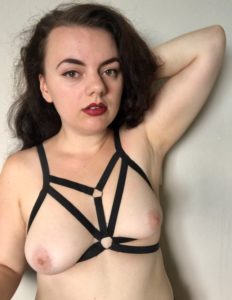 I custom-ordered this bralette in my size, 34DD, so it fits me well – but I don't think customization is strictly necessary for a product this stretchy. The entire bra is made of an elastic material with a lot of stretch. You'll be disappointed with this if you want a chest harness with more practical applications – i.e. one by which a dominant partner can grab you and throw you around – but if you just want the cage bra aesthetic without the kink possibilities, this will work fine.
That said, I think this product was designed for someone thinner and less busty than I. The two straps that go under each breast look clearly defined and cool on the mannequin in the product image, but on me, they tend to bunch together uncomfortably, like how the extra fabric under the bust of a longline bralette usually rides up.
Those two straps also create a strange situation on my sides and back, gathering the fat there into squishable mounds that look weird under clothes (and even not under clothes). The angles in which I feel babely in this bralette are few and far between.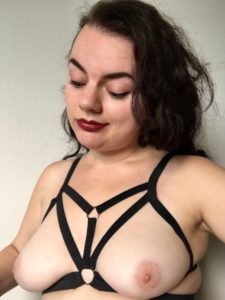 My main issue with this thing is the shape into which it funnels my breasts. Though the straps under and beside each breast should theoretically push them inward and upward to create a pleasing, curvy shape, I actually just feel like this bralette squishes my boobs into flabby triangular pancakes. It looks odd when I'm naked and even odder under clothes: the effect reminds me of Madonna's famous pointy bras in the '80s.
However, if you're cool with pointy boobs – or have boobs small enough that a bralette like this wouldn't corral yours into a strange shape – you might nonetheless like the effect you get from this piece. I have to admit I find it sexy-looking from the front, if not from the sides.
The elastic material is soft-ish but does get a bit chafey if I wear it for more than an hour at a time. It's definitely more comfortable to me than a typical bra underwire, but it's also much less supportive.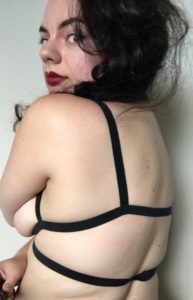 Overall, at $15, I think the Sienna Cage Bralette would be a reasonable purchase if you want to give the cage bra aesthetic a try. It's far less expensive than a lot of higher-quality versions of a similar idea, so it'll give you a taste of what you could look like and feel like if you dive deeper into the world of cage bras.
I wish this one didn't squish my boobs into such an odd shape or emphasize the fat rolls on my sides and back, but I still think it looks cute as hell peeking out of a tank top – so I'll probably wear it to sexy events now and again. I just want to feel like a sexy millennial witch, okay?!
Thanks to Bargain Hunterz for sponsoring this review and for providing me with this product to review! As always, all writing and opinions are my own.