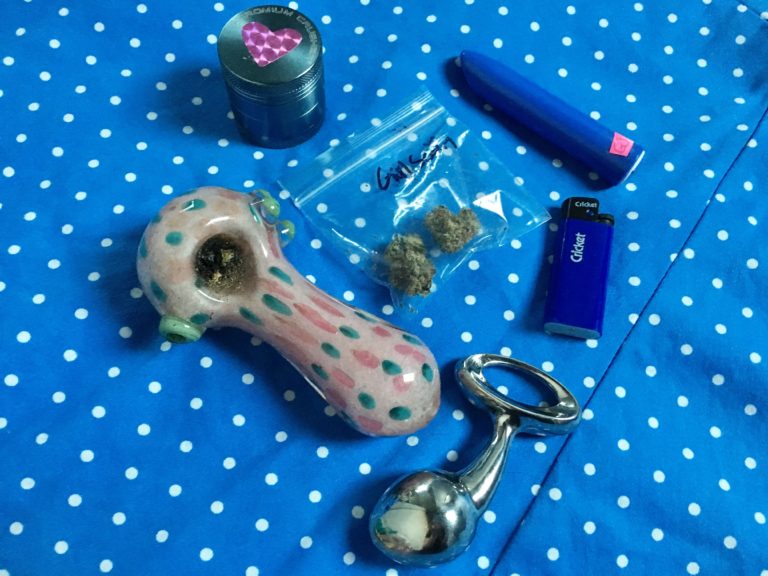 Marijuana is magic. I have known this for quite some time, and then a summer romance drives the point home for me.
But I'm not fully committed to this boy, emotionally; my mind is elsewhere, and that's reflected in the way I talk about him. Tweeting on my way to see him one afternoon in July, I call him my "pothead fuckpal." He's normally thrilled when I tweet about him, but this time, he's irate. I think it's "fuckpal" he objects to moreso than "pothead." Because, while it's irredeemably true he is a pothead, he wants to be more than just my fuckpal. I'm not sure I can give him that, and we're not talking about it yet.
But I am a bad girl who writes bad things on Twitter, so I deserve a punishment.
We smoke up when I arrive at his house, like we always do – me from my little glass pipe and him from his enormous DIY bong. He's smoked for years longer than I have, and has years' more sexual experience under his belt, so I guess he knows what sweet havoc weed can wreak. I always get way too high at his place, nervously smoking more than I should because I'm uncomfortable and don't know what else to do with my hands. I sit there glued to the couch, and he begins to touch my thighs.
Weed makes every touch significant, every movement a story. He traces circles and lines on my skin and they spin off into wild visions, all radiating sensation back to my clit. My arousal builds slowly but steadily, like a ski-lift gliding up a mountain. He works his way toward my clit in maddening circles, and I want his touch there but it's an unhurried want: we will get to that when we get to it, and that's fine.
Stoned sex is a magnificent blur. Journaling about it in days that follow, I always have to tell the story in point form, free of narrative or coherence. So one moment he's touching my clit, and the next I'm draped over his knee getting pummelled by a wooden hairbrush, and the next I'm kneeling between his legs with his cock down my throat. Oh, hello.
I love stoned blowjobs and submissive blowjobs for many of the same reasons: they absorb me, anxieties and all, in a way that sober vanilla sex rarely can; they free me from inhibitions and scripts so I can enjoy what my mouth is feeling instead of suffer what my mind is whispering; and they allow me to focus wholly on the task at hand (or… at mouth). I am a good girl, an orally talented girl, a very very high girl, and I love it.
I shouldn't have called him my pothead fuckpal. I shouldn't have agreed to date him when I knew I could never love him. But all those shouldn'ts don't matter now because there is weed smog in my head and a cock in my mouth.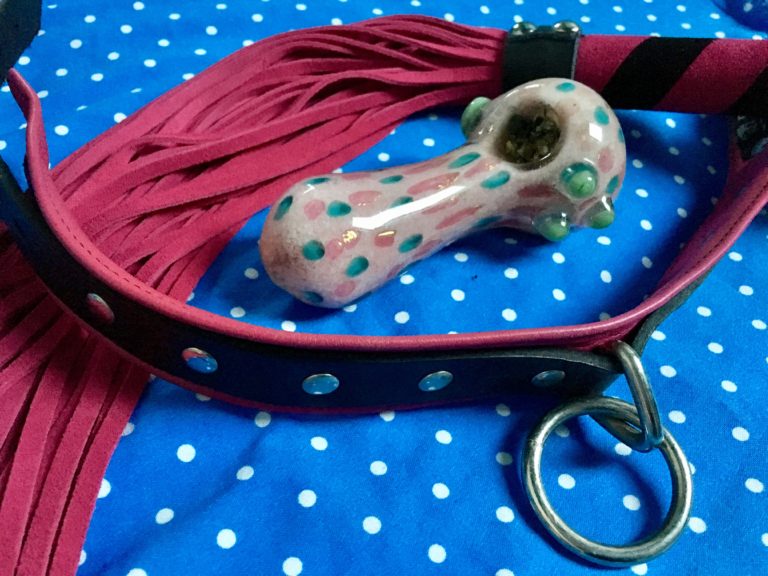 The first time I discovered weed makes pain feel near-orgasmic to me, I was doing yoga at a party, but I'm a perv so of course it didn't take me long to figure out how to apply that to kink.
In September of last year, I had a near-weekly tradition. I would go to a boy friend's house (a boy-space-friend, not a boyfriend, you understand), we would smoke weed, he would catch me up on his various Adventure Zone headcanons, and then he would spank me.
The weed served two purposes. First of all, it helped us two awkward anxious bunnies relax around each other. And secondly, it made his spankings feel like molten-hot fireworks exploding in my skin.
"Do you wanna go to my room?" he'd ask when we'd been chilling on the living-room couch for an hour or two, and that was code for: "Do you want me to beat your ass raw with a paperback novel?" Every time, I'd quirk a grin at him and say, "Yeah." And we would go.
Though I've loved being spanked for years, it wasn't until I met this boy that I thought I might be able to come from it. It always seemed nearly-mine, like an apple on a swaying branch beyond my grasp – but I could never quite get at it. The trying was fun, though.
What I loved most about our arrangement was that sex was never assumed, never a foregone conclusion. The spanking was the main course. The weed was the garnish. The good conversation was the appetizer. And when the meal was done, I could shimmy back into my skirt, say goodnight, and go home, wetness dripping down the inside of my thigh in a guilty ribbon. "Text me when you get home safe," he'd tell me sternly at the door. He wasn't my dom but he was a good snack to tide me over in between feasts. A good friend to have. A good warm hand on my ass.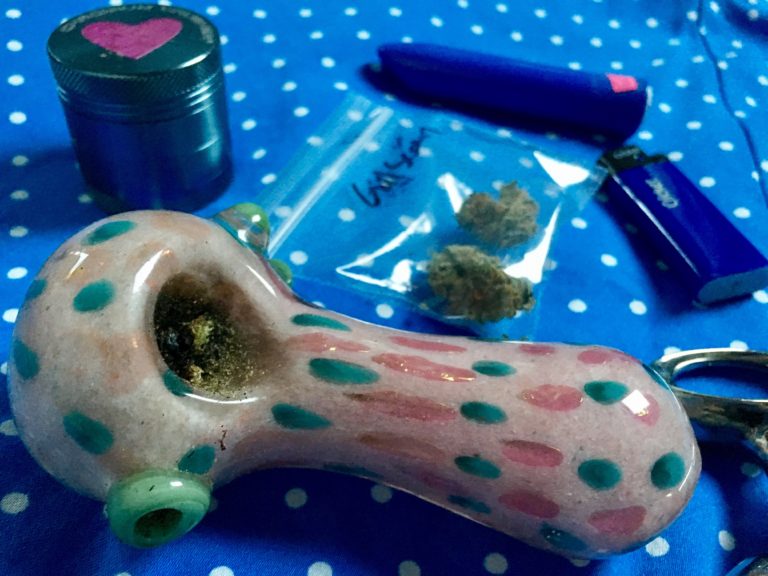 Marijuana extends time in my brain. I can get lost in a moment of sensation and have no idea afterwards if it lasted eight seconds or forty minutes. This is all well and good if my partner is also high, or if they're someone I know I can take my time with. Less so if I'm nervous.
"How long have you been doing that?" I ask you while you're two knuckles deep inside me. "I have no sense of time right now. I need you to tell me if you want to stop." Because I never want you to stop. I want your fingers pressing stripes into my most sensitive spots ad infinitum. I want to live in this hotel room with you and your devilish fingers forevermore. I want to come and come until I'm a husk of a human.
You sigh, with the careful, caring discontent of someone who sympathizes with my sexual anxieties but thinks they're silly nonetheless. "You just lie back and relax. This is not strenuous for me. I'll stop if I want to. Right now I just want you to feel good."
Though our dynamic isn't kinky, I hear this as a command. I lie back. I relax. And you must've said the magic words, because within minutes, I am coming, loud and unrestrained.
You slip your fingers out of me and let me catch my breath before suggesting a mid-sesh intermission to top up our intoxication levels. This entails sneakily smoking in the bathroom of this no-smoking hotel room, because we don't have a balcony and fuck if we're gonna throw clothes on and brave the current January windstorm in this state.
I stand in front of you in the yellowish fluorescent bathroom light, and we're both poetically, unselfconsciously naked. I watch, rapt, as you grind some weed and load your one-hitter. You hand it to me along with your lighter, but I can't get it lit, so you have to help me. I am a quivering little girl making doe eyes at you as you flick the sparkwheel and make a flame for me. I inhale deeply and feel so sexy, so safe.
The trick, you explain, is to exhale through a damp washcloth toward the exhaust vent in the ceiling; that way we're least likely to set off the smoke alarm. You've pre-moistened a cloth for this purpose, and after watching me inhale, you grab it and lay it flat over my mouth, pressing the edges down tight. I breathe out and make a rusty stain on the white rag. "That was maybe the kinkiest thing you've ever done to me," I joke.
I take another hit, and you wink at me – the big, broad, unexpected wink of someone who knows about my thing for winks – and I can't laugh because my lungs are full of precious smoke. I grab the washcloth and push my breath through it, along with a rush of pent-up giggles. "Oh, you were trying not to laugh out the weed," you realize. "I thought it seemed strange that you didn't react to my winking. That never happens." My whole body, my whole brain, wants to hug you and kiss you and suck your dick. C'mere, loverboy.
Minutes later, in our big hotel bed, I'm on my back with my legs spread wide and you're sitting cross-legged between them, like my vulva is a movie you've been dying to see. You slide the S-Curve into me while I snuggle my Tango up against my clit. Despite having come twice already today and being, traditionally, a one-and-done kind of girl (a one-hitter, you might say!), I feel an orgasm building almost immediately. Be it the comfortable environment, the familiar partner, the excellent toys, or the weed, I don't know. And I don't really care to analyze it.
You push the toy's rounded glass tip against my A-spot hard and I fall apart completely, an orgasm bursting through me and extinguishing all thoughts. The combo of climactic incoherence and marijuana incoherence is a funny one. I want you to keep fucking me, harder and faster, all the way through my orgasm, but instead I'm just shouting, "Aaaahhh, I want, I want," and "M-m-please-m-m-moooore."
You indeed keep fucking me, but also, you bark, "English!" The frustration in your tone seems to extend my orgasm, to stretch it out like taffy. But this command also jolts me just enough that I can collect my wits. "Harder, please," I clarify, in perfect English, and you give me what I want.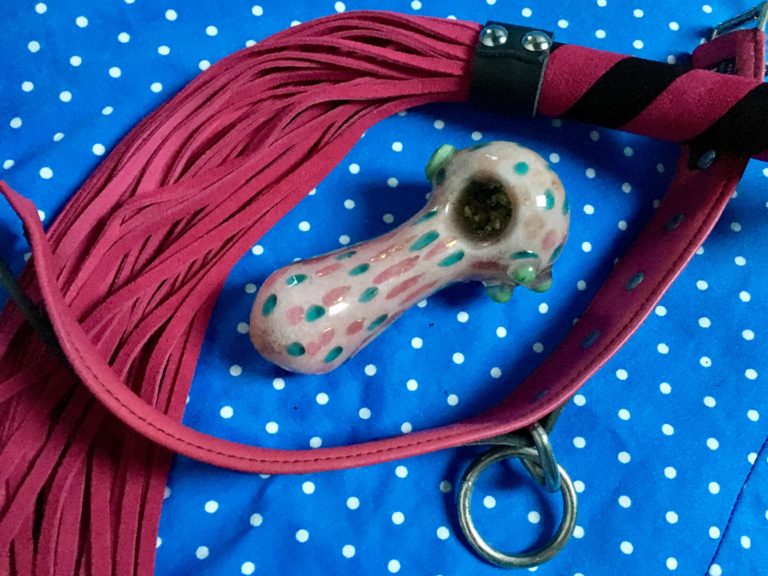 Sometimes, when I'm in my head and struggling to come, you tell me to fantasize about whatever I want.
It's a remarkably generous offer. Most people want you to focus on them, and them alone, while they're fucking you. They want your eyes open and affixed on theirs. They want to do you so right, they blow your other thoughts away.
But this ignores, for many of us, how our sex-brains work. I can think you're gorgeous and still need to picture someone else to get me over the edge. I can love what we're doing, but get even more turned on when I think of us doing something else. I can adore you the way you are, but still envision a different version of you when I'm on the brink and I need something extra to get me there.
Tonight, in my bed, we are high, and you are fucking me, and I am close, and you say it. "You just relax and think about whatever you need to think about." Your voice, as always, is steady and calm. And generous. So generous.
My mind moves in hazy kaleidoscopic shapes, searching for that one image or phrase that will get the job done. I see spirals of light, blinding sunsets, scenes from another dimension. But beyond all that, what I come back to is you. A different type of you, an alternate-reality version of you, but you, nonetheless.
"Be a good girl and come for me, princess," the you of my fantasies mutters as you never will. And I come so hard, it clears the smoke from the rafters of my brain.