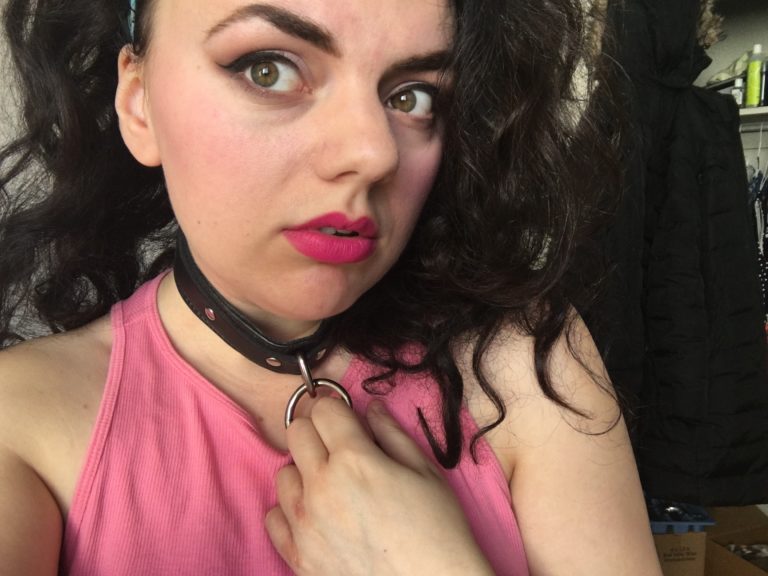 It's long been a tradition here at Girly Juice that I set myself sexual goals at the beginning of each year. Last year was a rare exception: in lieu of concrete goals, I endeavored to scale back on relentless hookups and focus on quality over quantity with regards to my sex life. I think that, for the most part, I accomplished that in 2017.
This year, though, I am feeling reinvigorated to try new things, chase fresh dick, and boldly go where I have never gone before. Here are 5 utterly new-to-me kinks I'm curious about and would like to experiment with this year…
E-stim (electrostimulation) intrigues me because it promises a different sensation from anything else I've ever tried. Unlike the brusque pain of a spanking or the deep pleasure of standard genital stimulation, E-stim is described variously as tickly, prickly, warm and tingly. As a sex nerd and unabashed perv, when I see new sensations available on the horizon, I say: sign me up!
I am hopeful that I can get a sex toy company to send me a Neon Wand to try soon, or that I'll meet a new play partner who has an E-stim setup of their own and would relish subjecting me to it. We shall see!
Hypnokink (also known as erotic hypnosis) is fucking fascinating! I have a new partner who's super into it and has been teaching me some things – including by trancing me over the phone a couple times – and I instantly want to know everything about it. I love the idea of a dominant partner being able to get inside my brain and dominate me psychologically in an even more direct way than other types of D/s allow for. Obviously you should only attempt this with people you trust and who actually know their shit!
In a couple weeks I'm going to see my hypnotic beau and we've negotiated some more intense hypno stuff we're going to try. I am fiendishly excited!
Fear play is scary and hot, and hot and scary! Many moons ago, I heard Violet Blue read a chapter from an N.T. Morley erotic novel on her podcast Open Source Sex which opened my mind to the carnal appeal of knives, consensual "kidnapping," and other fear-based sexy stimuli. In the story, a woman is abducted (consensually) and forced to lie face-down on the floor of a boat, masked and shackled, while an anonymous assailant wiggles a knife back and forth on her clit. It doesn't cut her or hurt her, merely rubs her to orgasm, but the threat of injury is always there, igniting the pleasure with a spark of peril.
Consuming the oeuvres of fear-play aficionados like Ken Melvoin-Berg and Dick Wound this past year (the latter of whom used some knives on me in an introductory, not-especially-scary manner a few weeks ago, whetting my fear appetite further) has acclimatized me to the idea that terror can be sexy – in the right context, and with the right partners. My limited experiences with fear play have proven this to me: a partner nibbling along my jugular but not biting down, for example, or taking me to the edge of my pain limits with a thorough spanking but never quite pushing me into active distress. I'm interested to see if I can evoke even deeper trust, subspace and catharsis with a fear-savvy partner this year!
Bootblacking thrills me, in theory, but I'm unsure if it's for sexy reasons or simply because I am a fancy femme with a penchant for beautiful, high-quality footwear. (Maybe it's both. My femme brain and my sex brain have a lot of overlap.)
This is a rare kink where I can equally see myself enjoying being on either side of the interaction. I think I'd like to begin by getting my boots blacked by someone who knows their shit, and then maybe attempt to shine someone else's boots. There is a taboo sort of intimacy to this kink that makes me feel all tingly inside…
Medical play has come up many times before on this here blog. It haunts my fantasy-brain but I have no idea if I'd actually like it in real life. (That's true of many kinks, actually…)
I have a lot of feelings about the idea of a hot domly person in a lab coat putting my feet up in stirrups, slipping into some nitrile gloves, lubing up a speculum, and giving me a "routine examination." These fantasies are often tinged with elements of the treatments doctors supposedly gave Victorian women to help abate their "female hysteria" via "hysterical paroxysm." Just as the Daddy doms in my little-girl fantasies make me come "for my own good," so too do the efficient and dexterous doctors in my medical-play fantasies…
What kinks or activities are you hoping to play with in 2018?