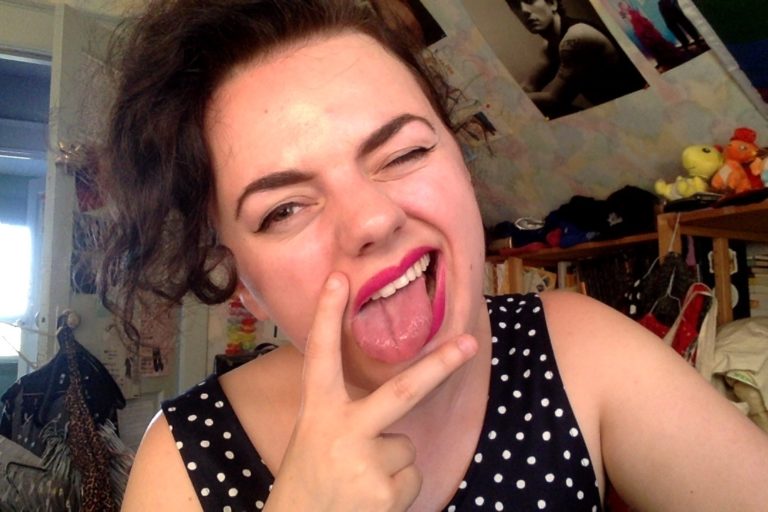 You didn't even try. Come on, dude. I blew you for like 20 minutes, and you gave my clit little more than a cursory graze with your hand. I'm not even convinced you're aware women can have orgasms, 'cause surely, if you knew that, you'd've made at least some minimal effort to give me one. Consent is, of course, vital, but you seemed content to touch all my other bits for your own pleasure – you just made no effort to pleasure me. I'm not a Fleshlight or a sex robot. For heaven's sake. Who raised you?! Who taught you this was okay?!
You expressed zero enthusiasm about giving head. You asked whether I wanted your mouth on me, without indicating at all that it's something you wanted, too. You approached my vulva with a tentative slowness that made me think you weren't so keen on the taste, the smell, or pussy in general. (I know it's not me; my hygiene is impeccable.) Or worse yet, you told me straight-up that it's something you do rarely and begrudgingly. Once you meandered down there, you neglected to make any noise, grab my thighs or hips, or express any excitement whatsoever. I can't help but feel like this is a favor you're doing for me, rather than a mutual pleasure of which we're partaking together. If that's the case, why are we doing this at all?
You expressed zero enthusiasm about my body overall. You've never complimented my curves, my shape, my bits. You've never called me hot or pretty or sexy or beautiful. You've never verbally admitted to finding me attractive in any way. Maybe you do, but the verbal admission is important to me; "words of affirmation" is my love language. You might be faceplanted in my vulva with fervor but I'm still wondering if you even think I'm cute. I need clearer signals, bro, or my anxiety will kidnap my orgasm and hold it ransom for compliments.
You ignored my instructions. No, "That's too intense" does not mean "Double down and go harder." Yes, I really did mean it when I said "Softer and slower, please." No, I was not lying when I explained how sensitive my clit is. Yes, "Keep doing that" really means I want you to keep doing that. No, "A little higher" does not mean "Stay exactly where you are." Are my thighs muffling your ears, or do you just think you know my body better than I do? I assure you, you don't.
You ignored my nonverbal signals. Hey, I'm not sure if you're aware, but moaning during sex is usually a sign of pleasure. So is gasping, breathing faster, grabbing at your head/shoulders/arms/hands, grinding into your face, and spreading my legs wider to give you better access. Several times while going down on me, you found a perfect spot, rhythm, or pressure, and I reacted accordingly – but you missed the memo and moved on to something else. There is some value to the "channel-surfing" technique, but once you find a channel I like, I'd love if you could stay on that channel. (And please, for the love of god, if I say "Ow" and pull away, don't fucking do that thing again.)
You didn't stay down there for long enough. Sorry, pal – for me, cunnilingus is not a "get in, get 'er done, and get out" type of activity. You gotta be there for the long haul. It might take ten minutes, twenty, thirty – but I can assure you it won't happen at all if I feel like the timer's on. I don't necessarily need to take a long time; I just need to know that I can. I need to know you won't be glancing at the clock, rolling your eyes, and sighing dully into my labia.
You have no sense of rhythm or consistency. Okay, I get it; tongue muscles are easily fatigued – but you can exercise them to make 'em stronger over time. Maybe you just have no rhythm; you can practice that, too. The difference between oral sex that feels good but doesn't get me off and oral sex that feels good and gets me off is consistency. That's the whole secret. Find a motion and location that seems to be working, and keep at it. Seriously. I'll tell you if and when I want you to stop.
You attacked my clit too directly. Eight thousand nerve endings, buddy. The clit is surrounded by two sets of labia and a clitoral hood; there's no reason for you to glom onto my exposed clit directly unless I've told you I like that, which I absolutely do not. Drift around the periphery. Lick my clit like you're coyly flirting with it, not like you're engaging it in combat. There's no faster way to desensitize me than to overload my nerve endings with direct sensation; it's often painful, always uncomfortable, and never results in an orgasm for me.
You didn't stick your face right in there. I'm sorry to be the one to break it to you, but tongue-flicking from a distance, like they do in porn, is not an effective approach for me. Not only does it feel physically bad, but it makes you seem hesitant to have my clit in your mouth. What are you so scared of? Lower your lips down; close them around the shaft of my clit. Let me feel the warmth and wetness of you on me. Your tongue feels lovely but you have a whole mouth's worth of other sensations you could give me alongside all that tongue. Besides, when I come in your mouth, I want to feel like I am indeed coming in your mouth.
You put too much pressure on me to get off. Orgasms are fantastic, but they're by no means a foolproof measure of sexual enjoyment overall. And frankly, the more you tell me you're definitely gonna make me come, the less certain I am that you're right. Just tell me to relax and enjoy what you're doing to me; orgasms do not often result from pressure. Unless we're talking about the pressure of your lips and tongue on my clit.