I don't think you quite understand the incongruity of shitty sex toy company Pipedream having bought out luxury sex toy company Jimmyjane. This is like if McDonalds bought out the Rainbow Room and started selling a deep-fried, mystery-meat bastardization of their filet mignon. This is a strange thing. This is a thing that should not have been allowed. And yet, it happened.
The Jimmyjane Intro 2 is, essentially, a deep-fried mystery-meat filet mignon of a sex toy. Pipedream took the bare bones of one of my favorite clitoral vibrators – the Form 2 – and made it cheap, battery-powered, awkwardly large, and even buzzier than before.
The Form 2 fit in my hand perfectly: small, smart and spartan. The Intro 2 is like the large-print version of the same toy – it feels unnecessarily big, to the point that I am always aware I am holding a sex toy and the vibrations can't just melt into the periphery of my perception. This might make it a better choice than the Form 2 for people who struggle with hand dexterity – but for me, it's just annoying.
But my main issue with the Intro 2 is the vibrations. I mean, it's a vibrator; that's always going to be the make-or-break factor. The Form 2 was buzzy-ish to begin with – moreso, certainly, than other blogger-revered clit vibes like the Tango and Siri 2 – but it had a rumbly base note that endeared it to my clit. The Intro 2 lacks that rumbly foundation, and is all buzz. That's great if you like that, but I don't. It numbs me out within a couple of minutes, leaving me to grumble gripes like "My kingdom for an Eroscillator!" and "Nah, that's cool, I didn't want to be able to feel my genitals or anything."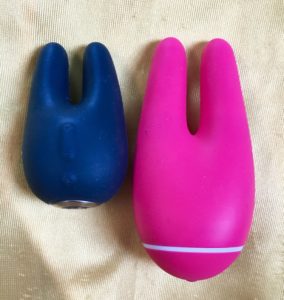 The Intro 2 also lacks my absolute favorite thing about the Form 2: a setting where the vibrations moved quickly back and forth between the toy's two "ears," creating what Jimmyjane termed "sensation in stereo." To me, this setting felt more like oral sex than other toys that actually try to mimic oral sex; the vibrations flippity-flopping from one ear to the other were like the side-to-side flicking of a firm tongue. This setting's been phased out in the Intro 2, and it really bums me out.
And we need to talk about the one button on the Intro 2, because it makes me want to throw this vibrator into a fire. Whereas the Form 2 had an elegant three-button control system (up, down, and change mode), the Intro 2 only has one button, via which you are forced to cycle through its multiple modes and speeds one by one. If there's a particular setting or speed you love and want to get back to, you have to get through all the other ones first. No vibrator should be designed this way. Give me intuitive vibrator design or give me death.
It is, in some sense, exciting that Pipedream is trying to make fancy-ass Jimmyjane toys more accessible to lower-income folks. Not everyone can afford to spend $80+ on a luxury vibrator, and I get that. But even at a low price point, there are options that far outperform this buzzy, cumbersome facsimile. If you want a decent, rumbly clit vibe for under $50, try the Jopen L2 or Sensuelle Point. If you can afford to save up for something pricier but really excellent, grab the Tango for $79 ($71 with my discount code GIRLY10); it's rumblier and more intuitive than anything Jimmyjane's ever made, pre- or post-Pipedream buyout.
Babes, your clit deserves better than the Intro 2. Just like Jimmyjane deserved better than to be bought and rebranded by a company like Pipedream. Give your clit a happier ending than Jimmyjane got, please.
Thanks to Peepshow for sending me this toy to try!