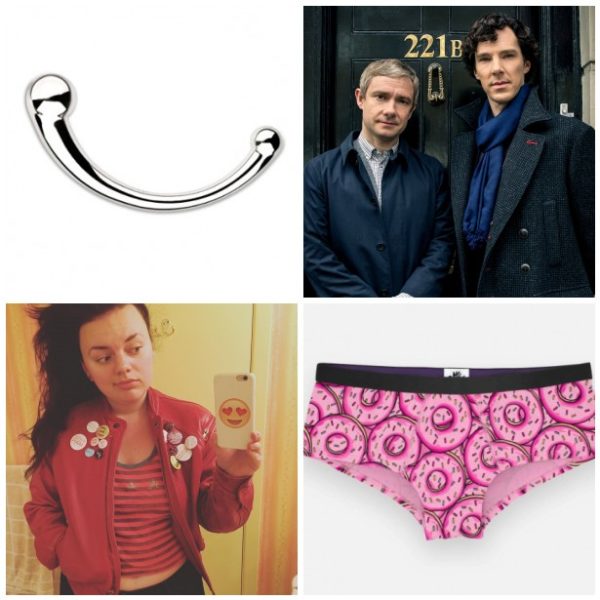 If I had had a lot of sex this past month, I'd nickname it Cocktober. But alas, that was not the case. My sex life was spooky in a seasonally appropriate way, at least in the sense that my vag remained so barren, it practically developed cobwebs. Zing! Anyway, a lack of partnered sex doesn't have to mean a lack of sexual developments in one's life. Here's what I was into in October…
Sex toys
• My relationship with the Pure Wand is a volatile one. There will be long stretches of time when direct, intense G-spot stimulation just feels painful to me, and I retreat to my favorite A-spot toys for the sweeter pleasure they provide. But lately, my G-spot's been more receptive to touch than usual, so I've been pounding the fuck out of it with my Pure Wand on the regs. To paraphrase Wallis Simpson, "When a Pure Wand is right, there is nothing else to use in its place."
• My clit was in the mood for pinpoint stimulation this month: it wanted the Tango and Eroscillator far more often than the broad-headed Magic Wand. The whims of my clit are a mystery to me; I just do what it tells me to do.
Fantasy fodder
• I'm oddly entranced by this gif of an animated dick pounding a vag, ejaculating, and pulling out. It's not so much the creampie fetishism that does it for me; more just the novelty of seeing a somewhat three-dimensional, dynamic illustration of fuckin'. Sigh… I miss getting banged real good.
• I'm fascinated by close-up videos of ladies getting their clits rubbed until they come. That particular view of vaginal contractions is so cool. This one is my original favorite, and I've also recently enjoyed this one and this one.
• In a matter of days, I devoured Katie Forsythe's epic Sherlock fanfiction novel, All the Best and Brightest Creatures. She writes Sherlock differently from story to story, but this particular Holmes is asexual and homoromantic. The way she writes sex scenes is so beautiful and poignant, and it's been a useful reminder of how much my sexual responses are tied up in my emotional responses. Everything feels hotter and lovelier to me if it has an emotional context that lights me up (like, for example, Sherlock Holmes' bottomless, tragic affection for John Watson).
Sexcetera
• By the time you read this, I will be in Malta! My mum and I are traveling across the ocean to attend my beautiful cousin Sacha's wedding. After hanging out there for a week, we'll fly north to Italy and spend an additional five days in Rome. I'm so excited I can hardly think straight!! Supposedly our WiFi will be a bit spotty, so if you notice I'm tweeting and Instagramming less than usual, that's why – but I've got blog content queued up, so even in my absence, I am present. Hi!
• I did a lot of writing this month that I'm super proud of! For Bitch Flicks' bisexual representation theme week, I wrote about Alex Kelly from The O.C. and why she's a precious angel who should be protected at all costs. The Establishment published a piece I wrote about how spanking helps my mental health. Herizons magazine published a slightly reworked version of an article I wrote last year about the "is squirting just pee?" debate. I wrote about using coconut oil as lube for Ignite. And if, after all that, you still want more of me (!), you can read this interview that fellow sex blogger Layla did with me; we talked about friendships, mistakes, and rainstorms, among other things.
Femme stuff
• I haven't had sex in over two months, and I've been describing this period as a "dick detox," because it genuinely does feel like I'm conquering an unhealthy addiction. Not that I pursue sex to the detriment of my health, my relationships, or my life (I don't), but just that the presence of male romantic interests in my life tends to distort my self-perception somewhat (as I told you last week). So it's been interesting to watch the ebb and flow of my gender presentation as I figuratively flush the dick from my system. I'm more okay dressing butch, skipping makeup, and wearing what I want to wear instead of trying to appease the Dick Gods. Hallelujah, I'm free! (At least, for now…)
• Aslan Leather makes my favorite kink accoutrements. After owning a pink and black Aslan collar for months, I bought a plain black one to round out my collection. It matches every outfit. I love it to death.
• I was sent a Nudestix concealer pencil in a beauty subscription box, and I adore it. The pencil format makes it super portable and easy to apply, and the formula is decently blendable without sacrificing coverage. This sleepy little femme gives Nudestix two brightened under-eyes out of two!
• Still enamored with MeUndies. They are soooo comfy. And they recently introduced new pairs that are covered in PINK DONUTS. Yyyyyoink! (I also just learned that they sponsored a SlutWalk and created custom slut-positive underwear for participants to wear… Amazing!)
Little things
The utter deliciousness of making a structure chart for a piece of writing. Philosophizin' about kink with friends. Edamame. My freshly redesigned portfolio. Regina Spektor's new album. Jake Peralta's frosted-tips Florida aesthetic. The "Lush Vibes" playlist on Spotify (best music to write to!). Spanakopita from Athens Pastries. Compliments from my therapist. Bex texting me, "I love you. Don't forget." My new ukulele case (a necessary purchase because I'm taking my uke overseas to play a song while my cousin walks down the aisle at her wedding!). Learning how to roll joints with flavored rolling papers – and the Seth Rogen tutorial video that taught me! Watching porn on a rooftop with Suz. Dancing my ass off with Steph and Holly at Comedy Bar's '90s dance party. Awkward attempts at flirting with improv crushes. Caramilk martinis and goofy selfies with Anais. My brand-new pink European plug adapter. #StonerFemme paraphernalia. Listening to Naive Thieves while high. Brent misremembering Bowtie's name as "Squimmy." Posh British accents. Fictional universes so compelling and comforting, you don't want to go back to real life. Warm scarves knit by people who love me.