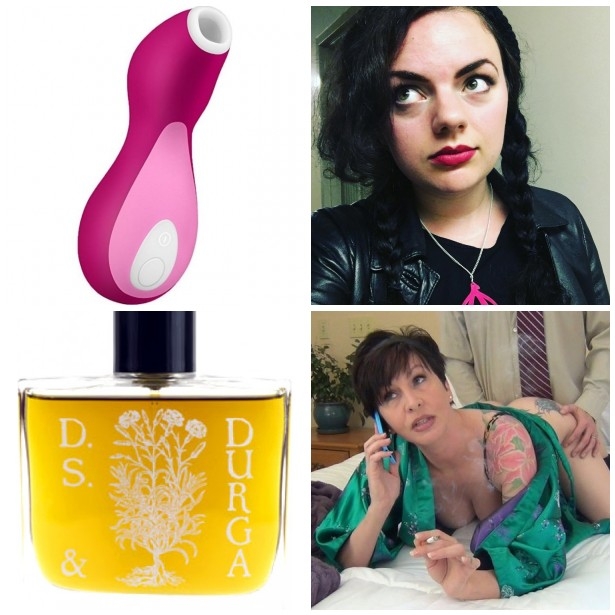 I feel like my mental health picked up a bit this month after being somewhat abysmal since my breakup in August, so that's been nice! A new job and a new crush are reinvigorating me. Here are some of the sexy things I enjoyed in October…
Sex toys
• I like the new Je Joue bullet more than I was expecting to! It has this great motor that's rumbly in a different way than I'm used to; it's hard to describe. I'll write a full review eventually. When I want a pinpoint clit vibe, lately I've been alternating between my Tangos, my ScreamingO Vooom, and this li'l purple bullet. They all have a different quality of vibration, so it's a good mix!
• I'm also enjoying the Satisfyer Pro Penguin lately. Satisfyer sent me most of their range earlier this year, and to be real with you, my clit is not discerning enough to have a preference between the three (!) Satisfyers I own – but this little pink one wins my heart based on ergonomics and aesthetics alone. The suction-y sensation makes a particularly great pairing with cunnilingus porn!
Fantasy fodder
• There's a porn company called "Fuck the Geek" which has given a title to a genre of porn I've long enjoyed: unreasonably hot woman bangs incongruously schlubby dude. I would imagine the guys who watch this like it because it's a form of wish fulfilment, much like sitcoms where a Kevin James-lookin' motherfucker is married to a Leah Remini-lookin' stunner. But for me, the appeal of these scenes is the dude's utter incredulity. He can't believe he's lucky enough to be getting sucked/fucked by a classically porny starlet – and he and his boner respond with suitable enthusiasm!
• Been thinking a lot about salt-and-pepper daddy doms in tweed jackets (what else is new, right). If a dude looks like a professor from a dramatic teen movie set at a New England boarding school, I probably have a crush on him, and he should really consider spanking me with a wooden ruler. I'm just sayin'.
• This mom-and-son roleplay/blowjob video absolutely fucking delighted me. Mrs. Mischief has such a sense of humor about the whole scene. Plus, she's a total babe and a dick wiz – I don't normally eroticize mom/son dynamics very much but this one noticeably turned me on while also making me giggle and applaud.
Sexcetera
• Some of my work elsewhere this month: I wrote about toxic sex toys (including ones containing CHLORINE!) for Glamour. I reported on the orgasm gap for Herizons. I offered some Halloween sexy roleplay suggestions over at Ignite. I wrote some smutty Brooklyn Nine-Nine fanfiction. I discussed ways to introduce a sex toy into your relationship for Peepshow. I talked with Inspirational Songstress about my music, my favorite place to write, and my confidence journey. I guested on What's My Body Doing? to talk dominance and submission with the ever-adorable Eva.
• Orgasm stats: as of time of writing on the 30th, I'd had 30 orgasms this month, making it an unusually libidinous month for me and bringing my total for the year up to 279 so far. 300 is within reach!! #nerd
Femme stuff
• Autumn always reignites my fondness for dark lipsticks. Lately I've been swooning over Sephora cream lip stain in Blackberry Sorbet, MAC lipstick in Fashion Revival, and (the cream of the #SpookyFemme crop) MAC Retro Matte liquid lipstick in Caviar.
• I bought a black crop top at H&M for about $8 and it's perfect: simple, flattering, easy, and versatile. It pairs well with leggings, skirts, shorts, and even just underwear when I'm loungin' around the house. I love how it offsets any necklace I wear (including my hot pink internal clit).
• The scents I can't get enough of this month: Memoirs of a Trespasser by Imaginary Authors is comforting, yet adventurous, like a rugged explorer recounting his journeys to his wife in their cozy house upon his return home. Sir by D.S. & Durga is over-the-top stately masculinity, like I'm snuggled up in the aforementioned fantasy daddy dom's tweed blazer, sipping whiskey by a roaring fire. Rachel Syme says Cuir by Mona di Orio is the perfume Rosa Diaz would wear, and I am inclined to agree: it's leathery and fierce and doesn't care what you think.
Little things
Smoking a joint in the bath while wearing a sheet mask (truly peak #StonerFemme). Big cheap breakfasts at my local diner, where they don't mind if I sit for hours sipping coffee and writing about kink. The word "yikes." Being kinky Powerpuff girls with Eva. Spotify algorithms. Improv crushes (fucking always). Merciless to-do lists on pink paper. My dad buying me sushi. Playing sad blowjob songs for Anais on her piano. Attending my high school reunion. My new part-time job at a luxe sex shop! When I told my FWB I kinda wanted to call him Daddy and he reacted with utter nonchalance. Puppy kisses. Sharing pizza, wine, and a huge cookie with Suz in her beautiful apartment. Laura Antoniou's kinky murder-mystery The Killer Wore Leather. Feeling abundant. Giant donuts at my fave café. Crying with laughter at Catch23. Afternoon naps in my sunny bedroom.