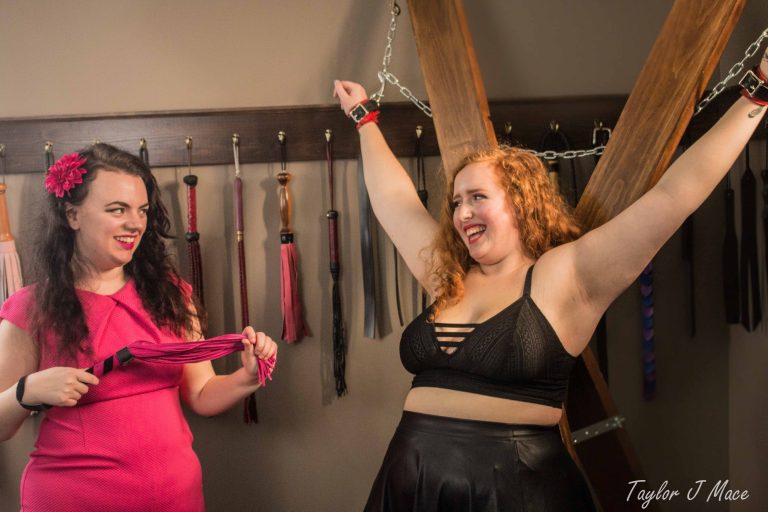 My inbox is a perpetual blur of unappealing offers, but there are some propositions you just don't ignore. Like, for example: "Would you like to come try out our funky upscale queer-positive dungeon?"
It was an email from the Headmistress of The Ritual Chamber, and I practically started salivating as I read it. Yes, of course I wanted to play around in the dungeon. The only question was: with whom?
See, I'm between partners at the moment, and you can't exactly jump on Tinder and ask a random fuckboy, "Wanna come beat me up in a dungeon?" Well, some people probably could, but I can't. The very idea makes me hideously nervous. Plus I wouldn't trust a Tinder bro to know my ass from my elbow if I put a flogger in his hand, know what I'm sayin'?
But then, of course, a perfect solution floated into view: my friend Suz volunteered to be my play partner for the day. I asked our friend Taylor J. Mace to come photograph the proceedings. And just like that, we became a trio on a mission: to trek to the dungeon, bruise Suz's ass, and get some beautiful photos in the process.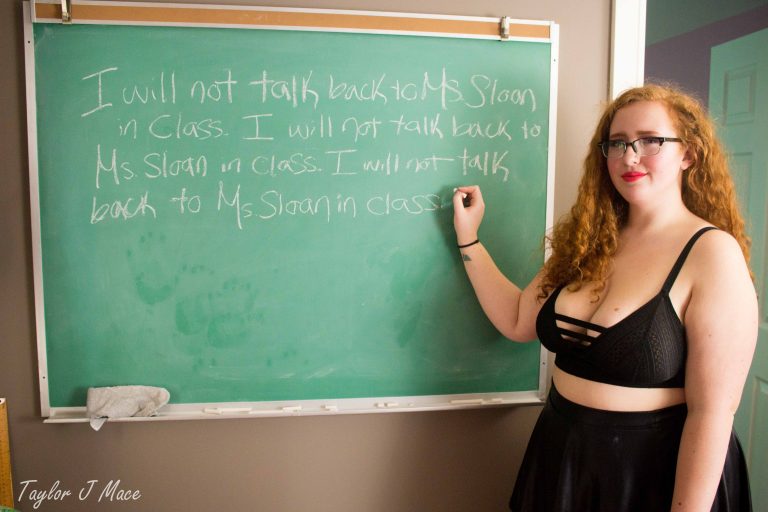 The Ritual Chamber is a gorgeous space that you can rent for you and a partner (or up to 3 partners, if you please!). It's set up to make a broad range of fantasies come true: there's a medical clinic room, an elegant Victorian boudoir, an ageplay room for littles and caregivers, and a traditional dungeon space. But what interested me most, when I perused The Ritual Chamber's website, was its "school detention room."
I have a thing about teacher/student flirtation. It's haunted my sex-brain since the days when I was a literal student, sitting at my hard, uncomfortable desk and staring dreamily at whatever babely instructor I currently had a crush on. Of course, I wouldn't have wanted them to respond in kind, because that'd be gross IRL, but in fantasy, it was thrilling.
So when Suz asked me what she should wear to the dungeon, I told her to "dress like a subby good girl for me." And when we arrived at the space, the detention room was our first stop.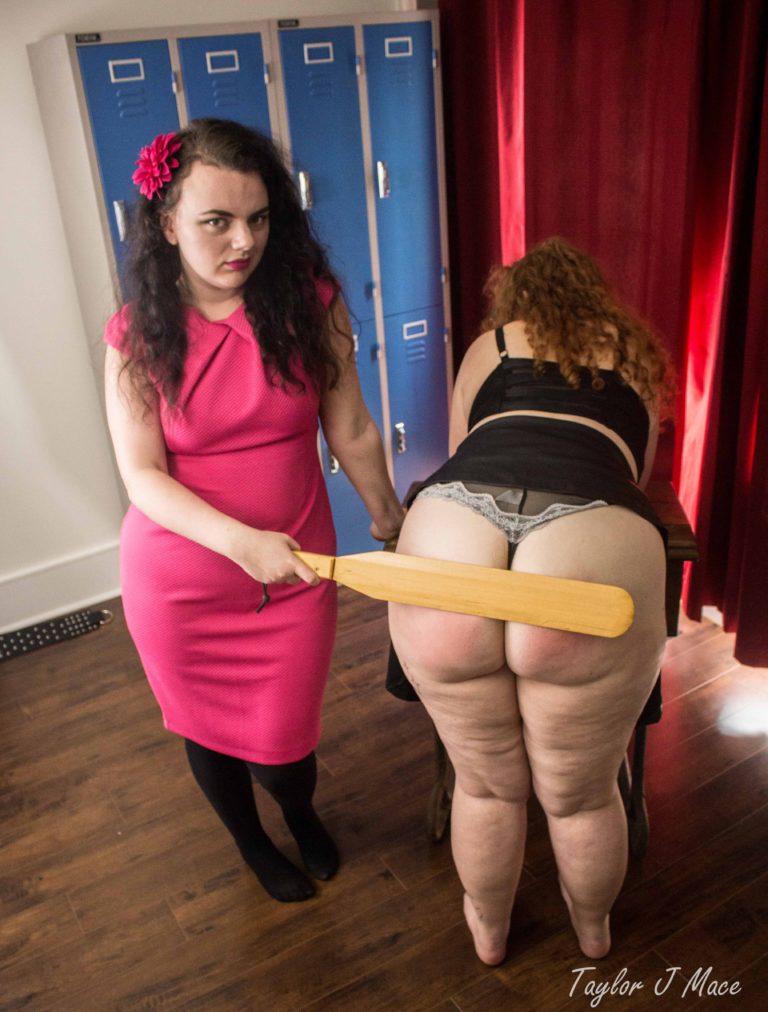 I had brought some impact implements of my own to use, but ended up not needing them; the dungeon is extremely well-stocked with equipment. I bent Suz over this authentically vintage-looking schoolhouse desk and selected a paddle from the collection arranged in the corner. There were several frat-style paddles like this one, as well as a few wooden rulers for that legitimate mean-teacher aesthetic.
It was fun to make Suz write lines about what she'd done wrong, and then punish her accordingly. But I must admit I got a little distracted when I realized that those lockers behind us are actual, functional lockers. Oh, the school-bully roleplay possibilities!
(By the way, if you're wondering, my dress is by Vesper and my flower hairclip is from H&M years ago. I don't often dress in this "businesslady femme" style, but it seemed appropriate for the domme role I was playing!)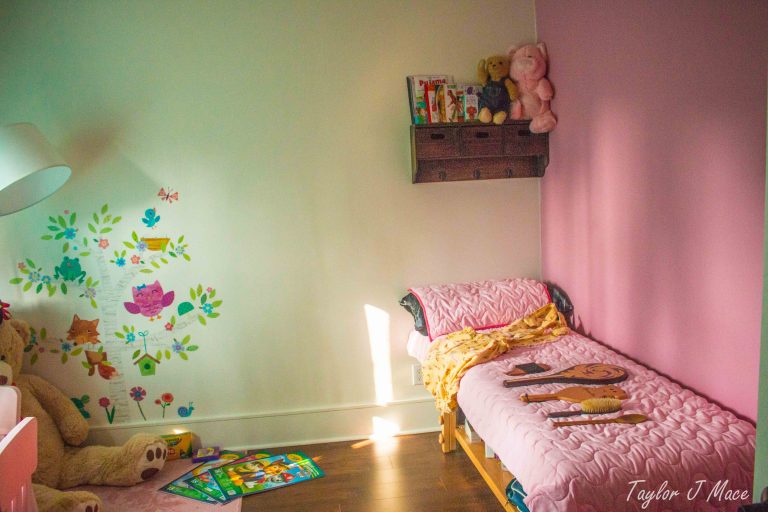 From there, we moved on to the ageplay room, which reeeeally appealed to my inner little girl. The toys and stuffed animals everywhere would be so great for comfort during and after scenes, and the impact toys laid out on the bed were perfect for punishment in an ageplay dynamic. One of them was painted to look like a lollipop. Aaaamazing.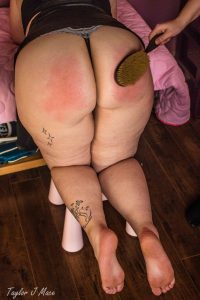 I continued Suz's spanking on the adorable little pink bed in this room, alternating between a wooden hairbrush and a paddle carved in the shape of a bear. Conveniently, there was even a pink footstool for her to rest her knees on. The creators of this space have truly thought of everything!
This room is super authentic-looking, not really a sexy, tarted-up version of a child's room but more like an actual child's room. I felt that way about the medical clinic room, too; every detail, from the scratchy paper on the exam table to the dingy fluorescent lighting, felt pitch-perfect. Those details are crucial when you're trying to fulfill a fantasy – you don't want to be taken out of the moment by a pervasive sense of artifice. So I really applaud the decorator(s) of The Ritual Chamber for taking so much care in the creation of this space – it looks fantastic, and every single room made me feel dirty in the best way.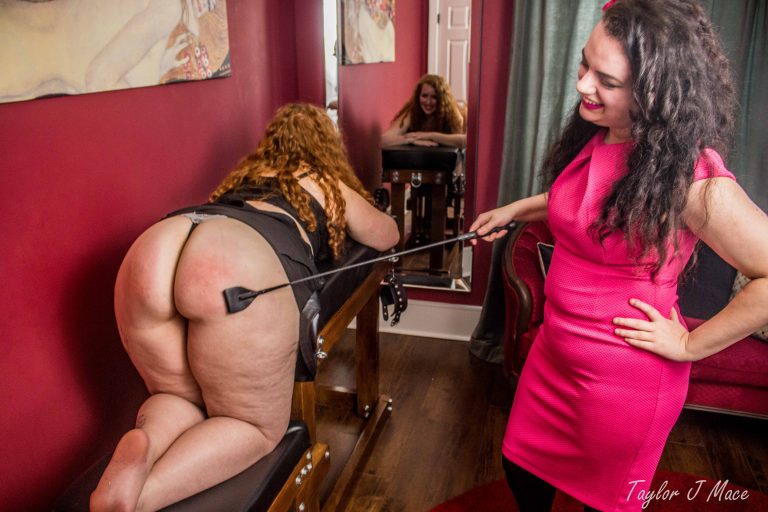 The boudoir room is stunning. It reminds me of rich people's parlours I've seen in films set in the Victorian era, like Hysteria. (Which, by the way, if you – like me – have a lot of sexual feelings about Victorian doctors and hysteria, the medical clinic room would be a perfect space in which to enact that fantasy…)
There's an actual goddamn spanking bench in the boudoir, so obviously I had Suz "assume the position" on it and made her stare at her own face in the conveniently-placed mirror while I hit her with a crop.
As you can see, there was a lot of giggling. I am not exactly a serious domme.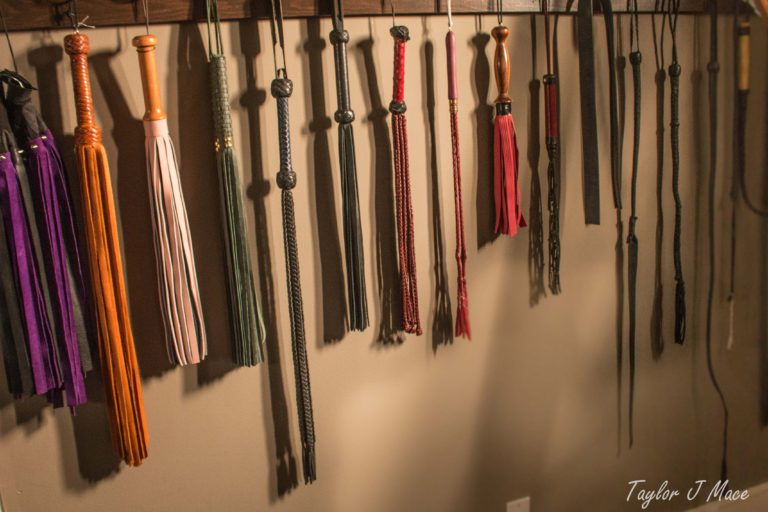 Our last stop was the dungeon proper – a dimly-lit room in the middle of the space, where the walls are lined with floggers, whips, paddles, restraints, and pretty much everything you'd ever need for a kink scene. Even Taylor, a seasoned kinkster, found something in the collection he'd never seen before: a pair of gloves where each finger has flogger-esque falls attached to it, so you can hit someone by swinging your open paw like some kind of werewolf.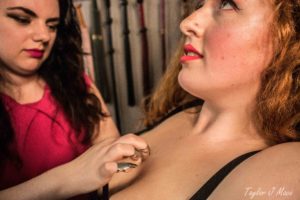 We cuffed Suz to the Saint Andrew's cross in this room and then proceeded to beat her up in several different evil ways. Taylor hit her chest with the aforementioned flogger gloves, I flogged and whipped her with other implements from around the room, and then I scratched "BAD GIRL" onto her pale chest with some metal talons Taylor had brought along. Hey, when you've got a cute sub consensually chained to a cross, you make good use of that opportunity!
While this beating was going on, I noticed that the space felt blissfully private and safe. I couldn't hear any noise from neighbouring houses or apartments, so I could rest assured they couldn't hear us either. We could be as loud as we wanted or needed to be, and all our cavorting was safely contained in this tidy, well-appointed little dungeon. (And yeah, we got pretty loud at times.)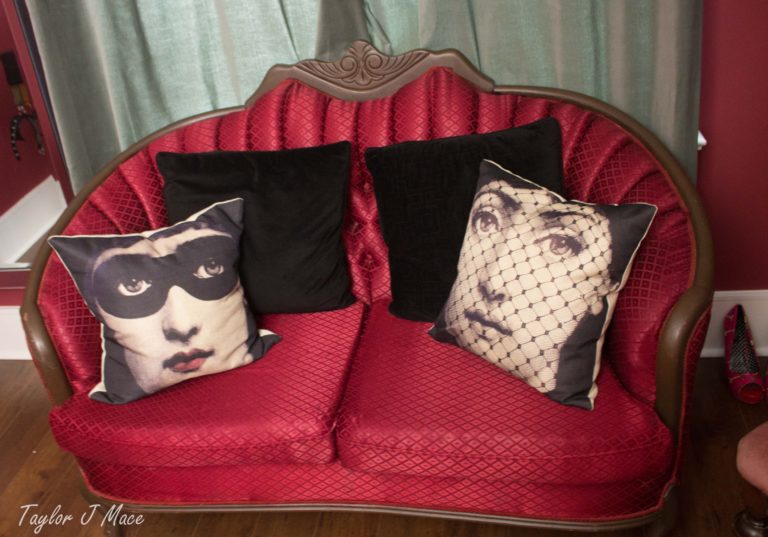 Our time at The Ritual Chamber was certainly an eye-opening experience! In the past, I've occasionally gotten into situations where I needed a private spot to have sex but there wasn't one immediately available to me. We could've dropped by our local sex club in those situations, or tried to rent a hotel room or a last-minute Airbnb, but none of those are entirely ideal: the club might be crowded, an Airbnb might leak sound to its landlord, and a hotel room won't come equipped with kink implements galore!
If you are in need of a sex-positive, queer-positive, kink-positive space to bring a scene to life, I can't recommend The Ritual Chamber highly enough. It has just about everything you'll need, all carefully arranged in a clean, comfortable, private space. It's the perfect spot for a kinky getaway into your darkest fantasies!
Thank you so much to The Ritual Chamber for sponsoring this post, to Taylor for taking all the photos, and to Suz for being such a good girl for me!