There is a very enterprising man who lives in my city, and he makes people's vibrator dreams come true. His name is Wil Mclean and he operates a business called Sybian Toronto. For $150, Wil will bring a Sybian to you, set it up, sanitize it, show you how it works, leave you with it overnight, and come pick it up the next day.
It's a totally genius business idea. (And I'm not just saying that because of how cute Wil is, though he is very cute.) But what does this have to do with the Njoy Eleven, you ask?
I think there should be a Sybian Toronto-esque rent-an-Eleven program. Because no one should have to buy this toy without trying it first.
My job as a sex toy reviewer is essentially to answer the question, "Should you buy this toy?" and while that's sometimes easy, it's a challenge with the Eleven. It costs a little over one-quarter of what a Sybian costs, but it's still pretty damn expensive (the standard price is $300 – I'll talk about cheaper options further down in the review). The bigger and firmer a toy is, the likelier it is to cause discomfort or pain when it encounters a body it's incompatible with – and the Eleven is one of the biggest and firmest toys you can get your hands on, at 11″ by 2″ of solid stainless steel. In addition to all that, it's also unwieldy, indiscreet, and not guaranteed to hit your G-spot.
When I told Piph I longed for an Eleven, she tried to talk me out of it. I'd read her review, so I knew she didn't like it: she found it too heavy to thrust comfortably, and it didn't hit her G-spot as well as she thought it would. "Trust my vagina on this," she implored me. And while I do, generally, trust Piph's vagina, I also trust my own – and it was telling me it wanted to be crammed full of stainless steel.
At DildoHoliday, I borrowed Piph's Eleven from the communal bleach bowl and took it to my room. I paired it with a good clit vibe. I had an orgasm. And I fell in love. Heart-eyes-emoji, head-over-G-spot in love.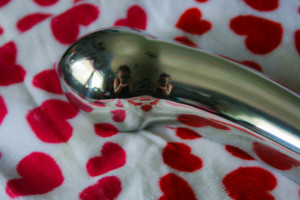 The object of my affections, I should explain, is the Eleven's larger end. The smaller, ridged side, at 1.75″ in diameter, is perfectly fine, but it lacks the pronounced curve and insistent girth that work magic on my G-spot. I use the smaller end as a warm-up, because my vagina may be experienced but it can't handle two inches of steel right off the bat. So I work myself open using the smaller end, and it usually only takes a minute or two before I'm ready to turn the Eleven around and slide the bigger side into my vag.
Although steel is completely firm and unyielding, I often find it easier to insert large steel toys into my orifices, because they're so frictionless. In fact, despite the Eleven's enormity (and, you should know, it is fucking enormous), I almost never use lube with it. My natural lubrication is usually enough – but don't try this at home, kids; I might just be a freak of nature. Lube is a good thing!
The large end of the Eleven locks in place behind my pubic bone and nuzzles right up into my G-spot. There's really nowhere else it can go. It's too big to be pushed in deep toward my cervix, and its flared head keeps it from sliding out of me before I'm ready to remove it. So it just stays exactly where I want it, and all I can really do is thrust it over my G-spot in small motions. Fortunately, that's all the movement I need for the Eleven to feel fucking fantastic.
Piph and I disagree about which is better, the Eleven or the Pure Wand, and I know why. She likes direct, intense G-spot pressure, the kind best provided by toys with an extreme curve like the Pure Wand or Comet Wand. But as for me, I've learned that my G-spot prefers sweet, tender rubbing over aggressive pounding. I can appreciate the Pure Wand and other G-spot assailants of its ilk, but they serve up my pleasure with a side order of "need-to-pee" discomfort, and I'm not always down for that. So something that slides back and forth over my G-spot, rather than slamming into it or grinding against it, works better for my purposes.
And to that end, the bigger head of the Eleven feels divine for me. If I use it with a decent clit vibe, I can usually get off with the vibrator on the first or second setting, because the G-spot pleasure makes up for the lower level of clit stimulation. This combo has brought me to many a stellar blended orgasm. I love blended orgasms best because they leave me feeling incredibly sated and blissed out – and that's particularly true of the Eleven, since its mighty girth is so satisfying for my muscles to clench around when I come.
Is this review even more graphic and detailed than mine usually are? That's because the Eleven elicits feelings in my vagina that I can only describe as pornographic. I'm getting turned on just writing this review. Fuck, man. Get out of my head, you vexatious, tantalizing chunk o' steel!!
The Eleven's heaviness is one of the main issues some reviewers have with it. And that's understandable. At 2.75 pounds, it is basically a dumbbell, fit for arm exercise regimens. I find I can get around this somewhat by bracing my arm against my thigh and angling my vag so my thrusts work with gravity instead of against it. (Horizontal thrusting with the Eleven is less tiring than vertical for me.) However, if you have any kind of mobility or strength issues in your arms, run far, far away from the Eleven. Something lighter but equally G-spotty, like the Seduction, will do you right.
Now, let's talk price for a minute. I still maintain that you should try someone else's Eleven before you buy your own, if that's at all feasible for you. I wouldn't want you to drop a ton of money on this thing and then find out that you hate it. But if you're prepared to bite the bullet, here's how you can get the best deal…
For Canadians: PinkCherry Canada's standard price for the Eleven is $200. I don't know how they can afford to price it so low, but they do. PinkCherry frequently has sales, so if you keep an eye on their homepage for discount codes, you might be able to get the Eleven for 20% or even 30% off that already-discounted price. I got mine for $160 this way, which is just slightly more than half what other shops charge. Hey, PinkCherry? My vagina thanks you.
For Americans: You should buy from Sex Toys Canada. They charge the standard $300 for the Eleven, but that's $300 Canadian, which works out to about $240 USD, depending on the day. STC also has frequent discount codes available. If you buy an Eleven using a 20%-off code, you could end up paying about $193 with the exchange rate, which is pretty A-OK.
I can't tell you whether or not you should buy an Eleven. All I can tell you is that I love mine, some people hate it, some love it, and you should certainly never pay full-price for one.
Beyond that, it's up to you. Are your holes calling out for this massive rod of steel, like mine was? Or do you quake in fear of the Eleven's size (and price tag)? The choice is yours, my friend…