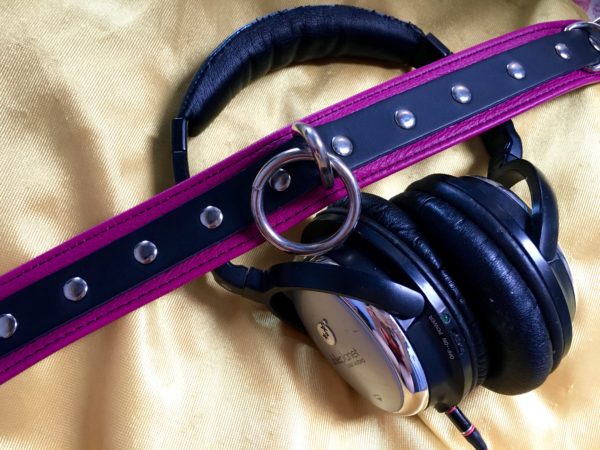 It's funny to me that many people think of kink as dark, dangerous, and edgy. It can be all of those things, of course. But for me, it's not scary or mysterious. It's a key part of how my brain works and how I relate to other people. It's a sexual interest and also a non-sexual paradigm. And sometimes, it's a boon for my mental health.
Earlier this year, I entered the last semester of my four-year journalism degree, and found myself unable to cope with the challenges it brought. Newsrooms are an anxiety-provoking place to begin with, and I was also experiencing one of the worst anxious and depressive episodes of my life – so, as much as I wanted to be up to the task, I just wasn't. Two days in the newsroom were enough to convince me of that: the real work hadn't even begun yet, and already my heart pounded, my mind shouted self-hating epithets at me, and I found myself thinking everything would just be easier if I walked out in front of a speeding truck.
I spoke to one of my instructors, and she – blessedly – was sympathetic to my cause. We discussed possible accommodations and arrived at the idea that I'd get my final credit by creating a journalistic audio series on a topic of my choice.
Over the preceding months, I'd found that my bad mental health days could sometimes be turned around by an intense spanking, a service-submission BJ, or various other acts of kink. Giving up control to a partner made me feel, ultimately, more in control of my life. So the intersection between kink and mental health was front-and-centre in my mind at that time, and I pitched that as a topic for my audio series. My prof loved it, and so I began.
I spent the next six weeks producing Beating the Stigma. Several local sweethearts volunteered for interviews, and generously lent me their time and energy to discuss this topic on tape. Our conversations ranged from intense to funny to mindblowing, and were often all three. I'm so so grateful to my interviewees for being candid and clever every step of the way.
You can listen to the whole series by clicking here, or you can skip to specific chapters below:
Chapter 1: Introductions
Chapter 2: Pain
Chapter 3: DD/lg
Chapter 4: Dominance
Chapter 5: Safe, Sane and Consensual
Chapter 6: Trauma and Recovery
Chapter 7: Sex 2.0
Chapter 8: Aftercare
I hope this series sparks some thoughts and feelings for you! The process of producing it certainly brought a lot to the surface for me.