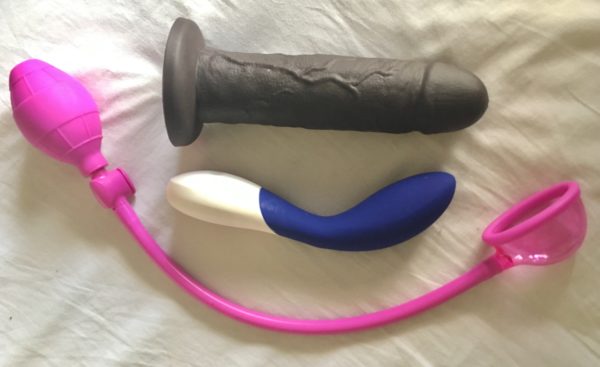 I am a lucky, lucky babe: companies are always sending me new sex toys and sexual products to try. However, my genitals are picky as hell, so it's rare for me to deviate from my tried-and-true favorites and fall in love with something new. However, here are 9 toys I received this year that I liked a lot.
9. I don't really consider myself a "size queen." True, some of my favorite toys are big – most notably the Double Trouble and Eleven – but I like those more for their curve than their size. So I'm a bit surprised that the Tantus Sam snuck onto this list. It's pure girth, and doesn't really bring much else to the table. But gosh, sometimes I just want something thick and meaty inside me and nothing less will do. And when that craving hits, all I can do is sigh, roll my eyes, pull out the Sam, slather it in lube, and get ready for a good solid fuckin'. Available at SheVibe, PinkCherry U.S., PinkCherry CA, and Peepshow Toys.
8. Dammit, Lelo; I can't believe I kind of like your Mona Wave. Its come-hither motion is still just as torturously slow as it was when I wrote my review, but I must admit that sometimes I'm in the mood to be edged like that. (God knows I'd never have the self-control to stroke my own G-spot as languorously as the Mona Wave strokes it.) Though I'm hesitant to support Lelo anymore because they're the worst, admittedly I don't have any other toys quite like the Mona Wave. Available at SheVibe, Come As You Are, and Peepshow Toys.
7. I bought my hot pink California Exotics mini clit pump impulsively, while taking a friend shopping for sex toys, and I'm so glad I did. Previous shitty cheap pumps had failed me, but this one – while still affordable – actually does what a pump is supposed to do. I find it pairs especially well with weed; when I'm high, the intense suction on my clit feels like almost enough to get me off. And it's certainly enough to get me extremely wet and turned on. Available at Come As You Are.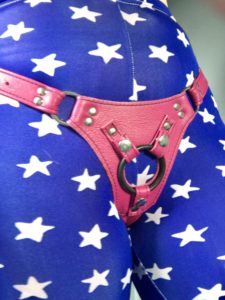 6. I've owned an Aslan Jaguar harness for a while, but this year I traded my black one for a pink one. Still haven't had occasion to actually use a harness, despite owning three of them (what am I even doing with my life?!) but my raspberry Jag makes me extremely happy nonetheless. One day I'll fuck someone while wearing this, I promise. Available at SheVibe, Come As You Are, and Early to Bed.
5. During our road trip to Minneapolis in April, my best pal Bex visited kink-themed coffee shop Leather & Latte without me and came back to our Airbnb with a brand new stone lollipop crop. I tried it out on my arm and then on my thigh, and before too long, decided I needed to pay a visit to the café and buy my own crop ASAP. I'm so glad I snapped it up while I had the chance! It's the stingiest, bruisiest impact play toy I own, and was an oft-requested hit at our spanking party. Available… fuckin' nowhere except in-person at Leather & Latte, apparently. Sorry!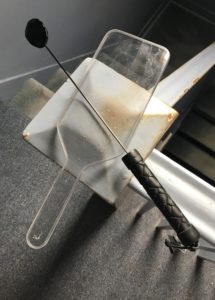 4. Speaking of impact play toys… My KinkMachineWorks Lexan paddle is my favorite one of all time (at least so far). I bought it after eying it on Etsy for quite some time. The first night I got it, I brought it over to Georgia's house and she left some impressive bruises on me. What I like about this thing is that it's bruisey and pleasantly thuddy without being overly painful. Yeah, it hurts, but it's rarely too much for me to take. Not to mention, there's something to be said for a see-through paddle, especially if (like me) you like to look at beautiful butts as you smack 'em… Available on Etsy.
3. I don't have much to say about the Doxy Wand, 'cause it's just a good vibrator that does its fuckin' job. You would be surprised how few vibes I can actually say that about. This thing is rumbly and dependable; it was an easy choice for this list, even though I still favor my Magic Wand Rechargeable. Available at SheVibe, Tantus, and Early to Bed.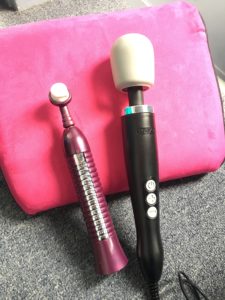 2. I knew the Liberator Jaz would upgrade my sex life, but I didn't realize quite how much! I've used it countless times during sex and masturbation, to boost my hips for a more comfortable and pleasurable angle of penetration. It also works great for spanking, blowjobs, cunnilingus, and all manner of other fun things. I'm glad I made the investment in this firm little workhorse! Available at SheVibe, Come As You Are, and Peepshow Toys. 
1. Hands down, my favorite new toy I acquired this year is my Eroscillator Top Deluxe. I've said it all before and I'll say it again: it makes me come super hard, super fast. It fits neatly between bodies during sex. It pairs well with dildos, partners' fingers, and/or partners' dicks. It's quiet-ish, well-made, slightly less ugly now than its previous copper iteration, and a definite conversation starter. It's remained on my nightstand ever since I got it, which is the highest compliment I can give a sex toy, truly. Available at SheVibe, PinkCherry U.S., and PinkCherry CA.
What were your favorite sex toys this year?