It's December, and that means 12 Days of Girly Juice kicks off today! It's my annual year-end series where I compile the best of the best from my whole year: everything from selfies to tweets to sexual encounters. Today we're focusing on femme stuff – my favorite things that made me feel feminine, fancy and fiiine the whole year long.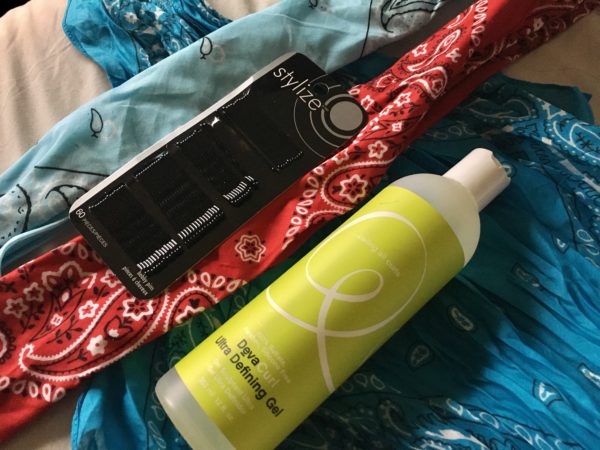 Hair
Bobby pins. There are some tragically unsung heroes of the beauty world – a really great hairbrush, a black eyeliner that is truly black, an eyeshadow blending brush that just works – and bobby pins are one of them. This year I used them for three primary purposes: to set my hair in pincurls (after creating the curls with a turquoise NuMe curling iron), to erect the front part of my hair in a triumphant pomp, and to pin bandanas into place so I could rock those rockabilly vibes all day long. I always carry bobby pins in my purse – they're equally great if you need to pick a lock, scrub ash out of your bong's bowl (#StonerLyfe!), or pin your bangs out of your face for an impromptu BJ. Soooo useful!
DevaCurl Ultra Defining Gel. This is the good shit. I have so much hair-admiration for my curly-headed sex blogger friends – Epiphora, Suz, and Hedonish, to name a few – but my own curls have always been hit-or-miss, because taking care of curly hair is so much work. However, this year I found a routine that works for me and creates excellent curls when that's what I want to do. After washing and conditioning my hair, I use a cotton T-shirt to "scrunch" the excess moisture out of it, and then I flip my head over and scrunch in a few dollops of DevaCurl gel. Once that's done, I cram my gestating curls into a Turbie Twist to help them dry even more. After at least an hour of turban'ed time, my hair's ready to be taken out and air-dried – at which point, it becomes gloriously curly. DevaCurl's products are brilliant, and the Ultra Defining Gel, in particular, rocks my world. I can go multiple days without needing to re-set my curls because this stuff keeps 'em in place for so long. YESSS!
Bandanas. I have always loved the rockabilly look – I gorged my eyes on SuicideGirls and old Bettie Page photos from practically the moment I discovered the internet – and I've attempted to replicate it to varying degrees of success over the years. In mid-2016 I briefly dated someone who loved that look, so I'd sometimes dress up as his good little Rosie the Riveting, complete with bandana, winged eyeliner, and red lipstick. I adore that aesthetic so much that it endured in my life even after that relationship ended. I especially love the delicious subversion of "queering" this classic 1950s look by choosing my bandana colors according to the hanky code.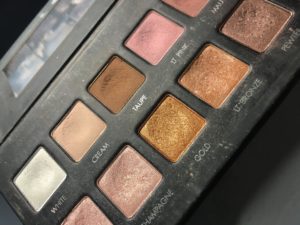 Cosmetics
LORAC Pro palette. I am an extravagant femme, and therefore, I own an excess of eyeshadow palettes. There are many I love for their outlandishness or uniqueness – the Sugarpill Sweetheart palette, for example, or the Wet 'n' Wild Petal Pusher palette – but LORAC Pro is my favorite and most-used one, by a longshot. With its eight glitter shadows and eight mattes, all brilliantly pigmented and wonderfully blendable, it's simply the most versatile bunch of neutrals I've ever owned. Whether I'm doing an everyday look or going all-out glamour-femme, I'm likely to reach for my LORAC Pro palette.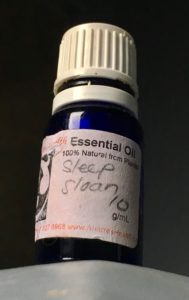 "Sleepy Sloan." This is the name Tynan gave to the essential oil blend she custom-made for me, even though its effects don't have anything to do with sleep; it's just a cute name. I still adore this fragrance as much as I did when she first blended it for me. There's a drop of it on the collar of my shirt or dress most days I go out, because it comforts and uplifts me.
Revlon lipstick in "Fire & Ice." I didn't think much of this lipstick when I first bought it. It's a classic red that leans slightly orange, which has traditionally not been my jam; I'm more of a blue-based-reds girl. But this color has really grown on me: it's punchy, saucy, and assertive, just like me on my best and boldest days. Slicking my lips in Fire & Ice gives me an easy confidence, a high-femme swagger. A tube costs about $8 at any drugstore, an admirable value for such a potent mood-booster.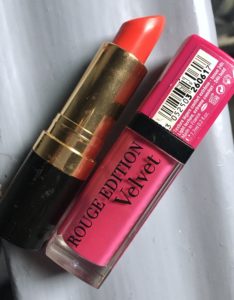 Bourjois Rouge Edition liquid lipstick in "Pink Pong." My other lipstick favorite in 2016 was, naturally, a bright pink. As a diehard devotee of pink lipsticks, I have lots of favorites – Bite's "Violet," NARS' "Schiap," and Revlon's "Smitten," to name a few – but this cool-toned, velvety pink really stole my heart this year. It's not as long-lasting as some other liquid lipsticks I've tried, but it's not as drying, either. If you're looking for a hot pink that'll light up your face and make your femme heart sing, this is one I'd recommend.
Clothes & Accessories
Aslan Leather collars. I have two: a pink one Bex bought me for my birthday and a black one I bought myself. I love them both. They're comfy, good-lookin', and they signal a bit o' kink without being too over-the-top to wear in public. Oh, Aslan, why are you so good to us?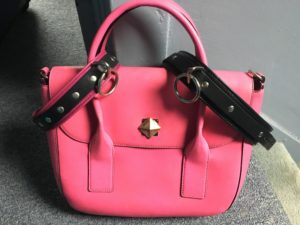 My hot pink Kate Spade purse. The model is the New Bond Street Florence. I bought it on a deep discount back in early 2014, but at that time, it felt almost too brashly femme for me; I was shyer then, and less willing to dress in a way that would command attention. But this year, I really "grew into" my gloriously pink handbag. It's also conveniently big enough for my beloved MacBook Air, so I tote this bag on work-dates, weekend getaways, and airplanes. It makes me feel equal parts businesslady and fancy femme, and really, what more can you ask for?
MeUndies. I've enthused at you about these brilliant underthings before; I won't repeat myself too much. Suffice it to say: it feels almost sinfully gratifying to swathe one's genitals in lush, comfy fabric that's covered in ghosts, donuts, dinosaurs, or little dancing dudes. All underwear should be this adorbz and well-made.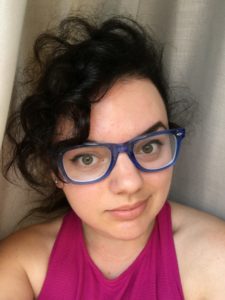 My new glasses. Before 2016, it had been a couple years since I'd gotten new glasses with my current prescription, and it was time. I've been trying to be braver and more authentically "me" lately, instead of always reverting to the shy, compliant little girl I've been forever, so I opted for some bold-as-hell frames when I bought new glasses this year. One pair is blue, one is black, and they're both huge and distinctive. I feel like a hot nerdy bosslady when I wear them, which means I've been wearing glasses more often instead of just busting 'em out when I really need them. Hooray!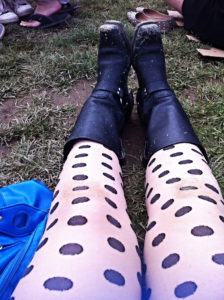 Frye harness boots. Mine are the 12R style in black, and I bought 'em back in January 2013. Since then, they've become my footwear of choice for so many different occasions: parties, dances, loungin', adventurin', performing at porn galas… Whatever my schedule calls for, really! This year I wore them in Malta, Rome, Minneapolis, Chicago, and Alexandria, among other places. These boots are such a signature part of my aesthetic that Caitlin said they felt like they were cosplaying as me when they wore a floral-print dress and boots. Here's to plenty more exciting exploits in 2017 and plenty more stompin' around in these durable, glamorous boots!
What were your favorite beauty and fashion items in 2016?