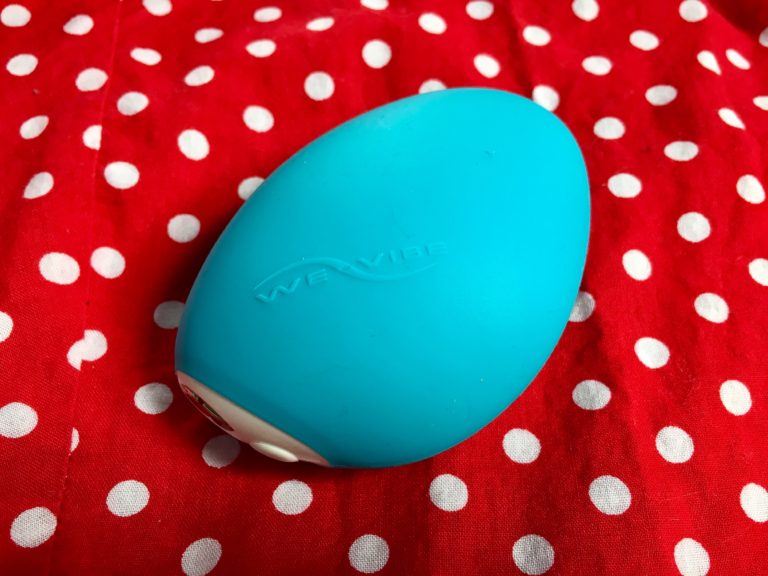 "It's like two Tango motors in one toy," said one of the managers at the sex shop where I worked, and my ears perked up so hard they practically fell off.
The We-Vibe Tango is my favorite vibrator. It's my bedside buddy, my travel-size titillator, my 'gasmic go-to. It comes with me on sex dates and on vacations. I use it solo, with partners, and various combinations thereof. It's simply the strongest and rumbliest vibrator of its size (with the possible exception of the Swan Wand Mini, which I sadly don't yet own), so nothing has yet unseated it as my number-one toy-bag essential.
You can imagine, then, how excited I was when I heard the We-Vibe Wish was like two Tangos in one. And in my favorite shade of bright turquoise, no less. "I Wish I owned one," I started joking every time I showed it to customers at the shop, but it wasn't really a joke.
The good folks at Luxury Vibrators sent me a Wish to try, and I'm sad to say it didn't quite live up to my hopes. There's a lot to love about it, but it's not as flawless a fit with my personal anatomy and vibrator usage style as I had expected.
First, let's talk about the motors. Yes, plural – because there are two of them. As it's been explained to me, the vibrations shift back and forth quickly between the motors, creating what We-Vibe calls PowerPulse™: "a new, ultra-powerful vibration sensation that feels like waves of pleasure." Indeed, it whirrs and rumbles unlike any other vibe I've felt of this size; the quality of vibration reminds me of the lower speeds on the Magic Wand Rechargeable, which is a very, very good thing.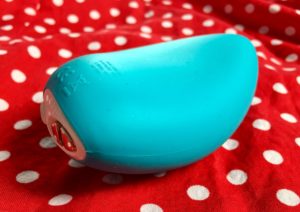 That said, when I put pressure on the toy, I can feel the motors' rhythm skipping like an arrhythmia. It doesn't take much pressure to activate this flaw; sometimes it happens just from me lightly resting the toy against my clit. This is apparently a common problem with dual-motor toys: it was observed by many a reviewer about the Jimmyjane Form 2, for example. In the case of the Wish, it doesn't interrupt the sensation on my clit too much, but it is definitely noticeable and often distracting, and makes me worry that the motors' function will decline as time goes on.
As with most newer We-Vibe toys, this one is controllable via the company's We-Connect app. While I love using my phone as an intuitive remote for more complex toys, it's less useful for a simple vibe like the Wish: it's easier and quicker to just cycle through modes using the vibe's one button than to connect the toy to the app. You can use the app to let a partner control your vibe from across the room or across the planet, though, so that's cool. And while the toy's button lets you cycle through only three steady speeds (more on that in a sec), the app gives you more granular control: you can swipe or tap your way through 10 different steady speeds, plus several vibration patterns, plus make your own patterns if you are so inclined.
At the store, I used to tell customers that the Wish would be perfect for use during PIV – but now I regret that, because it isn't really true. Despite its gentle, vulva-esque curve and squishy silicone housing, it's just a little too big and bulky to comfortably fit between bodies, unless you're intentionally leaving enough space between your pelvises. That curved shape also causes the Wish to make a rhythmic purring noise when a partner's body moves against mine during intercourse. It sounds like a goddamn jaguar. "It was a bit distracting," my beau said, tactfully, after a PIV sesh in which we were trying to be Seriously Kinky but just ended up Seriously Giggly because of those damn noises.
The other distracting factor: I was expecting the Wish to work like my ol' faithful Tango, and it doesn't. I thought it would have four steady speeds and four patterns, and that you'd have to cycle through all of them to get back to the beginning; that's how the Tango works, and it's not a perfect system, but I'm used to it and know how to do it in a hurry. The Wish has three steady speeds followed by seven patterns, which, as you might imagine, has been a bit of an adjustment for me. During PIV with a partner, I kept clicking to what I thought would be the highest steady speed, only to accidentally activate a pattern and fuck up my own impending orgasm. This is frustrating, but as with any vibrator, I could become accustomed to it if I was using this toy a lot.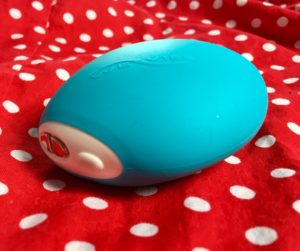 It'd be less annoying to cycle through those ten modes if the Wish's button was easier to locate and press in the heat of the moment. It's smaller and flatter than the button on the Tango, takes a more thorough push, and feels tactilely similar to the magnetic charger port right next to it, so I have to look right at it when I press it, or I risk missing it altogether. This, again, would be mitigated if this was the only vibe I was using and I was therefore forced to get used to it, but that's not the case. Even so: why does We-Vibe insist on only putting one button on most of their toys? I think everyone would be happier if they had an "increase speed/next mode" button and a "decrease speed/previous mode" button. It'd be way more intuitive than having to cycle through all the speeds and patterns to get back to the first one.
Shape-wise, the Wish is well-designed. Its pointed tip will appease those who like more pinpoint sensations like the Tango could deliver, while its edges and flat sides are ideal for broader stimulation or even full-body massage. In many ways, it feels like a wand vibe without the bulkiness and heaviness most of those toys suffer from.
It's also just super cute. I love the way it looks in my hand: adorably turquoise, sensual but not overtly sexual, substantial but not massive. It's the kind of toy that probably wouldn't intimidate a partner (unless your partner is the worst), and that wouldn't horribly embarrass you if you'd left it lying on your nightstand when company came over.
On top of all that, the Wish is 100% waterproof, charges magnetically (via a much better-developed system than the Tango's frustratingly weak magnetic charger), and comes with a one-year warranty. I want to like it. We-Vibe tried so hard to make this a great toy. But the pressure-induced skips in vibration, plus the annoyance of having to cycle through all the modes, make it unlikely to join my roster of go-to vibes. It's bigger than I'd prefer for usage with a partner, and more finicky than I'd prefer for usage alone. Dammit.
I'm still waiting for someone to make a decent competitor for the Tango. C'mon, vibrator industry. You can do it. I believe in you!
Thanks so much to Luxury Vibrators for sending me this product to review!