As with many kinks, it began with the thought: "I just like it. I don't think it's a sex thing."
I've always reacted with glee to being winked at. I suppose this is a not-uncommon reaction – they're intended as an expression of flirtation, humor, or solidarity, after all, so they're intended to create a positive feeling in the recipient. But the degree of my reaction seems… unusual. I've never quite been able to pin down why. Kinks, after all, are never simple.
As with many kinks, too, its unfolding turned me into a bit of a creep. Sometime around the end of 2015, I started occasionally mentioning it while out on first dates: "I have a thing about winks," I'd ambiguously admit if the subject of flirtation or odd romantic tastes came up in conversation. Sometimes, if I got tipsy enough, I'd just ask outright, "Do you have a good wink?" The question caught my dates off-guard. They'd not considered this before. I see now that I was doing a thing akin to when foot fetishists get a little too curious about my shoe collection or ageplay fetishists call me a "little girl" without asking – i.e. things people do in service of their kinks that aren't strictly okay without consent – and I feel bad about it. I wasn't thinking of it as a kink then.
I went out for drinks once with someone I had strong feelings for, and inquired at some point about his wink. He was a shameless show-off of a man, theatrical and broad, so he launched into not only a wink demonstration but also a verbal lesson on how best to wink ("You gotta do it so fast that the other person almost doesn't see it, and wonders, 'Did he just wink at me?!'"). My burgeoning fixation crossed paths with my teaching and learning kinks, and the result was a whole lot of giggling and blushing.
That same friend once pounded me with my favorite dildo, mercilessly, masterfully, as hard as I wanted. I squeezed my eyes shut as I shouted my orgasm into the heavy, humid air. When I returned to earth, I opened my eyes to see my fuckbuddy staring at me intensely, a look of lusty concentration on his face – and then he fucking winked at me. I actually moaned. If I didn't know it was a kink before that, it was that moment which solidified it.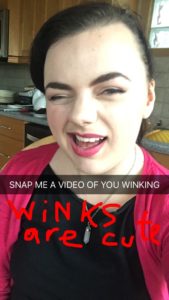 Friends started sending me gifs or YouTube clips of good winks. On days when I felt sad or unloved, I'd put out a call for winks on Snapchat or Twitter, and watch my phone blow up with flirty babes.
I told a new beau he had a good wink, and he kissed me tenderly for long minutes, occasionally leaning back just enough to wink at me between kisses. He held my face still in his hands, so I could not look away. It was like a forced orgasm scene, but more intimate, and more "erotic tease" than "whole hog." I died a little bit.
I went to a house party, and drank enough to get me into extra-giggly mode. Somehow, word of my penchant for winks got out around the party, and suddenly, random people were coming up to me just to wink at me and see my reaction. "Hey Kate," they'd say, to get my attention, and then I'd be accosted with a razor-quick one-eyed straight shot of glee to my heart and genitals. It was a strange sensation, strangers and acquaintances knowing this little shortcut; it felt intense, almost boundary-crossing. I felt the way I do when someone spanks me who I don't quiiite trust enough for that yet: breathless, shaken, turned on but undone. I wasn't entirely sure I liked it.
One night I went on a first date at a sexy storytelling event, and afterward, the date and I stuck around to chat with my friends. One of them knowingly threw a wink my way, and when I had my predictable giggle/shriek/blush reaction, my pals explained to my date that I have a thing about winks. I was quick to add that it gets strange when people think they can just wink at me willy-nilly. "I'd rather they get my consent first," I explained. "Ugh, that sounds so weird, doesn't it?"
My date, an experienced kinkster, shook his head with solemnity. "No, it doesn't."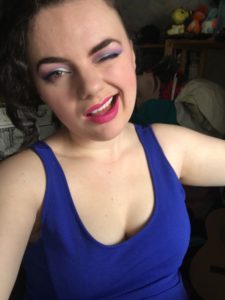 Fast forward a few weeks, and we were dating and fucking and falling in love. One day in bed, after sex, he lay beside me stroking my hair and staring into my eyes. "Do you think we're at a point yet where I could wink at you?"
The thoughtfulness of the question touched me. I may have cried a little bit. And then a little more, laughingly, when I realized what a silly thing it was to cry about. But it was the gesture that had affected me: the caring about my comfort, the remembering of inane details, the wanting to make me happy but only on my terms.
I nodded. "Yeah, you can." He did. I giggled, and my heart clenched up in that now-familiar way. But it was a world away from those stranger-winks at the party. Like the difference between oral sex from a random hookup and oral from a long-term partner who knows your body and your brain inside and out, there was a sense of intimacy and mastery to it that pulled me inside the moment, rather than making me want to nervously run away from it. Each wink from him was like a slap in the face – but the consensual, cathartic, kinky kind.
Now that that relationship has dissolved, actually the only piece of that man I still own is his wink. Once, at my request, he offered me the incentive of a short video of him winking if I finished a big project I was working on. Motivated anew, I drudged through it, and sent him the completed file. "Wink, please!"
The clip still sits in my Twitter DMs, haunting me if I scroll back far enough. It's only three seconds long, but it's three seconds of someone who loved me, showing me just how much he did.
Kinks are never simple.