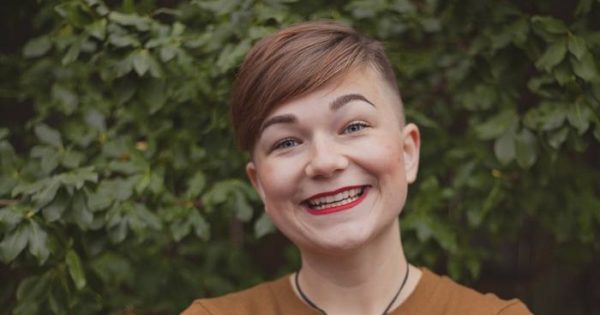 My friend Tynan Rhea is one of the funniest people I know. Her stories at Tell Me Something Good are always crowd favorites, and I could happily listen to her talk about damn near anything for hours. She's just that kind of person.
But being funny and engaging isn't Tynan's only skill. She's also a trained doula, aromatherapist, and sex educator. I sat down with Tynan in a noisy Toronto coffee shop to talk about the science of aromatherapy, the oil blend she made for me (which is my #1 favorite scent, far beyond any perfume I've bought at Sephora), and the super rad self-love workshop she's teaching this month for folks who've recently given birth.
Kate Sloan: So, you made me an aromatherapy blend, and I'm wearing it today, actually. Do you want to tell the story of that blend? 'Cause it's a cool story!
Tynan Rhea: It's a great story! Okay, so, you'll have to fill in the parts that are about you and your day, but basically what happened was: I had a dream. And in the dream, you and I were discussing a blend that I was gonna make for you.
KS: And we were at a sex club.
TR: Oh, really? I forgot that part! Okay, that makes sense. So, we were at a sex club, and I was discussing this blend. And I remember, in the dream, feeling this sense of urgency, like, "Oh my god, Kate needs this blend." I knew that it had to have pink grapefruit in it, and I knew that the middle note had to be lemongrass, and then, for the base note, first, I thought, "For sure, jasmine," and then I thought, "Oh, wait, no. This may be a rose moment." And I was like – weird! She might hate rose. Why would I do that? And so then, when I woke up, I immediately texted you, like, "I just had this wild dream that I was making this blend for you, and this is what it would have in it… Do you think you'd like that?" And you were like, "Oh, yeah, I could really use that, because…"
KS: It was actually, the guy I was seeing at the time, I had just found out that he was a chronic abuser. So I was going through some feelings of guilt and self-hatred around, like, "Why didn't I know this? Why did I put up with him for so long and believe him over these other women?"
TR: Oh, that's so much more fascinating now, in terms of the blend, because we did end up going with rose, and rose is about self-compassion and healing the heart. So it's good for if you've lost somebody to death or illness, or if you've broken up with someone, and it also helps us focus on self-love. It helps us go, "I am deserving, so I don't need to feel this bad."
KS: Yeah. I think I definitely really needed that, at that time. And still, it's my favorite. I wear it all the time. I love it. It's so good.
TR: Good! Well, the nice thing about rose, too, is it's pretty intensely anti-stress. It does things to our brain that have been scientifically researched.
KS: Interesting. So I'm curious about – like, you knew me, in that case, so you maybe had some kind of subconscious or conscious sense of what I needed. But what is the process usually like, when you're working with a client, to determine what they need in a custom blend?
TR: So normally, when we're creating a blend, I go through the process that was taught to me by Tracey TieF, my teacher. She's the owner and operator of Anarres Apothecary. So what we do is, we ask people what their top three complaints are. So they might be like, "I have backache, I have itchy dandruff, and I just broke up with my boyfriend." And those seem wildly unrelated, right, but maybe they are related. And that's kind of the idea with holistic medicine, is that we don't live these disjointed lives; everything plays into everything. So your back might be aching because you're tensing your shoulders up all the time because you're anxious or upset or stressed, and that's related to the break-up. And when you do that, maybe you scratch your head a bunch. I dunno. Dandruff is not that! But the point is: after you have your top three complaints, then you find a top, middle, and a base note, and each of those notes should address all three of those things. So, I think rose would be really fitting as a base note for that, because rose is an anti-inflammatory. Rose would address all of them, because rose, on the skin [diluted in a carrier oil like vegetable oil], is very healing and very soothing, especially for dry and irritated skin, so that would work well for the dandruff, it would help with the heartache, and it would work well as an anti-inflammatory for the backache. And the idea is that, if all three of the notes address all three issues, then that's the medicine you need, because it's hitting all of those points. The oils should mimic the profile of what's ailing you.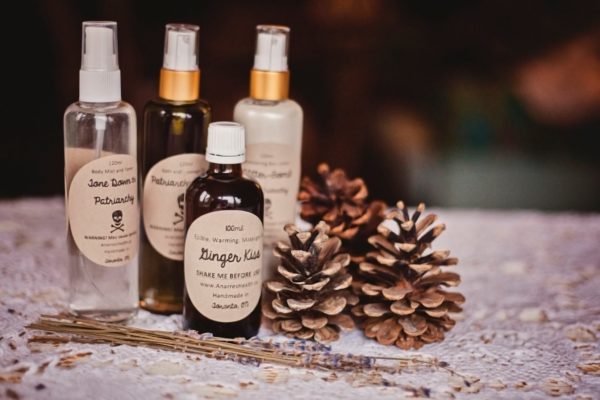 KS: Okay. That makes sense. So, can you tell me about some of your favorite oils specifically for purposes related to sex and sexual health?
TR: Yes! So, as my final project, I specialized in sexual health in aromatherapy. My favorite oils for sexual health depend on the sexual issue. My favorite base notes are rose, vanilla, and jasmine. I know we've talked a lot about rose, but rose has been shown to release dopamine in the brain, which is partly why it's such a good anti-stress. And then jasmine has been traditionally used to speed up labor, to increase bonding and sensuality between lovers… It's suspected by some aromatherapists and midwives that it releases oxytocin in the brain, although I haven't found research to back that up, but its traditional uses suggest this. And then vanilla releases serotonin in the brain, which we know from research. So I think it's this wonderful little commonality that they all have: they all work on your "yummy juices." That's such a dorky way to put it, but I think of dopamine, oxytocin and serotonin as the "mmm juice," 'cause those are the feel-good chemicals. And I think each of those has a different way of making you feel yummy.
KS: Right.
TR: And I should also mention that the oils I pick for sexual health tend to be the ones that play on our psychological and emotional stuff, because that's sort of the realm of health that I like to work in. But there are lots of really good oils for physical illness of the body. Like, I have this great yeast infection blend that I made for the vulva. It's coconut oil, tea tree oil, and lavender oil. You mix 'em all together in the right proportions, and it is so soothing and it instantly takes the itch away and it's so good. So, I would call that an excellent sexual health oil.
KS: Yeah! That sounds good.
TR: Yeah! But so, my favorite middle note is marjoram, because traditionally, it's been listed as addressing sex addiction. And I was like, "What?! That is so weird! That's such a weird, specific thing." But then you read into it a little more, and you look at the chemistry of marjoram oil, and it's made of stuff that is both calming and stimulating. Which sounds really contradictory, but then if you look at traditional uses again, it's used to help you focus. And it's also used to help us open up and connect with other people so we don't feel as alone and isolated. And feeling alone and isolated, I think, is a major piece in addiction, particularly sex addiction. So I think, not only does it invite us to connect with other people – which is huge – but it also focuses us. So when you put it in a sex blend or an aphrodisiac blend, a blend where you're trying to "set the mood…" I don't like the idea of aphrodisiac blends being like, "I'm gonna attract this person!" because that's rude. Talk to them! But if you know you already like them and you know they like scents, and you wanna put a nice scent in the room, I love marjoram as the middle note because I feel like it takes the stuff from the base note – whether it's relaxing, or conjuring up a sensual feeling, or trying to build a sexual appetite – it's gonna take that energy and help you focus in on it.
KS: Cool!
TR: Yeah! So one of my favorite top notes for sexual health is pink grapefruit, because it's supposed to help us be in our bodies, in a way that's pleasurable and fun and feels good. Most of the food-related essential oils, like pink grapefruit and cinnamon, are going to, in some way, put us in our bodies. But there's something that's particularly playful about pink grapefruit. And that word, "playful," reminds me of my other favorite top note for sex essential oil blends, which is tangerine. Because that one's all about being playful and silly and cute and bringing us back to our inner child. In a sexual context, I don't know how many people would feel comfortable saying, "I want to bring out my inner child!" but I think that's so important. I think the inner child does know how to have good sex.
KS: Sex is grown-up playtime!
TR: Yeah, exactly! The cool thing about aromatherapy is that the molecules in the essential oils are so small that they can pass through the blood-brain barrier. So when you smell it, it actually goes directly to your brain and works on the brain, which is how it can release serotonin and all those things. I love aromatherapy because it's an immediate medicine that you can pick up at any health food store. Smelling something, you can quickly pick up and do. It's not a tool that is gonna cure everything, but generally, it's a tool you can immediately use, and it kind of holds your hand while you work through your stuff. When I use an oil, it's not like it can fix all the damage that's been done, but it allows me some serenity and it works on the brain so that you have more space to work through those things and not be as triggered or as overwhelmed while you do that. It kind of works like food, in that pleasure-centre kind of way, because even though you're not eating it, it is going into your body. And it's also not gonna have the same side effects as, say, an antidepressant. Like, if I'm having a panic attack, I can go huff some clary sage, and it won't have the lasting, shitty effects of a lorazepam. But I can get the same effect, or a similar-enough, or a different-but-just-as-useful.

KS: Cool! So, let's shift gears a little bit. Can you tell me about the Body Pride workshop that you're running?
TR: Yeah! So, as a sex educator and doula, and a friend of Caitlin K. Roberts, I've been to a few of her Body Pride workshops as a helper and as a participant. And after a few of those workshops, somebody suggested that there be a post-partum Body Pride. Women are so under attack for how their bodies "should" look, and the post-partum period – the period right after birth – is particularly hard, because I think there's all sorts of pressures around getting back to your "pre-baby body." You're not gonna have the body you had before. You had a fucking baby! That's amazing! Why would your body be the same after that? It shouldn't be, because nothing's the same after that. And that's a good thing. Or it can be a good thing.
KS: Totally!
TR: So we thought it would be helpful to have a Body Pride just for people who've had that experience, because I think that transitioning from a young person into adulthood has its own unique set of struggles – and then you have to do it again, in a different way, with a slightly different set of obstacles, in post-partum.
KS: How much are you changing Caitlin's basic Body Pride curriculum to be specifically for post-partum folks?
TR: Not a lot. We're keeping it pretty on-point. I won't be doing a photoshoot at the end, mostly because I don't have the skills. We just felt that it wouldn't be appropriate, and we don't have somebody with that skillset. Not knowing what will come up for people, I wasn't sure if that would be the best way to end it. I am gonna end it with a little dance party, to keep it light. The other thing is, I sat down and had a consult with a woman who was very interested in this post-partum Body Pride idea, and she really helped me to build in some checking-in kind of stuff. So there might be a little extra care around appreciating that not everybody coming to this event is going to feel great about their body. It's not that you can't celebrate your body in the space, but we all need to be mindful that not everybody is gonna be able to celebrate like you can, necessarily.
KS: True.
TR: The other thing that's different is that people who are breastfeeding – from 0 to 6 months – can bring their baby, because that's a really tough period to not be around your baby, if you're breastfeeding.
KS: Do you have any other workshops coming up after that one?
TR: I do! I have a Pleasure After Kids workshop coming up at the LGBTQ Parenting Network. It's gonna be at the 519. It's on December 4th from 2 to 4 p.m., and I think it's free. I'll also be holding an Aromatherapy for Sexual Health event on November 22nd from 7 to 9:30 p.m. at Anarres Apothecary (749 Dovercourt Road, north of Dovercourt and Bloor). There will be treats!
KS: Awesome! Where can people find you online if they want to book you for services or just find out more about you?
TR: They can visit me at TynanRhea.com and SisterhoodWellness.com. [Ed. note: Tynan's also on Instagram and Twitter.]
KS: Thanks, Tynan!