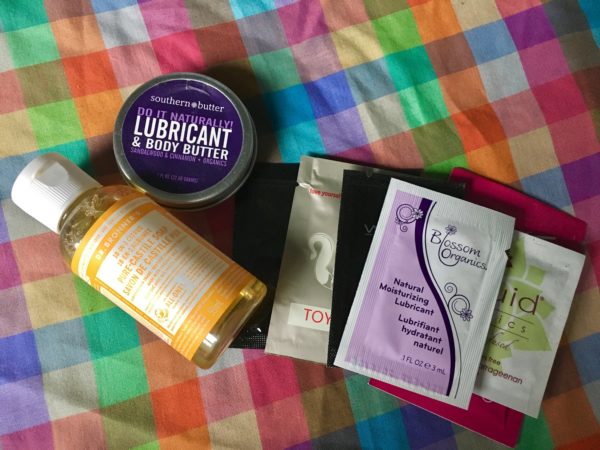 Darlings, at the time that this post goes up, I will be zooming my way to Europe. My mum and I are spending two weeks there; it's my first-ever trip across the ocean, and our first mother-daughter journey in a long time. The excitement is palpable!
As per always, I have fretted far too much about the contents of my suitcase. The anxious part of my brain thinks if I can perfect all the plannable details of my trip, that the rest of it will go smoothly as a matter of course. While it's silly to think we can ever get anything perfect, packing for a trip is still a fun opportunity to stock up on travel essentials. Here are some of my top picks, for sex-nerdy babes comme moi who hope to have a bon voyage!
Dr. Bronner's. This liquid soap is a cult classic for a reason. Made of primarily natural ingredients and gentle on the skin, it can be used to wash your face, genitals (the outside parts only, please), and sex toys, among other things. I bring the citrus-scented version with me on every trip, in lieu of separately bringing the face wash, vulva cleanser, and body wash I'd use at home. It's an excellent multi-tasker; check out the company's FAQ for a list of more possible uses.
Travel-friendly lube. A solid (and therefore mess-free) oil-based lube like Southern Butter is a super travel-friendly option. It's a fantastic lube, but it can do other things too: my friend Caitlin says they use it as a moisturizer, lip balm, makeup remover, and hairstyling product. When suitcase space is at a premium, multi-use products are highly valuable. Southern Butter can't be used with latex condoms, gloves, dental dams or finger cots, however, because oil breaks down latex – so if your away-from-home sexploits will involve barriers, go with samples of water-based lubes instead, like those in the Sliquid Lube Cube.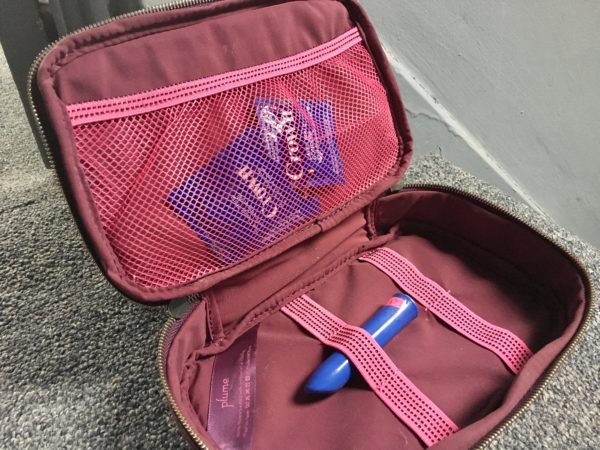 A sex toy case. House of Plume sent me some of their sleek storage solutions, and I'm smitten. The Mini Moi sex toy storage case is my favorite. It's a little zip-around case with elastic straps for (optionally) holding toys in place, a mesh pocket for condoms and other small items, and an antibacterial fabric to discourage germs. It's too small for, say, a Hitachi or a Doxy, but it can fit an admirable amount of stuff: I once crammed my Double Trouble, Tango, Aslan cuffs, and several condoms into it for a sex date, and had no problem zipping it up. It even has a cute little handle!
A USB-rechargeable vibrator. These are brilliant for travel, because you don't have to worry about bringing a separate adapter to plug your vibe in; you can just plug it into your computer. My favorites are the We-Vibe Tango and Lelo Mia 2. For travel, I'd lean toward the Mia, because it has a locking function so your vibe won't come alive in your bag.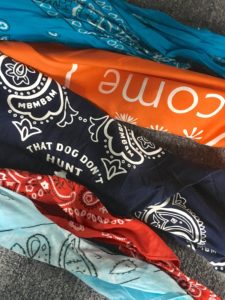 A bandana. Consult the hanky code and choose color(s) accordingly. Most people aren't familiar with the code, so a hanky might not be all that useful in a flagging capacity (depending on where you're traveling), but it's still a good thing to have on hand. You can tie it to your suitcase to make it more recognizable on the luggage carousel, tie it around your head to hide messy/dirty hair, wear it knotted around your neck to ward off sunburn, or even fashion it into an impromptu bondage device. It's a versatile item!
A hard condom case. Condoms are apt to get crushed if they're just free-floatin' around in your purse or your pocket, and crushed condoms do not make for relaxed, happy, safe sex. Protect your condoms as thoroughly as you can!
Comfortable underwear. Travel could make anyone grumpy – long lines, flight delays, bureaucratic processes, bah humbug! – but you're apt to get especially grumpy if your junk is uncomfortable. Choose underwear that you know won't chafe, slide around, dig in, or ride up. Ideally it should also be cute enough that if you were to meet a good-lookin' stranger and abscond back to their place for naked fun, you would feel maximally adorable.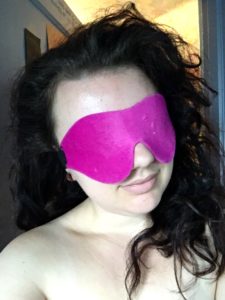 A sleeping mask. Not only are sleeping masks lovely for helping you snooze on planes and buses, but they can also be appropriated as blindfolds in the bedroom. (You could also use the aforementioned bandana for this, if the fabric is thick enough to keep light from getting through.)
Essential oils. As my aromatherapist friend reminds me, scents can have a huge effect on our state of mind and overall subjective well-being. If you think it would help, have an aromatherapist make you a blend, or make one yourself. Choose oils you love the scent of. For travel, I especially love lavender and peppermint: lavender is calming, so it helps me expunge the travel anxiety from my body and maybe get some sleep on the plane, while peppermint can help with motion sickness and the lethargy of jet lag. So yummy!
What are your must-haves when traveling?