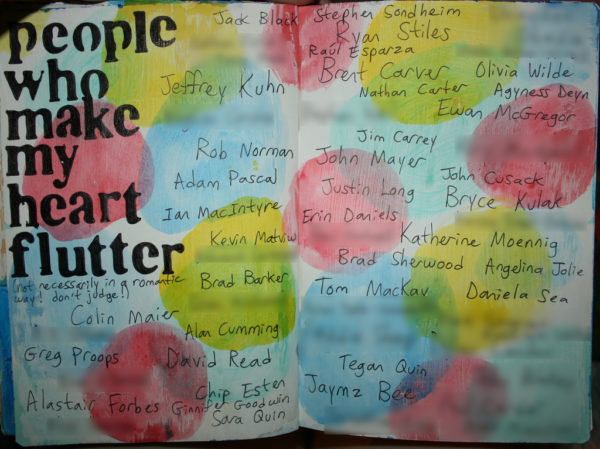 It's funny how sometimes, the beliefs you hold most firmly are the ones you most need to dismantle.
I have a core belief about relationships that's probably stunted my romantic possibilities on many an occasion. That belief is: if someone is meant to be my next beau, I'll know it. I'll have a good feeling about them from the first. The sight of their face, the jokes they make, the words they use, the energy of their presence – these things will all feel immediately captivating and right to me. I'll have a hunch, and if I trust that hunch, it'll lead to good things.
A few weeks ago, on a romantically distraught evening, I wrote this prayer of sorts in my journal:
I am ready to let go of my unrequited crushes and welcome a new person into my life.

I am ready, but I need that person to incite feelings in me that are unmistakeable. I need to be SURE – in my gut if not in my overzealous anxiety-brain – that this is a person I could and should be with.

Their presence should light me up, set my sparkly heart ablaze. I should crave them, but not in that NRE-soaked way that's clearly a flash fire headed toward burnout. I should want them because of my neurons, not just my neurotransmitters.

They should embody the word "crush" for me, take up space easily and obviously alongside that word in my life. Zing, bang, boom!
This preference for immediate attractions even shows up in how I navigate online dating. Lately, when I swipe through potential matches on Tinder, I do it mostly based on gut feelings about people's pictures. Some part of me believes that when I see someone who would really make me happy and enrich my life, I'll know. Like one of those movie moments where two protagonists meet serendipitously, look into each other's eyes, and are rendered speechless by their sudden mutual attraction.
Writing that journal entry put words to this idea I'd long held, and those words punctured holes in my logic. I'd never thought about it before, but those "zing, bang, boom!" moments have actually been almost nonexistent for me – even with regards to people I adored, who became crucial to my life story.
My first girlfriend was one of the most intense crushes I've ever had, but the first time I saw her, I didn't have romantic feelings for her at all. She was giving a presentation in ninth-grade English class. Though she was funny, smart, and adorable, I didn't notice those qualities until I looked back at that memory months later through my newly idealistic lens.
Similarly, when I went on my first date with the man who would become my first serious boyfriend and my first love, sparks didn't fly right out of the gate. I was intensely anxious about the date and didn't even want to go. We chatted easily for three hours and I liked him, but I wasn't sure about him, not by a longshot. We didn't even kiss until the end of our second date, because it took me that long to figure out how I felt about him. And he ended up being one of the people I've loved most in my life.
My unrequited attractions haven't been instantaneous, either. My biggest high school crush didn't ensnare my heart until, weeks into improv team practice, he sat down at a piano and started playing Vince Guaraldi tunes. My favorite podcast host, whose voice makes me swoon every week, didn't capture my attention til I noticed his stellar pun skillz a few episodes in. The cute local theatre actor whose career I follow avidly didn't turn my crank until after I'd seen him in a few different roles.
It's obvious, when I look at the actual evidence, that my attractions are rarely immediate. In fact, off the top of my head, I can't think of a time that an initial "good feeling" about someone led to anything substantial. A bad feeling about someone is usually worth heeding, but I can't identify a future life-changing individual when I see one.
It's easy to get swept up in myths popularized by romance novels and cheesy chick-flicks. We want to believe love is simple and binaristic: someone's either right for you, or they're not. But as with many facets of human existence, the truth is somewhere in the grey area. The love of your life could be hiding behind a face you wouldn't give a second glance.
I grew up precocious and too smart for my own good, and sometimes that does me a disservice. I can be so sure I know what I want, what I need, and what works for me – but those notions get turned on their heads time and time again. It's like the universe keeps trying to teach me the importance of staying open and going with the flow. It keeps teaching me, because I keep forgetting.
You think you know what you want, but maybe you don't. Maybe your next big adventure is hidden behind the door you never would have chosen. Maybe your perspective is skewed, your lens is dirty. Maybe falling in love is best when it's like a literal fall: terrifying, unexpected, but rewarding as hell if you survive it.
These days, I'm trying to give the benefit of the doubt to the world and everyone in it. I'm trying to give people a fair chance, even if at first they don't seem to be what I'm looking for. I'm trying to accept that I don't know everything, and that sometimes I should let fate take the wheel instead of desperately clinging to it myself.
That means saying yes to invitations from people I might've said no to before, and sometimes swiping right when I'm tempted to swipe left. It means setting aside my prejudices about how people look, and choosing to find out more about their brain and heart before I decide how I feel about them. It means being open, which is the scariest and loveliest way to be.
But I'm still a baby, at just 24. There is still so much about love that confuses and defies me. What are your experiences with attraction at first sight? Does it mean magic is about to happen, or is it a red herring? Were the greatest loves of your life a slow burn, or an instant inferno? Did you ever see a face on a dating app, think "I could love this person," and find out later just how right you were?