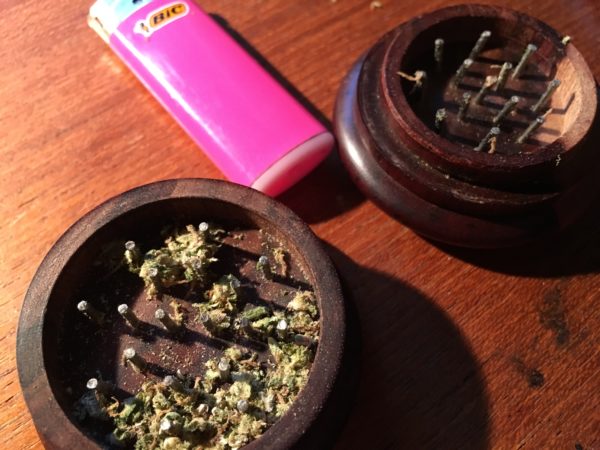 My relationship to marijuana has been a journey. There was a time, years ago, when I was "straight-edge," but now I firmly consider myself a member of the #StonerFemme contingent. Weed helps me on a near-daily basis with my anxiety and depression, my chronic joint pain, and – yes! – my libido.
I get a lot of questions about this whenever I mention it on Twitter, largely from people who are confused because they haven't experienced this effect from marijuana. I can't really explain it; I'm sure it depends on your body chemistry, your method of consumption, and what type of weed you've got. As for me, I find that sativa-dominant hybrids work best if I'm trying to amp up my libido, but really, almost every strain I've tried has made me feel this way. (The first Leafly review for my favorite sexytimes strain just says "Yo I was vibrating and shit," so apparently I'm not alone.)
Hopefully I don't have to tell you that intoxicants can complicate consent. If you need a refresher on that, read the first four paragraphs of this article I wrote. But with that caveat, I want to tell you today about the seven (!) key ways that marijuana helps raise my libido and my enjoyment of sex and masturbation…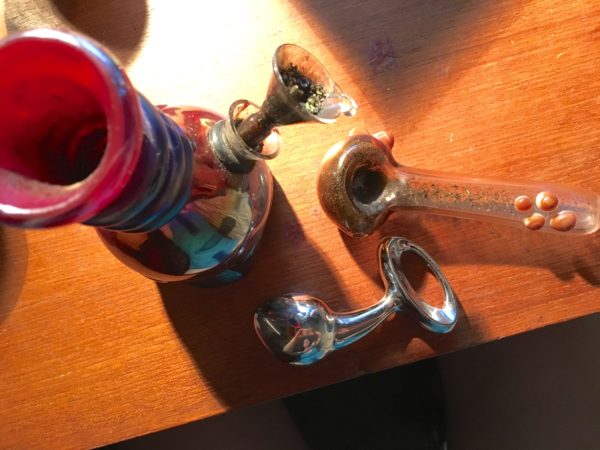 Arousal. Oftentimes, when I go several days without masturbating, it's because it just feels like too much work. My sex drive is more responsive than spontaneous, so if I want to jerk off, I have to spend some time warming myself up and getting turned on: watching porn, reading erotica, and/or gently touching myself in places that aren't my genitals until that area is ready to be touched. That process is lovely when I'm in the mood for it, but sometimes it just feels like an extra barrier to entry that isn't worth the hassle. So I skip masturbation entirely.
Weed, amazingly, helps me circumvent the arousal process. If I smoke up, I'll reliably get turned on within about 10 minutes, without having to actually do anything to make that happen. My genitals start to feel all warm and engorged like they do when I've been engaging in foreplay for several minutes – except I haven't. It's brilliant.
I remember one time, I smoked some weed at my then-boyfriend's house just before leaving to head back home. On the walk home, I felt my own wetness start to drip down my leg. That's a level of lubrication I usually only reach after, say, an hour of teasing and edging and fucking with someone I find colossally attractive. And weed made it happen without any effort or work at all. Strange and lovely!
Sensitivity. There is science to back this up: weed increases our capacity to feel physical sensations. Whether it's a partner's fingertips trailing along your spine, someone's soft lips pressed against yours, or a vibrator nestled against your clit, sensory information tends to feel amplified when you're high.
I wouldn't say that weed makes my orgasms come more quickly or easily – I'm still a tough nut to crack, even when I'm stoned – but the lead-up to orgasm does feel better than it normally would. It's as if I've never felt those exact sensations before, and my body and brain are experiencing them anew. It's pretty magical.
Worth noting: this increased sensitivity isn't always a good thing. When I had anal sex for the first time, my fuckpal – a seasoned stoner – advised me not to smoke beforehand, because anal penetration is already an intense sensation and weed could make it so I'd feel every bump and vein. I'm glad I listened to him. But for less overwhelming sex acts, that boost in receptiveness can be positively delicious.
Tactility. So, yes, weed makes me more physically sensitive, and it also makes me more excited about the whole notion of touching people. Or touching myself, as the case may be.
I once smoked weed with a beloved fuckbuddy while at a party, and when it hit me, I became obsessed with his arm hair. We were standing close together and I kept brushing my arm against his, sloooowly, to feel his comforting hairiness slide against my porcelain smoothness. It felt shockingly intimate and sexy, despite the fact that we were fully dressed and not even looking at each other – he was absorbed in conversation with someone else and I was pretending to listen to that conversation, too. But my attention was reduced to just those few inches of skin on skin, and how fucking delightful he felt against me.
This obsession with tactile information also means that oral sex on weed is a damn good time. You know what they say about "the munchies"…! When I'm high, I'm equally thrilled if there's a Reese's cup in my mouth or a dick in there, and for roughly equivalent reasons.
Visualizations. I wrote about this a bit when I had my first stoned orgasm. Weed isn't a full-on psychedelic, in the sense that you're probably not going to have a spiritual breakthrough or an LSD-esque "trip" on it, but it can create some visual and sensory hallucinations sometimes.
For example: once, Bex was sexting with their long-distance Sir while high, and when the topic of a blowjob was broached, Bex says they could actually feel their Sir's cock in their mouth. I've had similar experiences when I've combined weed with fantasies, sexting, or porn: I become very suggestible, such that the mention of, say, a fist in my vagina can create the sensory illusion that there actually is a fist fucking me. When I try to sexually fantasize while sober, my mind often wanders and I can't focus enough to get a vivid fantasy going; weed makes that process a lot easier and more fun.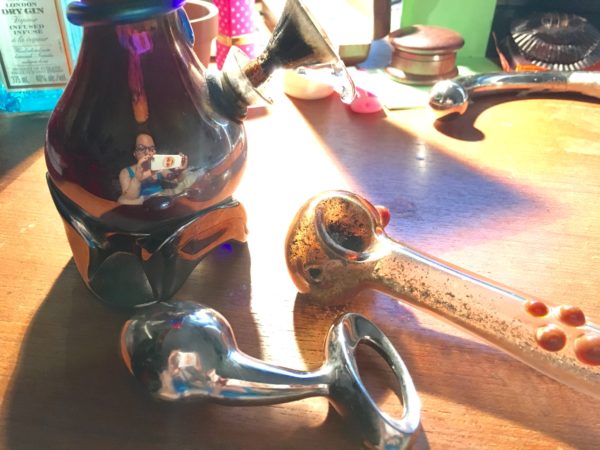 Disinhibition. Much like alcohol, marijuana can loosen your inhibitions so you don't feel as self-conscious. For an anxious person like me, this is a godsend. Anxiety triggers my sexual brakes, making it hard for me to get turned on and relax into the moment. Weed lifts the oppressive weight of anxiety off my shoulders, so I can be in the moment and quit worrying about shit that doesn't matter.
While this effect is, like I said, similar to the disinhibition alcohol can facilitate, weed is physiologically a far better pre-sex choice than alcohol. Due to how booze affects the blood vessels, being drunk stunts our sexual sensitivity, our capacity for orgasm, and our ability to maintain an erection (penile or clitoral). They don't call it "whiskey dick" for nothin'!
Joy. Gala Darling has written that regular exercise creates "a constant undercurrent of joy" in her life; I feel similarly about marijuana. It melts my stress and transports me to a place of childlike delight, where I can see the present moment for what it is: an opportunity for happiness, growth, and play.
There is certainly a time and a place for sex that is emotionally intense, focused, and serious. But that type of sex is a rare craving for me; what I want, far more often, is the goofy, giggly, relaxed kind of sex. I firmly believe that sex is grown-up playtime. I'm happiest in my sex life when I remember that and take it to heart. Weed makes that even easier to do.
When I'm depressed, or recovering from some kind of heartbreak, I often find it difficult to get turned on, because my sexual thoughts and fantasies just make me sad instead. Weed helps with that: it puts me into a happy-go-lucky brainspace where even people who've hurt my feelings can't really bother me. So I can fantasize about them to my heart's content.
Ecstatic pain. This one is weird, and I don't have a scientific explanation for it, just firsthand experience to draw from: marijuana sometimes makes me experience pain as pleasure.
I first noticed this years ago when, stoned at a party, a friend and I began doing sun salutations. I noticed immediately that the stretching of my muscles – usually an intense, slightly uncomfortable feeling for me – felt almost orgasmic. I moaned aloud as I moved through the poses, pushing my body farther than I normally would, because the more I pushed, the better it felt.
It took me a few years to figure out how best to use this effect to my advantage: kink! I looove getting spanked, slapped, bitten, and scratched when I'm stoned. It all feels so fucking good. When I'm in that headspace and someone really skilled is spanking me just right, sometimes it even seems like I could get off from that alone. That hasn't happened yet, but I'm still holdin' out hope!
How do you find marijuana interacts with your libido, sensitivity, and enjoyment of sex? Got any tips, tricks, or favorite strains to share?