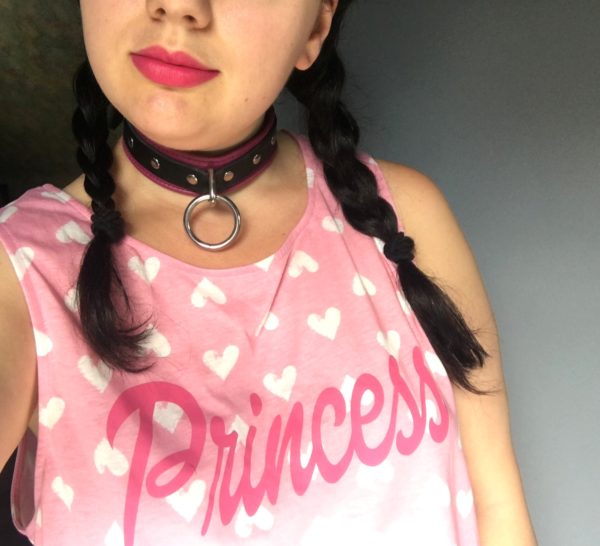 "What do you want?"
He's got me backed up against a fence, in one of the many residential alleys that crisscross through the Annex. The fence is painted bright turquoise, and it must make a beautiful backdrop for this foreground: a pale and blushing babe in a blue dress. Me.
His hand is on my ass. He knows what I want, but he's still gonna make me say it. "I want you to spank me, sir," I choke out, his lips so close to mine that he must feel my words as much as he hears them.
He chuckles. I can tell he likes it when I call him that. "I don't have a name for you yet," he replies, like this only just occurred to him.
I am more than prepared for this eventuality. "I like to be 'princess,' or 'little one,' or 'babygirl,'" I list off. These names are well-traversed in my life, but they still feel fresh and important. They're heavy on my tongue and hot in my ears.
"Okay, princess," he says with a dark smile. "You gonna be a good girl for me?"
---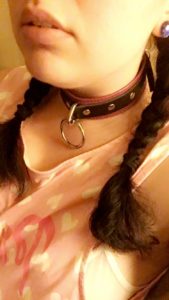 "Princess" was my first kink honorific, the first name I remember loving being called. A dominant fuckbuddy casually mentioned it one day while we were discussing my burgeoning DD/lg kink. It felt right to me when he said it, in the same way it felt right when I discovered other words that describe me, like "femme," "queer," and "submissive." I sexually identify as a princess.
Not a literal princess, you understand. I don't have a kingdom to rule over, royal subjects, a family of other monarchs. I am a princess in the way that Veruca Salt and Angelica Pickles are princesses: a treasured and perhaps slightly spoiled little girl whose daddy unflinchingly loves her and dotes on her. A dainty little thing, with a bratty streak that comes out when provoked or challenged. A precious but ultimately powerless little gem of a person, revered but not really respected. I'm that kind of princess.
Though I'm enamored with the "Daddy Dom/little girl" dynamic, I almost never call partners "daddy." It feels wrong to me, and not just because it's taboo. I've never used that word with my actual dad either; it feels babyish and saccharine in a way I don't particularly enjoy. I don't say that to shame anybody's kinks; if you like that word, that's fine and good for you! But for myself, I gravitate more toward "sir." It communicates what I want it to, without making me cringe. And, if I'm honest, calling partners that makes me suuuuuper wet.
"Little one" was introduced to me by the aforementioned dom fuckbuddy, too. He dropped it into our dialogue mid-fuck one day and my reaction far surpassed what I could have predicted. He was the exact same height as me, probably even weighed less than me, and yet, with those two simple words, he made me feel inescapably smaller than him. Diminutive and defenseless. A mere insect under his boot heel.
My relationship with this title is fraught with guilt, because I worry it's related to patriarchal size-shaming. I'm a chubby lady so maybe it makes me feel better – sexier – to be literally told that I am small. But I don't think that's the whole story. Smallness is associated with traditional femininity, sure, but it's also connected to powerlessness, a state of being that I eroticize deeply. When someone calls me "little one" and I get wetter and hotter, I think it's more about the condescension and coddling than the physical littleness being evoked.
"Babygirl" is more ambiguous. Vanilla partners call me "baby" sometimes; it's a common epithet, in this world of Biebers and Backstreet Boys. But there's patriarchy baked right into it: this name infantilizes its subject in the most literal sense. My inner feminist struggles to accept my affinity for being called patronizing names. My inner sex-positive feminist, however, knows it's okay for me to like whatever I like, as long as I don't replicate those power injustices in my actual life.
Names, labels, identities: these things are important, regardless of what the "Labels don't matter!" crowd says. Labels help us organize ourselves, understand ourselves, understand who we're attracted to and what we want. Not to mention, they can be really fucking hot.
One night I was at a party, and several people were sporting tiaras. A domly friend of mine made a paper crown for Bex, since their gender identity isn't always tiara-friendly. "How is the king?" he asked Bex later, when their makeshift crown was atop their head. And then, looking at me: "And the queen?"
"She's not a queen, she's a princess," Bex retorted, before I could even respond. And they were right.