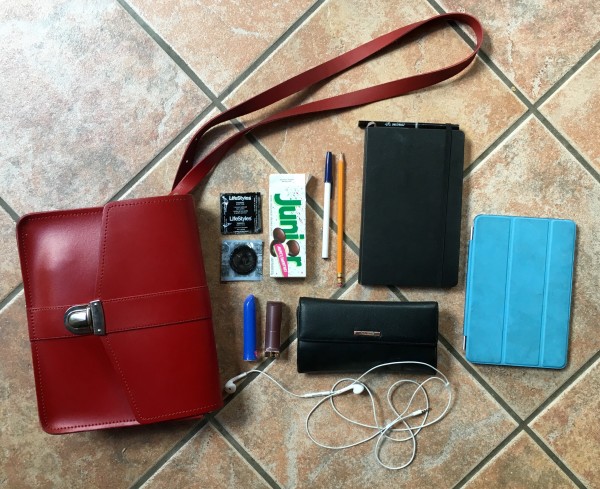 Do you ever look through the contents of your bag and just think, "This really sums up my entire personality/life"? I do that on the regular, but today was a particularly great example.
I recently bought this Zatchels shoulder bag, and while it doesn't fit the zillions of items I would like it to, it can still hold a good amount of mostly-flat stuff. And it's so damn cute that I don't mind its low capacity too much.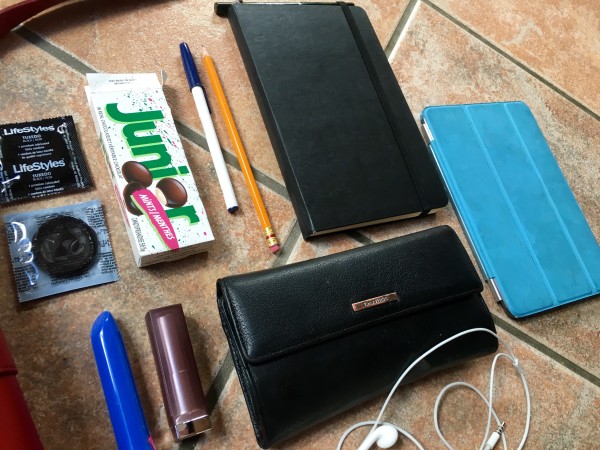 Today the bag contained (clockwise from top-centre):
My journal, without which I rarely leave the house. I always bring this with me when I go to work (for epic emotional unpacking on my break-time) or when I'm going to be sitting and waiting anywhere for a while (like on the streetcar or at the doctor's office). Writing about my life helps me process its events, figure shit out and decide what I want to do next.
My iPad mini. This was one of those purchases that I thought I "didn't really need," but then I've ended up using it for soooo many different things. I often bring it with me when I interview folks for articles I'm writing, so as to record our conversations; I also listen to music on it all day at work, take notes in Evernote on it at school, watch movies on it when I'm bored, and so much more. It's my constant companion and my surrogate brain!
My iPhone earbuds. Crucial. What would life be without music and podcasts?! I love that these earbuds have a little remote on them, so I don't have to take my phone out of my pocket to pause the audio or adjust the volume. Brilliant.
My wallet, which is by Danier Leather. It's so simple and classic and sexy. You've gotta carry a wallet so it might as well be one you like the look of!
Maybelline Creamy Matte lipstick in "Rich Ruby." This isn't even available in Canada yet so I had to order it online, but it was worth it. It is such a perfect red, and the formula really stays put on my lips without being too drying. Best!
My beloved We-Vibe Tango. Normally this would be by my bedside, but I packed it in here a few days ago because I thought I might be having sex that night and wanted to be prepared. The sex didn't pan out after all, but it's still nice to have a good vibrator on hand for all eventualities…
Lifestyles Tuxedo condoms. I find these hilarious because they're black and supposedly for "formal occasions." They also get pretty good reviews, sensation-wise, from both internet commentators and my ex-boyfriend.
Junior Mints. I practically fell asleep multiple times at my desk today while at work, and bought these to pep me up. They worked, but they also made my stomach hurt. Sad trombone.
Extra pen + pencil. A writer is always prepared!
What do you keep in your bag on the regular?