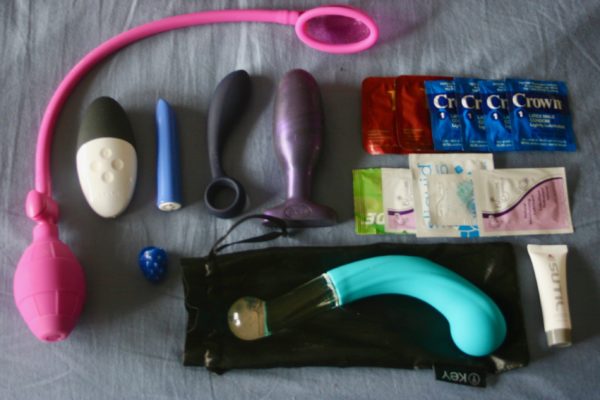 There is a sick-'n'-satisfying voyeuristic joy in peering into someone's bag. I love finding out what someone carries around with them, whether it's shared in blog posts or Flickr groups or Instagram hashtags.
But while the contents of my everyday purses are kinda interesting, what's in my sex bag is really interesting, methinks. Here's a glimpse, for all you nosy pervs out there (she wrote, lovingly)!
I left for New York on Saturday morning, and my trip itinerary includes a sex-date at a pre-booked hotel room with a fuckbuddy of mine. I've packed my petite House of Plume zip-up travel bag with a variety of items for all sorts of saucy eventualities.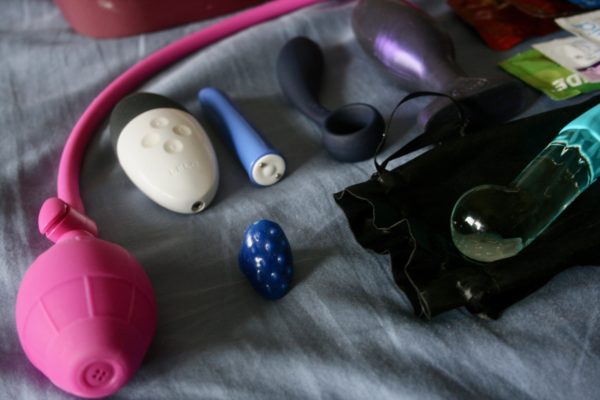 Firstly and most importantly: vibrators. If I'm going to get off with a partner, typically vibes need to be involved. At home, I normally use my Magic Wand Rechargeable or Eroscillator, but both of those are bulky and thus not terribly travel-friendly. I've compromised by packing my Lelo Siri 2 and We-Vibe Tango, two delightfully rumbly and super-adjustable external vibes small enough for my jetset sexcapades.
I've packed my Tantus Ryder because of this wonderful text my FWB sent me while I was deciding which toys to bring: "I mean, if you wanted to do PIV with a butt plug in again, I wouldn't say no." This is the plug I was using the last time we did that, and he liked it because it made my vag even more preternaturally tight than it normally is. The Ryder's fairly big, though, so I've also packed a smaller plug (the Lelo Bob) to help me warm up for it.
My FWB and I also share an appreciation for clit pumps, so I've packed mine. It pairs very well with weed, which I'm unsure if we'll have access to… but even if not, I'm looking forward to experiencing this odd sensation with a partner for the first time.
The Funkit Signet is small, so it's easy to travel with. As it's made to enhance fingerbanging, I'm always excited to use it with people who have skilled fingers to begin with. Unf.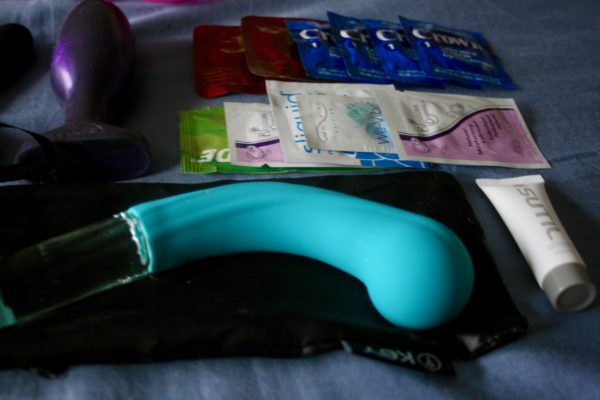 Next up: dildos. Most of my favorites – like the Double Trouble, G-Spoon, and Eleven – are too big, heavy, or valuable to bring with me when I travel. Occasionally I risk it, but I always worry that the airline will lose my bag or the TSA will take my dildos away from me, and I care too much about them to let that happen! So this time, I'm only bringing my Jopen Comet Wand. It'll work well for any masturbation I do during my trip, and my FWB can also pound me with it if I'm in the mood for intense G-spot sensations.
I'm also lucky enough that my hostbean-with-the-mostbean, Bex, owns a fuckton of sex toys. So if I decide I need to borrow a Double Trouble or an Eleven or a Pure Wand or something, I'll be able to. Yessss.
Condom-wise, I just threw in a few of what I had on hand: Crown and Naked condoms, sent to me by Condomania. It's hard to travel with a bottle of lube, so I'm bringing some sample packs of Blossom Organics, Sliquid H2O, and Astroglide Natural, as well as a teensy sample-size bottle of Sutil.
What kinds of things do you pack when you go on sexy adventures? Got any toy-travel tips?