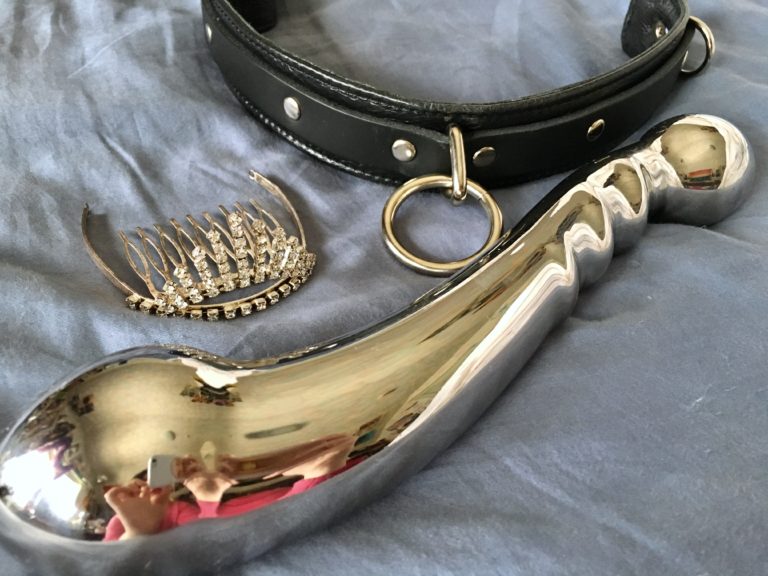 What makes me wettest is when you know exactly how to make me wet. Your touch feels even better when you know you're touching me the exact right way. And I come the hardest when I know you know exactly how to make me come.
I call it a kink, or sometimes a fetish. But kinksters do that: we round up our sexual interests to kinks. In this case, though, it might actually be a fetish… because I can't think of a time in recent memory when I got off and I wasn't thinking about someone knowing precisely how to get me off, and doing exactly that.
In the past, I've said I have a kink for teaching people how to please me. That isn't totally right, I see now. It's not the teaching that gets me hot; teaching can be exhausting, annoying, with an inattentive pupil. No, what I like are the moments when my partner learns what makes me tick – whether because I've taught them, or because they figure it out on their own.
My fantasies are devoid of the articulate banter that thrills me in real life. The people in my fantasies (predominantly faceless, predominantly men) mutter short phrases which all signal some version of the same meaning. "You like that, huh?" "Is that your sweet spot, princess? Want daddy to touch it again?" "If I keep fucking you exactly like this, you're gonna come for me, right?" "I know, baby, you like it just like this."
My sexual history is lengthy and storied, but when I think back on the moments of laser-sharp hotness that soaked my panties and charmed my brain, they're all variations on a partner knowing exactly what to do to me. The bossy FWB who made me come with her mouth in under a minute in a locked bathroom, and, knowing my body well enough to know what it was capable of, retorted, "That was too fast; we're not done," and kept going. The boyfriend who knew to tease me with long, in-and-out strokes of his dick until I was ready to burst, and then give me the deep, short, consistent thrusts I need to come on his cock. The attentive fuckbuddy who always finds my A-spot in seconds flat, and sometimes asks me, "You like that?" with the mischievous grin of someone who definitely knows I definitely like that. These are all moments I return to in my fantasy life, again and again. Even as my feelings for those actual people have faded, my lust for their knowledge of my body has not.
This kink, I think, is a huge part of why one-night stands hold no appeal for me. Even if those near-strangers cared about my pleasure (which they rarely do), no one can learn my tastes in one hookup alone. There are exciting moments of recognition – a new beau doubling down on sucking my clit when doing so elicits screeches; a hookup discovering how deep I really mean when I keep begging "Deeper, please!" – but what really gets me hot is someone remembering my preferences from an earlier experience. It's like when your best friend buys you a birthday gift you mentioned wanting months ago – only, you know, with more orgasms involved.
I love being analyzed like a computer, played like a violin, manipulated like a doll. I love watching partners synthesize all their knowledge of my body, like getting me off is a test they've been studying for all year. "Lick her clitoral hood in a circular motion while rubbing the deepest part of her front vaginal wall with two fingers, fast but not too fast. Tell her to be a good girl and come for you. Fuck her hard and fast while she's coming, and don't stop until you're told to stop."
I love the look of accomplishment in a partner's eyes when they make me come so hard I'm trembling. I love when partners give me orgasms using mostly their intelligence, memory, and astuteness. I love that I'm primarily attracted to nerds, because nerds try to learn everything about each new task they're faced with, nerds remember the exact geography of past quests, and nerds take immense pride in unlocking achievements and optimizing tasks. I love when the task they're seeking to optimize is making me come so hard, I can't form sentences.
I eroticize the inverse of this, too. The gasp a partner emits when I take him extra deep in my mouth. The breathy moans that guide my tongue along his skin. The soft grunts against my lips when I pull his hair or scratch his shoulderblades. The near-immediate release when I drop the exact right piece of dirty-talk into our dialogue. It's all data, it all makes me feel like a goddamn genius, and it all makes me so unbelievably wet.
I could write a piece on "how to fuck me properly," but a) that'd be like handing someone a Prima strategy guide alongside the new Pokémon game instead of allowing them the fun of figuring it out themselves, and b) it would really be the same advice I recommend for good conversations. Pay attention to your partner. Remember your past interactions with them and go forth accordingly. Delight them with your thoughtfulness, your attunedness, your attention to detail.
Except, you know, those qualities in good conversations don't usually make me come so hard I see stars.