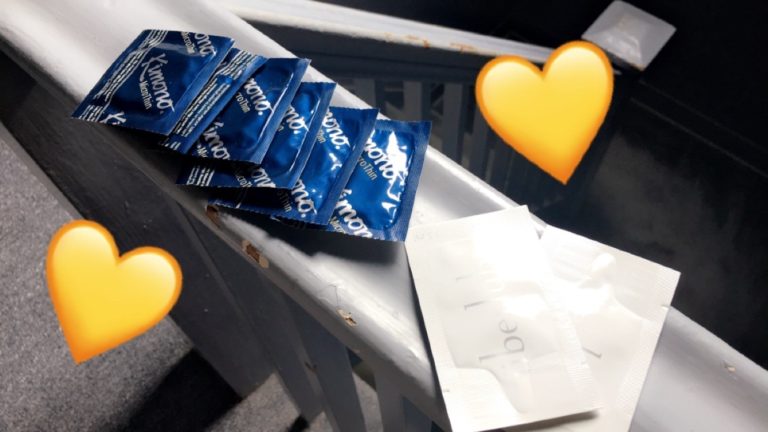 My first-ever sexual relationship was a friendship-with-benefits. So you would think I'd be better at that type of arrangement than the average person, since FWBs have been part of my sexual menu for literally my entire sexual career.
Nah, man. I wish. I have fucked up FWB situations in all manner of ways: I've fallen in love with fuckpals or turned the other cheek when they fell for me; I've undervalued them, or else heaped all my sexpectations onto them; I've ended things unceremoniously or not at all.
These are easy mistakes to make, because we don't have clear social scripts for how FWB relationships (or, as I sometimes like to call them, "copulationships") are supposed to go. However, these days, I have a rotating roster of occasional fuckbuddies, all of whom I adore – so I'm feeling much more motivated to do things right. Here are ten guidelines I think will serve you very well in copulationships of your own…
Only do it if you both want to. You'd think this would be obvious, but it isn't always! Sometimes, people agree to a friendship-with-benefits because they think they have to. Maybe they want a romantic relationship with the other person, and think being their FWB is the closest thing they can get. Maybe they like their friend as a friend, and don't quite know how to turn down the offer of sex without also severing the friendship. Maybe they're just not a casual-sex type of person, but feel a social or societal obligation to pursue it anyway.
Before entering a FWB situation – or while the formation of a new one is still recent – give some thought to your reasons for wanting it, or not wanting it. Ask your pal how they feel about the situation as well. As in all things sexual, you cannot overprioritize clear, ongoing, informed, enthusiastic consent!
Set clear boundaries and expectations. You might think everyone shares your exact definition of "friend with benefits," but they don't! It's important to hammer out what each of you expects from the other, and from the friendship in general. Emotional support? Seeing each other weekly or monthly? Are you seeing other people, and if so, are you going to tell each other when you do? Are certain sexual acts off the table, because they feel too intimate for a casual relationship, or for some other reason? If you run in the same social groups, are you okay with people knowing the two of you are sleeping together, or would you rather keep it on the down-low?
All of these factors can complicate a FWB sitch, so it's best to figure them out before they become a problem. If there's anything you're not sure about, ask. Better to risk seeming a little uncool and find out what's up, I say.
Ask for what you want – and encourage them to do the same. One of the best things about casual sexual relationships is that the stakes are lower, so you might find it easier to be frank about your desires. If they're fucking you, presumably they want you to have fun and feel good – so ask for the specific things that would accomplish that! This could be anything from a small adjustment in technique to "Wanna put this huge dildo in my ass?"
As always, be prepared to accept a "No" if that's their answer, and try not to take it personally. Likewise, you should encourage them to open up about what they'd like you to do – it's important to be a good sexual partner, even if the situation is casual!
Talk about any feelings that come up. Learn from my mistakes: if you develop romantic feelings for your FWB, it feels like the best thing to do is hide that fact from them. But everything will just get worse over time, and then you'll have massive emotional chaos on your hands instead of a small blip of a crush that could've been nipped in the bud.
Personally, I think that if either party begins to have romantic feelings for the other, it's best to take a break from sex – and maybe even from seeing each other – until that situation is handled. That can feel difficult bordering on impossible, but trust me: it's better than full-on falling for your fuckbuddy. You do not want that. It is a mess. Communicate and come up with a solution before you get to that stage, if at all possible.
(Pro tip: this was a chronic problem for me until I met my current main FWB, who is emotionally monogamous to his primary partner and who is also just not the type of person I'd want to date, personality-wise. It can be difficult to find someone who you find sexually attractive, enjoy spending time around, and have no romantic desire for whatsoever, but trust me, it is possible. If I, a severely crush-prone sap, could do it, I believe almost anyone can.)
Keep putting in the effort. It's easy to feel like you don't have to try to "impress" your FWB, because they're not a romantic partner. But that's a bullshit attitude. They're your friend, and they're sharing a sexual experience with you. They're worthy of your respect and good treatment. If you don't think so, why are you sleeping with them?
Make sure your sheets are clean when they come over. Shower and groom yourself appropriately. Don't rush them out the door when you're done. Treat them like a hot date you're trying to impress, even if they're the goofy pal you've seen laugh beer out their nose a dozen times. Be worthy of the experiences you're sharing; they may be casual, but they're not worthless.
Value their mind, not just their body. If you're both cool with an "wham-bam-thank-you-fam" arrangement, that's a different matter. But at that point, they become less a friend-with-benefits and more just a booty call. Keep up with their life, their hopes and dreams, their ups and downs, if they seem to want to share that stuff with you. A solid friendship will make the sex better, too!
Be respectful and polite. Don't be late to your meetups if you can avoid it. Don't cancel plans at the last minute unless you absolutely have to. Answer their texts in a timely manner when you can. You know, like… a good friend?
Be a friend, even when times are tough. I'll never forget the time my FWB came over a week after I'd gotten dumped, and told me, "I'm sorry you've had such a rough week. You don't deserve that. If you just wanna cuddle and talk tonight, I'd be totally fine with that. I don't want to rush you or pressure you into anything you don't feel like doing." Admittedly, I wanted him to fuck me, too – but that was partly because he'd shown his true colors as a genuinely good guy! With this simple speech, he proved he viewed me as a person, not just a series of holes to fuck.
It can be awkward to try to emotionally support someone who you usually only see naked, sweaty, and grunting – but it's nice to offer. They might not take you up on it, but they'll probably feel better about the copulationship knowing it's with someone who has their back.
Cultivate compersion. Incase you haven't heard, compersion is the term the polyamorous community uses to describe the opposite of jealousy: it's the feeling of being happy for a partner's romantic and/or sexual happiness with other people.
Assuming your friendship-with-benefits isn't monogamous (and most aren't!), your fuckpal will probably date and/or bang other people while seeing you. They may even end things with you to pursue something with someone else. While this can be painful, it's also an opportunity for you to hone your compersion skills. I have even found FWB situations to be excellent practice for navigating jealousy in my serious romantic relationships. It's a win-win!
If it's over, say so. Don't ghost or fade away; it's weak and rude. If you've been fucking someone consistently for a while, you owe them an explanation if that has to stop. End it like you'd endeavor to end a romantic relationship: politely, compassionately, and definitively. Don't leave them wondering why you keep canceling plans or won't answer their texts; you're better than that.
Have you had successful friendships-with-benefits? To what did you owe their success?