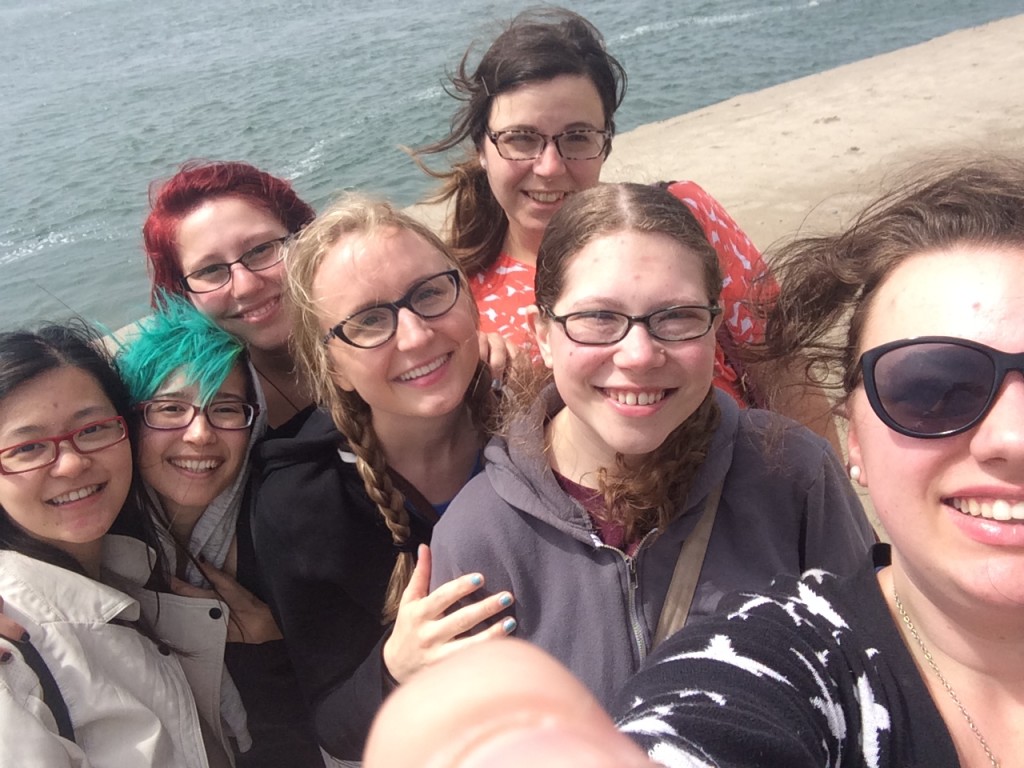 #DildoHoliday is decidedly over, and dildrop is real.
I miss the beautiful house we stayed in. I miss the delicious group meals. I miss the mid-day masturbation breaks.
But mostly, I miss my friends.
When my dad was driving me to the airport to depart for Portland, he asked me, "Won't it be weird to stay in a house with strangers?" but that's not how I felt at all. These people weren't strangers; I'd been corresponding with them on Twitter and other mediums for years. I already knew them better than I know most of the acquaintances I regularly see at home in Toronto: the guy who owns my favorite café, the distant classmates in some of my courses, the boys in my brother's rock band.
I have sex-positive friends "in real life" as well, but #DildoHoliday really showed me just how important it is to have friends who are on the same page as you in as many ways as possible. There's comfort and strength in that, for all of us, I think. Here are 10 reasons why sex-positive friendship is so valuable and crucial…
1. There's no sexual shame. With my deeply sex-positive friends, I can talk about my kinks – even the ones I consider weird, taboo, or potentially unethical – and there's no shame associated with it, from me or from my friends. If someone mentions fantasizing about exhibitionism or incest or watersports, no one even bats an eye. The most reaction you might get is something like, "Cool! Sounds fun!" or "Interesting! How'd you get into that?"
2. There's no body shame, either. Body-positivity and sex-positivity are two different concepts with two different communities, but there's a lot of overlap; most of my friends in each category also fall into the other. Being a chubby lady, I sometimes feel weird about getting naked (or even just exposing "problem areas" of my body) around people who I think might judge me; that's not an issue with my body-positive pals. I can also eat what I want without worrying about how my food choices are being perceived. And in seeing all the carefree, happy body acceptance exhibited by my friends, I can get a little closer to that goal myself.
3. We don't have to explain ourselves. Yeah, I own a lot of sex toys. Yeah, I sometimes post nudes on the internet. Yeah, I'm ideally looking for a kinky, non-monogamous person to be my next beau. There's nothing wrong with any of that, and my sex-positive friends understand that without having to be convinced. Likewise, I accept their kinks and quirks, because that's what "sex-positive" means: everything is A-OK as long as it's safe, sane and consensual.
4. We don't have to provide basic education. Look, I'm all for making the world a better place by teaching folks about sex, but I don't want to do it all the time. It takes a lot of energy to explain, for example, why penetrative orgasms are an unreasonable goal for most vagina-havers, why a particular advertisement is sexist or racist, or what it means to be a sex toy reviewer. It's nice to be around people who've taken the time to educate themselves and who therefore understand me without requiring me to explain what I consider basic-level concepts.
5. We nerd out about the same stuff. We refer to Tristan by her first name only, because we all know who she is and what she does. We get enthused about new sex toys on the market and discuss 'em with wild abandon. Making our own glass dildos sounds 100% fun and 0% weird. (More about that in a future blog post, OF COURSE!) Sharing in each other's enthusiasms brings us closer and – yes – makes life a ton more fun.
6. We can give each other advice. And not just basic, unhelpful advice that you could find on Google or Yahoo Answers – high-level advice tailored to the person asking. If I'm on the hunt for a new sex toy and I ask an in-the-know friend, she can suggest a toy that's not only good but good for me specifically. Or I can ask a friend how to approach a difficult sexual conversation, knowing that she'll keep my anxiety issues in mind when she answers. Or I can help my friend craft a tricky email to a sex toy retailer, knowing exactly what's at stake and why she's struggling with it. The better you know your friends and the worlds they're a part of, the better equipped you are to help them navigate those worlds.
7. We can be sexual around each other without it getting weird. I once had sex with my then-FWB while my best friend photographed us. I've masturbated in front of friends, and watched them do the same. I've told friends explicit stories about sex and masturbation, and listened to theirs. I've watched porn with friends, groaned at the hottest parts, and talked in detail about how our vaginas were reacting to the scenes' events. When you do this stuff with sex-positive pals, it tends to feel like a natural extension of your friendship instead of like some strange, stilted step into another realm. Sexual pleasure is a massive source of joy and I see no reason to fence it into my romantic relationships exclusively.
8. We get excited about each other's sexy adventures. I still remember the time I texted a friend to tell her I'd given my first-ever blowjob and she responded by telling me she didn't want to hear about stuff like that. It hurt to have a friend snub me about something I considered thrilling and momentous. With my present-day sex-positive friends, that kind of thing would never happen. My family and casual pals may not applaud me when I manage to insert a large dildo for the first time or gasp in delight when I tell them I met my favorite porn star, but my sex-positive friends do – because they get it.
9. We complain and commiserate for the greater good. My friends understand that it's gross when some dude silently favorites all my selfies, that mansplainers are the scum of the earth, and that weak vibrators make clits sad. When we complain together about stuff like this, we can make it into a joke, something to laugh at, so it becomes more palatable and easier to tolerate. We may not be able to rid the world of douchebros and shitty toys, but we can laugh our asses off about them, which is almost as good.
10. We help each other expand and explore. I would never have gotten naked on camera if I didn't have friends who shoot porn and nudes, but I've loved doing it and it's helped me evolve as a sexual person. I would have taken much longer to end my last relationship, even though it was clearly dead, if my friends hadn't encouraged me to go through with it. One of my most treasured memories from #DildoHoliday is a round-table discussion we had where we all shared what we'd like to see each other blog about. When your friends are living sex-positive lives, they can help you see how to live that way too, in bigger and better ways every day. And that's a very good thing.
What do you appreciate most about your sex-positive amigos?