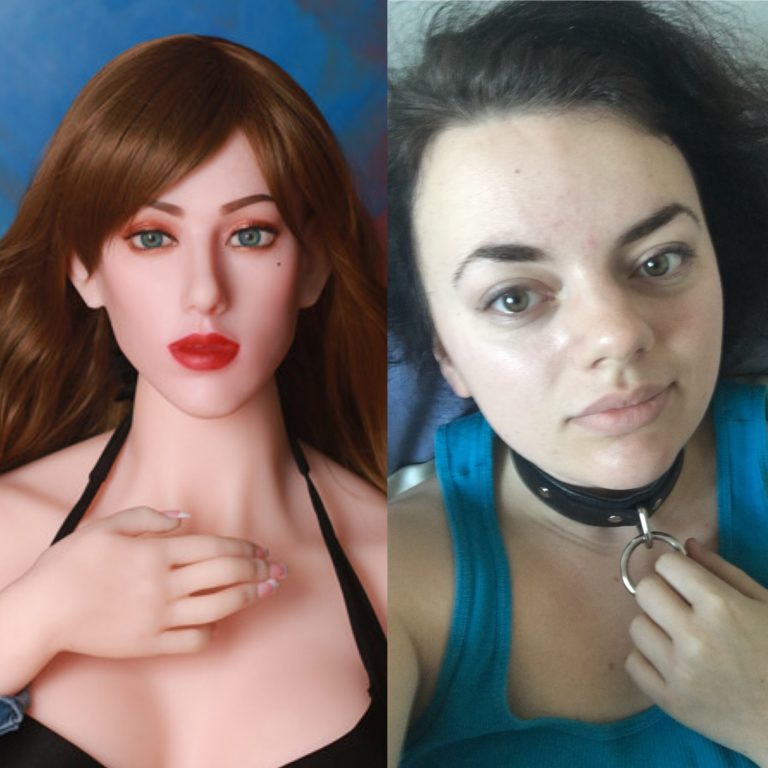 Eerie voyeur. Sir is kissing me, and peeling off my clothes, when suddenly… "Hang on, I forgot something important," he breathes against my lips. My eyes drift open and I watch him stand up, grab the sex doll sitting on her chair, and wheel her around to face us. Her cold eyes catch mine; in them, the slightest hint of undead mirth.
"Is she going to watch us?" I ask uneasily, and Sir nods, before climbing back on top of me and pressing me into the bed with his body.
As long melty minutes tick by between kisses and caresses, I can almost forget the doll is there. That is, until Sir mutters in my ear, "Look at her."
By then he's got his fingers in me. I'm self-conscious about my moans, my twisted grimace of pleasure, my wetness seeping onto his hand. And it all seems so much more pronounced when there are two people watching me – even if one of them isn't actually alive.
"Keep looking at her," he continues, darkly, his fingers pushing into me in exactly the way I like. He's going to make me come like this. My face flushes hot. My thighs tremble. The doll's eyes stare unflinchingly. I'm uncertain. I'm uncomfortable. I'm coming.
Fuck, fuck, fuck. As my breathing slows, I realize my eyes are closed. And there's Sir, in my ear again. "Didn't I tell you to look at her?" he warns. I know I'm in trouble, and I can't stop smiling, and the doll's still there looking placid and placated.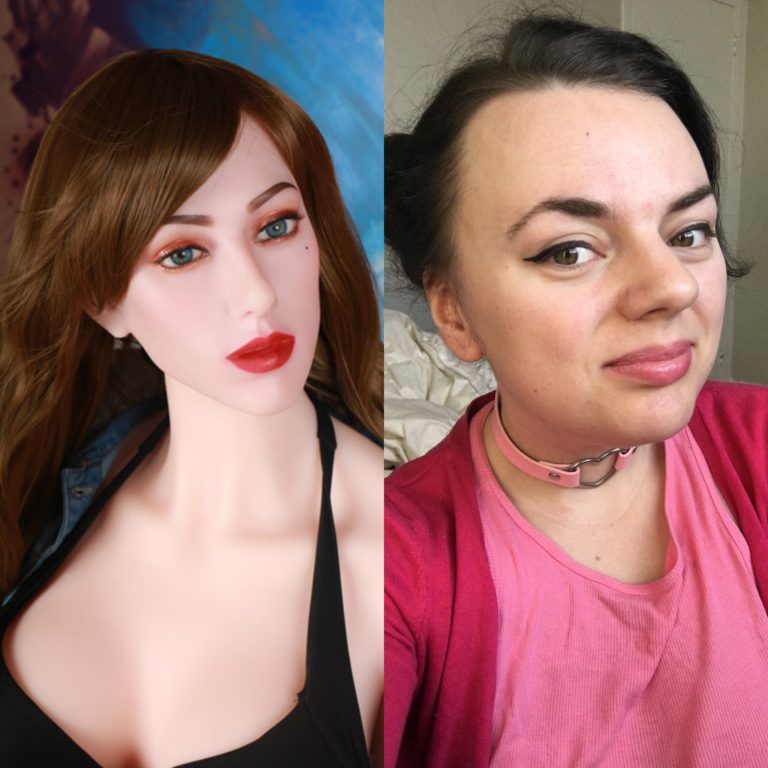 Learning vulva tricks. "Babygirl, you're gonna learn something new today," Sir says, gently pressing me forward over the bedroom threshold, and my heart judders at the sight of a silicone love doll on the bed. She's spread-eagled, hair pooled beneath her like a yellow-gold puddle, and she looks like she knows what's up.
"You keep saying you don't know how to eat pussy," he continues, and he's right; this comes up whenever we flirt about threesomes, my incessant fear I wouldn't know what to do with another vulva if it looked me square in the face. "So daddy's gonna teach you."
He pushes me down onto the bed gently, next to her, and pulls up a high-backed chair for a good view. My lesson begins with gentle warm-up – "Kiss her thighs" – before progressing to more insistent teasing – "Lick along her pretty pink lips" – and then to full-on giving her what she wants: "Suck on her clit, little one."
I melt under his words, eyes sliding shut as I press my face further into this soft silicone vulva. I can almost hear the noises she'd be making if she were alive. I can almost feel like I'm giving someone real pleasure. And when I glance over at Sir, and see the way he's biting his lip, I know that I am.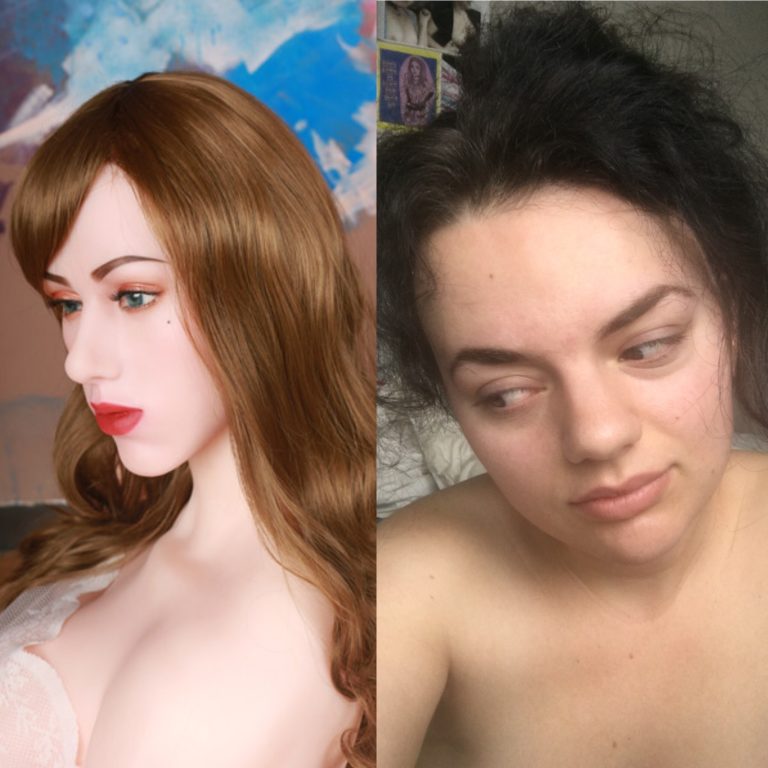 Hands off. I'm in trouble, because I made a bratty comment at dinner. I can tell from the stormclouds in Sir's eyes that I am in for a punishment tonight – but I never quite know what it's going to be. That mystery itself is part of the punishment.
He shoves me through the doorway, shuts the door, and slams me up against a wall. Instinctively, I reach for him, pining for kisses and warmth, but he pins my wrists over my head and growls, "No. No touching tonight." I whimper reflexively. No touching? But how?
Guiding me to a chair with firm tugs on my dress, he deposits me where he wants me and then loosens his necktie while I watch. His strong hands guide it over his head and then he's wrapping it around my wrists and the arms of the chair in quick loops and knots, so fast my eyes can't keep up, like a con man playing three-card Monte. Find the lady, find the lady. Am I the lady?
No. There's another lady. Sir pulls the doll from the closet and tosses her on the bed. He climbs on top of her, the way I like. He kisses her lips and then her throat, the way I like. He grazes one hand along the swell of her breast, the way I like.
I don't like this. And also I do.
Sir makes me watch for long minutes as he bites and smacks his little proxy-me, drags his fingernails along her ribs and hips, presses her thighs apart with his. I like when he treats me like his little fuckdoll. This is not that. This is something else entirely.
He tugs his shirt off over his head and throws it at me, so it lands on my face, obscuring my vision. I'm torn between leaving it there so I can inhale his scent and shaking it off me like a dog so I can see him again. Eventually the latter option wins when I hear him unzip his jeans. If I can't have that cock inside me tonight then I at least want to see it.
I extricate myself from his fragrant tee just in time to see him pushing two lubed fingers inside his doll, warming her up with slow and deep strokes that make my cunt clench sympathetically. And then he's pulling his hand out of her and replacing it with his cock, one steady slide all the way inside her. He quirks an eyebrow in my direction, and I realize I'm drooling, quivering, whimpering. Who knows how long I've been this way? (Sir does. Sir always knows.)
Eventually, he comes inside her, panting and grunting, and I'm so desperately jealous that there are red welts on my arms from where I've struggled to break free of this divine and devious torture.
This post was graciously sponsored by the folks at OVDoll, and as always, all opinions and words are my own.