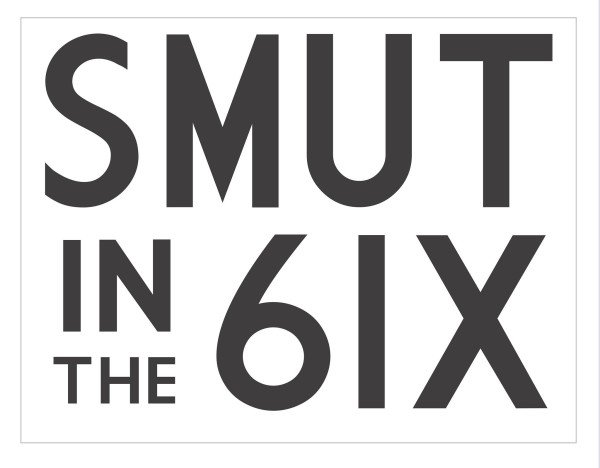 Did you know that Toronto is one of the up-and-coming porn hotspots of the world?
Well, sorta. We're no L.A., but there's some exciting stuff happening here in the realm of indie porn. And there's an event coming up that'll prove it.
SMUT in the 6ix is a "magnificent celebration of perviness" masterminded by Caitlin K. Roberts of Spit, Samantha Fraser of Playground Sexuality Events, and Sophie Delancey of Tell Me Something Good. It's happening next Saturday, the 14th of May. Here's six reasons you should buy your ticket now and join me there…
The panels.
SMUT's daytime programming consists of four panel discussions on topics related to porn. These sessions will cover several aspects of #PornLyfe, from social stigma to diverse representations to camera skillz.
They've got a ton of great speakers lined up, including MakeLoveNotPorn.TV curator Sarah Beall, CinéSinclaire bosslady Kate Sinclaire, and indie porn darling Rebecca Deveaux, among others. And – drumroll, please – I'll be moderating one of the panels! So you'll get to see me being a Smartypants McCutieface. Bonus.
The performances.
SMUT's nighttime gala will feature burlesque, spoken word, live music and dance. All the performers are local and you can be assured their acts will be appropriately smutty. Emceeing the evening is Dane Joe, who I can tell you from firsthand experience is charming as hell. (And also knows how to wield an Eleven like a fuckin' champ. Unf.)
Plus… I'll be performing, too! I'm gonna bust out some dirty ukulele songs. You don't want to miss that, surely?!
The party.
The gala will have DJs, dancing, and general merrymaking. S'gonna be a hoot!
In particular, I'm interested to see what everyone will wear! The sartorial intersection of "fancy" and "smutty" is always an interesting one.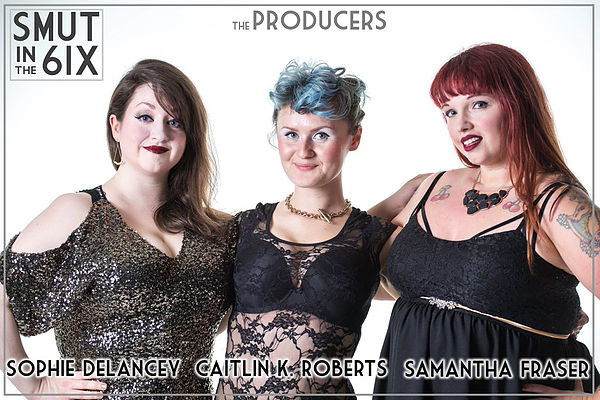 The babes.
There are soooo many attractive people in our local porn scene. And I'm using the word "attractive" in a deeper sense than just the physical one (though they are visually babely, too). If you (like me) are attracted to smart, funny, easygoing, sex-positive, feminist cuties, you're not going to find a better event to get your flirt on than SMUT in the 6ix.
The porn.
Of course, no porn-centric event would be complete without, y'know, porn. Rebecca Deveaux and my pal Taylor J. Mace are curating and co-presenting a selection of homegrown porn at the event. If you've never watched porn in a roomful of people before, you should – it's a unique experience, and can be a lot of fun!
The bragging rights.
Spit's going to be a big deal in the porn world one day, and so is the city of Toronto! Get in on the ground floor of our burgeoning indie porn scene, so you can say you liked Toronto porn before it was famous.
Check out the SMUT in the 6ix website and then buy your ticket! At just $37 for the whole day, it's one of the cheapest sexuality conference tickets I've come across. I hope to see you at SMUT; make sure you say hi if you spot me!