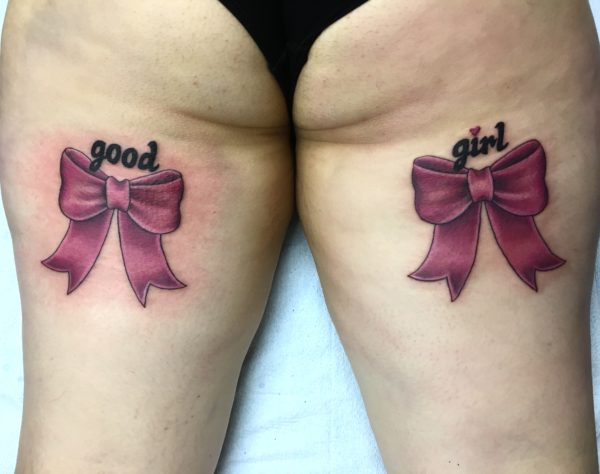 When I say that kink helps me in ways both sexual and nonsexual, I mean it. Being a good girl gives me a sense of value and accomplishment that I'd otherwise often lack. Pain and punishments help with my productivity and even my mental health. The potential of impressing a domly beau – whether that person is real or just hypothetical – gives me superpowers to do things I'd otherwise be too weak or scared to do.
Like, for example, getting huge-ass tattoos on a highly sensitive part of my body.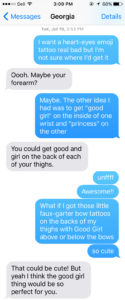 The idea for these tattoos came to me in a flash last month. I was chatting with Georgia, one of my most-tattooed friends, about possible works of art I'd like to get put on my body. I wanted something kink-related, because my kink identities have become more and more intertwined with my overall identity in the past year. I didn't have a clear image in my mind of what I specifically wanted – just phrases that resonated with me.
But when Georgia suggested I get "GOOD" on the back of one thigh and "GIRL" on the other, I saw it so clearly. I wanted girly bows underneath the text, marking me forever as a pretty plaything, a fancy femme, and a good girl. I wanted these images and words to be visible while I got spanked, posed for saucy pictures, or walked around half-clothed at a sex club. There was no question in my mind of whether or not this was a good idea; I wanted these tattoos immediately.
I felt the same way when I contemplated getting my first tattoo, a solid red heart on my lower belly. There were no "Do I really want this?" worries. I knew I wanted that heart on my skin forever. Just like I knew I wanted pink bows and "good girl."
Once I'd made up my mind, I asked Georgia for tattoo parlor recommendations. (My first one was done impulsively at Two Trolls in Dundas, Ontario because some friends happened to be going there, but it was super simple. For something more complex, I wanted to do more research and pick the right place and the right artist.) She suggested Adrenaline. My brother and a guy I'm dating had both gotten inked there and had positive experiences, so it seemed like a good bet.
As I scrolled through the Adrenaline Instagram account, I kept clicking on my favorite tattoos to see who had done them – and in most cases, the ones I liked best were done by Laura Blaney. I loved her use of color and shading, and the way her work could appear simultaneously realistic and cartoonishly stylized. I knew I wanted my bows to appear three-dimensional while still being bright and cute, and it seemed like Laura could definitely handle that. So I emailed her some reference images, booked a consultation, talked over my idea with her, paid a deposit, and booked my actual tattooing appointment.
There was a three-week wait time between my consult and Tattoo Day. That time felt interminable; once I had decided I wanted it, I wanted it now! But I knew it'd be worth the wait, and as that time ticked past, it was comforting that my desire for these tattoos didn't abate. You should be sure before you put something on your body permanently, and I was sure.
Laura is such a skilled and experienced artist that she totally understood what I wanted. I didn't have to do much: I just explained my idea to her, showed her some bows I liked the shape of, and sent her an image of the words "good girl" in the font I wanted (it's called Black Rose). When I arrived for my appointment, she showed me some sketches she'd done of bows, asked me where I wanted the text placed, and chose some shades of pink that matched what I wanted. I thought I'd be nervous handing over creative control of art that would remain on my body forever, but I trusted Laura. She was confident, her art looked great, and I had the strong sense that she knew what I wanted.
At one point, I showed her a reference image of a bow I liked the look of. "The one I do will look better than that, but I see what you're saying," she said, with complete certainty. (Laura is a total badass. She did my tattoos while six months pregnant. God, I love strong smart talented women.)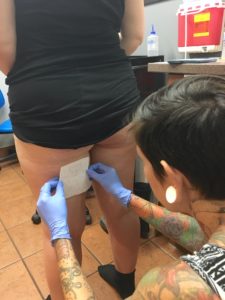 Laura applied stencils to the backs of my legs, reapplying a few times until they were perfectly straight and even. Georgia snapped some pictures for me so I could check to see if I liked the placement. I wanted the bows pretty much right under my butt, so they'd peek out of my shorter skirts and dresses but still be easy to cover up for conservative occasions when necessary.
When both she and I were happy with the placement, Laura had me lie down on my stomach on the tattoo table. She fired up the needle and got started on outlining.
The pain was bad, especially toward the beginning before the endorphins kicked in, but it was nothing I couldn't handle. I chatted a bit with Georgia, who'd sweetly accompanied me; I listened to music on my iPad, read some articles, and tweeted a little. But what really helped was to invoke the same strategies I use when I'm enduring a spanking: I focused on my breathing, purposely intended to enjoy the pain rather than recoiling from it, and reminded myself time and time again that no moment is unendurable. Any time the pain was particularly bad, I knew it would be over soon, so I could get through it.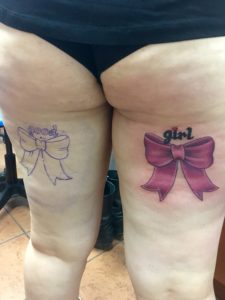 The first bow, and its accompanying word ("girl"), took about an hour and 40 minutes to complete. Toward the end of it, I started to tire of getting poked with a stabby needle and wanted it to be over, but it really wasn't that bad. The pain was less bothersome than it had been when I got my heart, I think because back then I was more scared of pain and hadn't yet experienced it as a consensual and even pleasurable sensation. Plus that tattoo was a lot smaller, so I didn't have time to get into an endorphin groove the way I did with these larger pieces.
We took a break, during which I got up, walked around, stretched my legs, ate a granola bar, drank some coconut water, and posed for some pictures of the half-finished product. I asked Georgia what she'd do if I chickened out and wanted to leave at that point, and she said she'd gently but firmly dom me into finishing the other leg. See: kink is important and helps get shit done!
But I didn't chicken out. I laid back down on the table, flipped around the other way, and Laura started on the second bow. It hurt more than the first one, for whatever reason, but it also didn't take as long. I warbled along to some old Regina Spektor songs while continually reminding myself that the pain would be over soon, and it would be worth it.
After the second bow was done, Laura wanted to go back into the first one to fix up a couple spots that weren't as vivid as they should've been. That was the worst pain of the whole evening, because she was revisiting areas that were already sore and tender from their earlier pummeling. But I groaned into a pillow and gnashed my teeth and it was over soon enough.
When the tattoos were done, we snapped some pictures and then headed downstairs to the main desk so I could pay for my beautiful works of art. I hobbled and limped a bit, because my muscles were sore from holding the same position for three hours and the backs of my thighs felt like they'd received a selective, intense sunburn.
All told, this tattoo session cost about five times more than my little heart tattoo did – but it was a bigger and more complicated piece, with more customization involved, and the artist was more experienced and skilled. I firmly believe that if something's gonna be on your body forever, you should be willing to pay as much as you feasibly can for it, because you really do get what you pay for. I was so pleased with every aspect of my tattooing experience, from the planning to the inking to the finished product.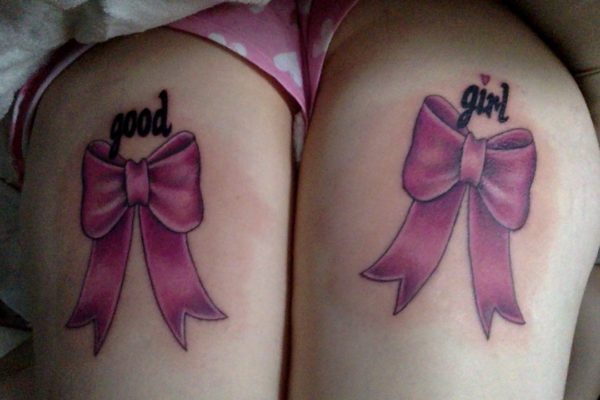 Do you have any kink- or sex-themed tattoos? Can I see?!