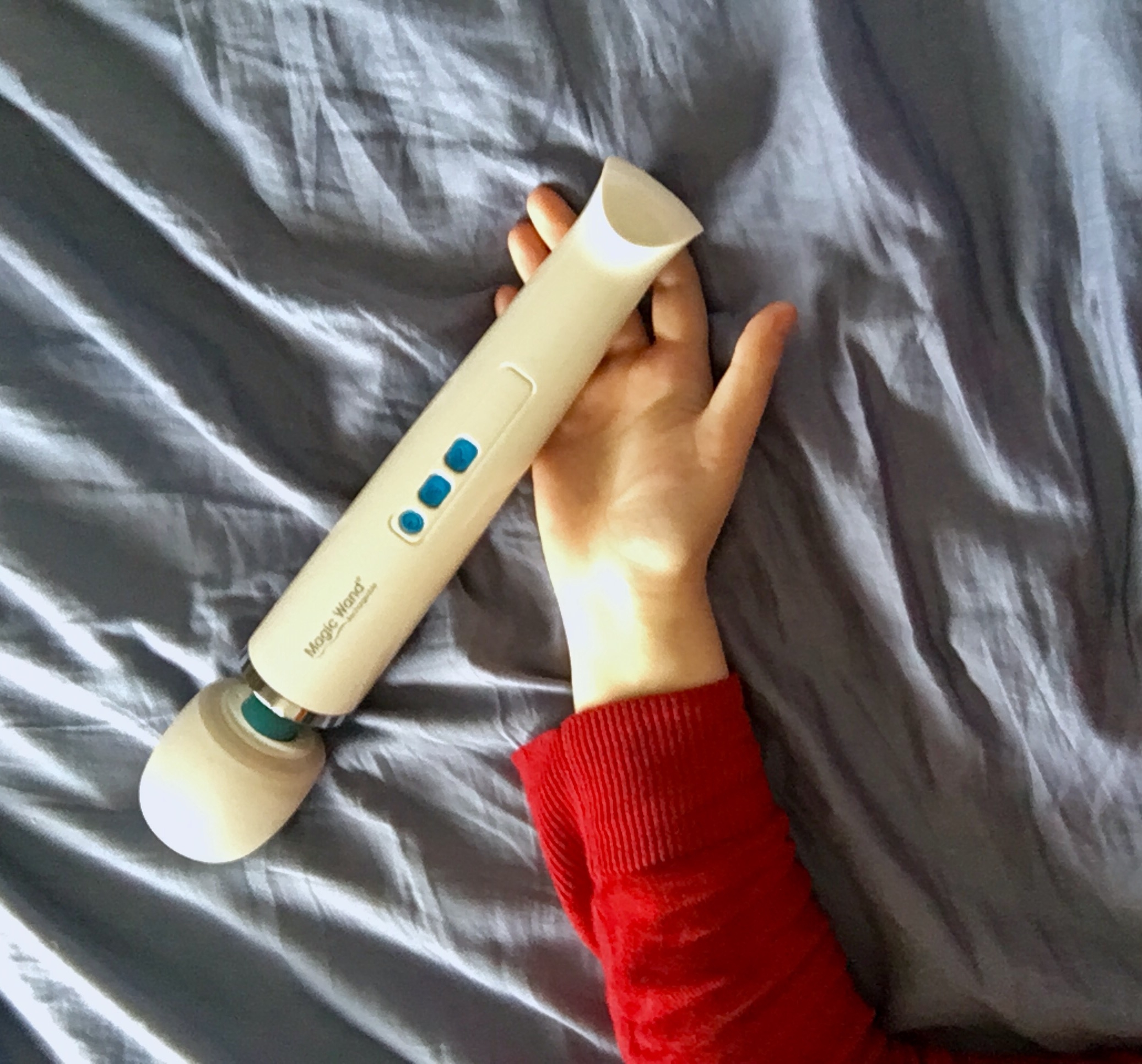 "How are you, Kate? What have you been up to lately?"
"I'm writing a magazine article about the orgasm gap and it is blowing my damn mind!!"
My friends are tired of hearing about it, I'm sure. There are more interesting things we could discuss, probably. But it's an occupational hazard of journalism to become temporarily obsessed with whatever you're currently covering. I've gone through these fixations before with other assignments: spanking, squirting, Benedict Cumberbatch. And though my focused fascination didn't always last, I always learned something in the process that I took with me into my ensuing experiences, my work, my life.
One of my favorite editors sent me an email a couple months ago, saying two new books were coming out on female sexuality and I might want to review them for her magazine, or possibly write a feature on them. "Has women's time finally cum?" she joked in the email. I agreed to write about the books, and she had them sent to my house.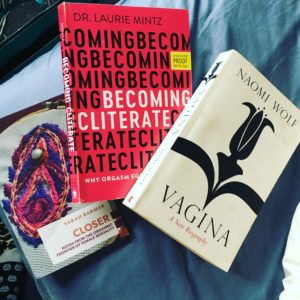 The books, as it turned out, were Closer and Becoming Cliterate – two fabulous reads which assess the current state of sexual sociopolitics and women's sexuality. They have a lot of commonalities – both mention the A-spot, to my great glee; both advocate masturbation and mindfulness as potential solutions to women's sexual woes – but what struck me most was both books' examinations of the orgasm gap.
Closer quotes a 2015 Cosmopolitan study which found that only 57% of women usually reach orgasm with a partner, while their partners climax 95% of the time. Becoming Cliterate adds that in first-time hookups, only 4% of women say they usually reach orgasm, versus 55% of men. Yes, folks: we're well into the 21st century and these sad stats are still true. It's been over 50 years since the supposed sexual revolution of the '60s and women's orgasms are still trailing men's. This is unacceptable.
I told my mom about this assignment, and the books I was reading for it, during an Uber ride to a family gathering. (The driver was probably judging us pretty hard. Oh well.) "Do you think that's true?" she said, of the orgasm gap. I paused and furrowed my brow. "It's scientifically proven. Yeah, it's true," I replied. Then she clarified: "No, I mean, is it personally true, for you?"
While I declined to answer that question when my mom asked it – hey, kids and parents have gotta set boundaries somewhere – she did get me thinking about orgasm disparity in my own life. Like the authors of the books I've mentioned, I also have access to scientific data. Mine's just self-made and a lot more specific: my sex spreadsheets!
In reviewing my orgasm stats from 2016, here's what I know:
• I came during 58% of my sexual encounters; my partners, comparatively, came 76% of the time.
• I'm statistically likeliest to come with partners I've banged at least a few times. I had eight first-time encounters in 2016, only two of which resulted in orgasm for me. (What was the common element between those two orgasmic successes? In both cases, the sex took place in my own bed and involved toys – a relative rarity for me in first-time encounters.)
• Multiple orgasms, while rare for me, are possible – with partners I'm suuuuper comfortable around. (My only multiple-orgasm sessions in 2016 were with a boyfriend I'd banged 13 times already, and a fuckbuddy I'd known for over a year and fucked 15 times before.)
Both Closer and Becoming Cliterate quote studies which've found that women are likelier to reach orgasm in ongoing relationships (whether romantic or just friends-with-benefits-esque) than in casual or one-off encounters. I can't speak for other women, but I know why this is true for me: when I don't know someone as well, I'm often too nervous, anxious, and insecure to ask for what will get me off. I'm trying to play the role of a "cool girl," which includes being undemanding about my own sexual needs and just rolling with whatever my partner wants to do.
In more established relationships, though, that nervous magic wears off and is replaced by magic of a different sort. With my longest-term fuckbuddy, for example, I have no qualms about requesting he focus his fingers on my A-spot for a while instead of fucking me with his dick, and I know he's super vibrator-positive so I'll gladly grab my Tango or even my big bulky Magic Wand during sex with him, certain he won't judge me or feel displaced.
Even with him, though – even though he's made me come over a dozen times, knows exactly how to do it, and has never once balked at anything I've asked him to do in service of my orgasm – I still get hung up about "taking too long." I'll gladly spend ten or twenty minutes blowing him, because I genuinely love doing it and I find his pleasure deeply fulfilling, but if he spends more than three minutes focusing on my pleasure, I start to get anxious. "Are you getting tired?" I'll ask, breathless with guilty arousal. "Do you want to stop?"
To his immense credit, he always reacts like this is a silly question – lovingly, of course. Hell, even the very first time we banged, he reminded me, "You're getting in your head. Just relax and enjoy." I've heard these words, or similar ones, come out of his mouth so many times since then. He's exceptionally good at calming me down and helping me remember that pleasure is as much my right as it is his. But it's sad that this is a rare talent among men. It's sad that I feel I have to ask for this reassurance, rather than just receiving it by default or not needing it at all.
According to both the books I've read on it, the orgasm gap exists primarily because our culture still overvalues penile pleasure and undervalues clitoral pleasure. Though the penis and clitoris are anatomically analogous, and though stimulation of the clitoris is as necessary for its owners' orgasms as stimulation of the penis is for its' owners orgasms, and though this has been widely known for decades, the clit still doesn't get its due attention in far too many hetero encounters. Focused clit stimulation is still mostly relegated to "foreplay," while intercourse remains the conceptual centerpiece of straight sex, even though most women don't get off from it without "extra" clit stim. The feminist babes who spearheaded the sexual revolution in the '60s must be so sad and angry that it's 2017 and women still aren't getting off as often as we ought to.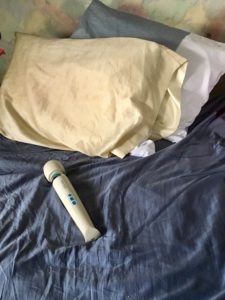 So many times, I have told a partner, "Making me come is difficult," when what I meant was, "I know exactly what's required for me to get off, but I'm scared you don't care enough to learn how to make it happen, so I'm not even going to try to teach you." I have often said, "Don't worry about making me come, I'm fine," when what I meant was, "I don't feel entitled to pleasure, even though I believe you are." I still often say, "It's probably not going to happen tonight," when what I mean is, "It could happen if you did what it takes to make it happen, but I'm too embarrassed to show you how to do that, or to ask you to work that hard for me." Meanwhile, I'm still giving diligent blowjobs left and right, time and effort be damned. It's inequitable and it's unacceptable.
I recently hooked up with someone at a sex club whom I'd just met an hour before, and to my immense surprise, he made me come. This, as I've mentioned, almost never happens to me – it's one of the key reasons I decided to eschew one-night stands in 2017. But on that particular night, I'd smoked a little weed, so my sensitivity was high and my inhibitions were low. My hookup also kept emphasizing how much he wanted to please me, which helped. Teaching him to fingerbang me properly felt fun and exciting, rather than intimidating like it usually does with new partners.
Mid-encounter, I realized – as I often do – that my orgasm would remain out of reach unless I brought a vibrator into the mix. So I stole a line Bex once recommended I use: "Do you wanna see me come?" No halfway-decent partner would ever say no to that. When I got the affirmative reply I wanted, I went and fetched a vibe from my locker – and when I pressed it to my clit while his fingers resumed their magic inside me, my orgasm transformed from elusive to impending. And then it happened, more quickly and easily than I even expected, my muscles wetly clenching around his hand. "Oh my god, I can't believe you made me come," I slurred as I floated back to earth.
The truth is, it's not hard for me to come with new partners; it's hard for me to feel brave enough to make sure I come. The actual mechanics of my orgasm are not difficult. If I can muster the courage to give a partner thirty seconds of verbal instruction, or even to grab their hand and show them what to do, they usually figure it out pretty quick. And what's more, they're usually thrilled to put the work in, rather than seeming inconvenienced. It's partnered sex; we're there for each other, not for ourselves. Most of the joy of fucking another human is their reactions, and knowing your own role in those reactions. I know this to be true from my own perspective, but it's sometimes hard for me to remember that my partners feel that way, too.
As easy as it would be to blame sociocultural forces for denying me orgasms, ultimately I have the power to overcome those forces in my sexual interactions. It's as simple as asking for what I want, or just stimulating my clit during sex myself without waiting for "permission" to do so. Men typically have no qualms about expecting that they will get off at some point during sex, and taking steps to make sure that it happens. I need to practice adopting that same attitude, in the same guiltless and casual way, so that I can start getting off more consistently. Because I fucking deserve that.
What are your experiences with the "orgasm gap"? Got any tips for getting over anxiety about expecting or deserving an orgasm?