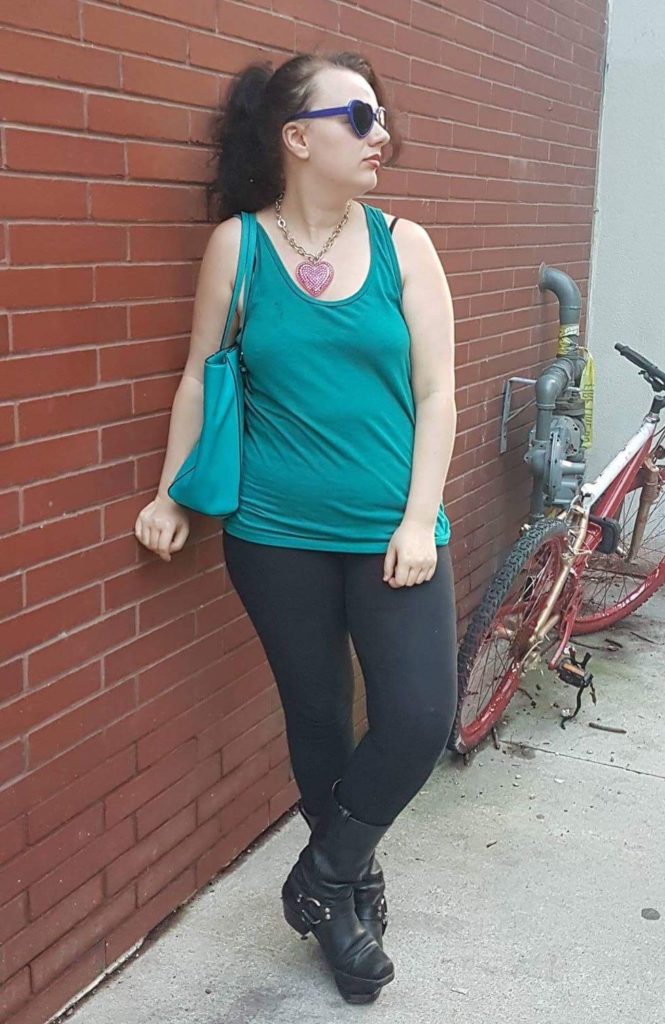 On the day after her breakup, our lovely model Kate wears the same outfit she wore yesterday. 24 hours of crying, sleeping, and existential angst have rendered the ensemble charmingly worn-in – "heartbreak chic," you might say.
Her green American Apparel tri-blend racerback tank is embellished with a chocolate stain from a Kitkat bar she bought because her best friend told her she needed to eat and chocolate was the only option that didn't sound positively nauseating.
Adorning her black American Eagle leggings is a smattering of white hair from the cat belonging to her now-ex-boyfriend. The cat wandered in during the break-up conversation itself – sometime between "I don't think we should see each other anymore" and "I still care about you a lot" – and though Kate mostly stayed strong, that was the one moment when she thought she might cry, because it wasn't the cat's fault she would never see him again.
Her turquoise Coach turnlock tote is stylish, yet roomy enough to fit a fistful of used tissues, a tearstained Moleskine journal, and a Kindle loaded with ebooks about the psychology of romantic rejection. The side pocket can even hold a plethora of condoms, as if she'll have a need for those any time soon.
Kate's royal blue heart-shaped sunglasses were a gift from a reader via her Amazon wishlist. Beyond just looking sharp, they also function as a shield to keep onlookers from realizing she's just, like, constantly crying.
Her well-worn Frye harness boots are comforting and familiar, though now they are marred with the memory of how she clumsily crammed her feet back into them and practically tripped in an effort to get away as quickly as possible from the man who broke her heart. They need a shine, and maybe someday she'll get to that when she's no longer in a state of active distress.
Topping off the outfit is Kate's Tarina Tarantino pink pavé heart necklace. Usually she wears a smaller purple and turquoise one, but the last time she had sex with her now-ex-boyfriend, he sidled up behind her afterward and fastened the purple pendant around her neck like the quasi-collar he understood it to be, and it was the last sweet and tender gesture he ever offered her – so, obviously, she couldn't wear that one. Not today.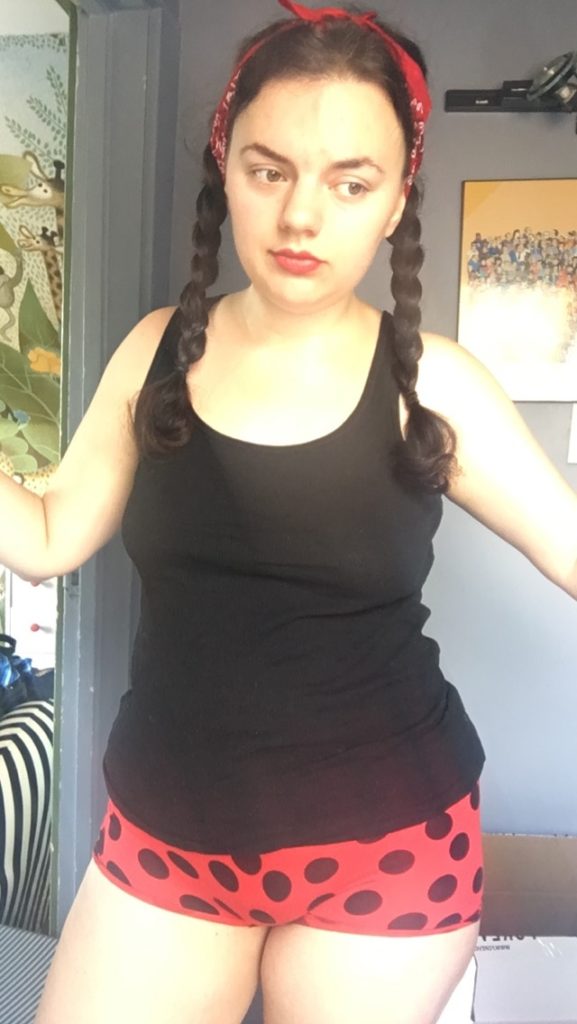 On the second day after her breakup, Kate wears a casually rumpled black tank top that was acquired at a local thrift store years previous and could probably use a wash. She defines her aesthetic goals today as "comfort" and "not wanting to fucking die."
The red bandana tied around her head serves the dual purpose of concealing both her unwashed hair and her scalp infection, because depression is nothing if not glamorous. Red bandanas also symbolize fisting in the hanky code, a subtle, ironic sartorial nod to Kate's ex, who would've been the first person to successfully fist her if he'd been decent enough to stick around.
Her red and black polka-dotted MeUndies boyshorts continue the color story from her red-rimmed, tearstained eyes. On her lips, Bite Beauty High Pigment Pencil in "Pomegranate" makes a bold statement: "I don't intend on kissing anyone today. Or maybe ever again."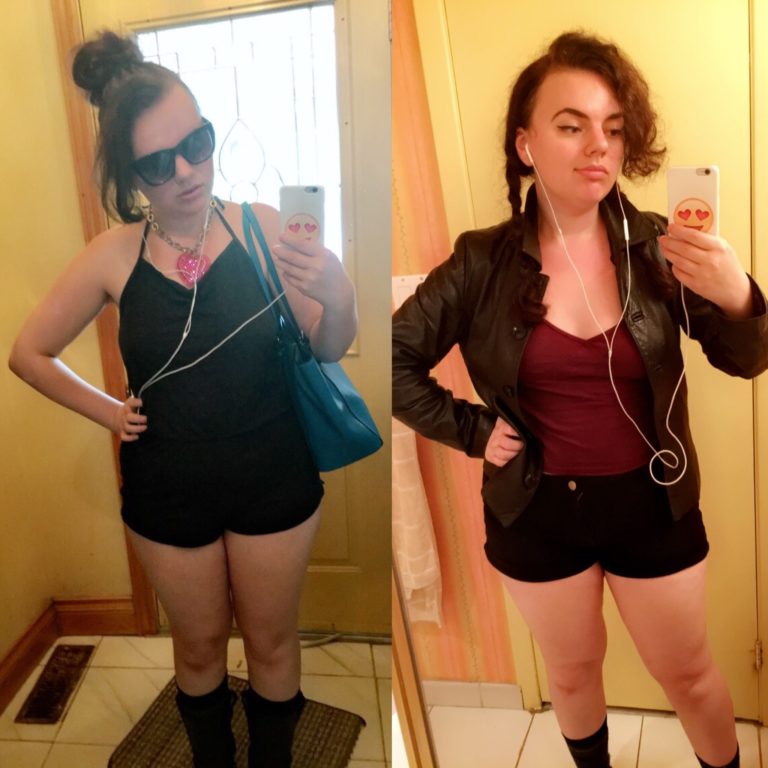 On the third day after her breakup, Kate's thrown on a black American Apparel tri-blend romper for her streetcar jaunt to an erotic massage downtown. The simple pull-on design and halter-neck ties make it quick to take on and off – ideal for getting naked on the massage table as well as navigating the bone-heavy apathy of depression. Easy-peasy!
On her radiantly unwashed face, she sports a pair of sunglasses she bought at a hotel gift shop the week previous, possibly the last purchase she made while happy. They seemed glamorous and eye-catching at the time; today they're crimson-tinted armor. Pro tip: plastic frames are a smarter choice than metal ones while grieving, because tears don't rust 'em!
Her heart necklace makes an appearance once again, because if a giant pink rhinestoned amulet can't make her feel better, nothing can.
Ubiquitous Apple earbuds complete the ensemble, and rarely leave her ears these days, because what little emotional momentum she can gather is mostly enabled by the good-natured goofs of the McElroy brothers.
Later that day, blissed out and supple-skinned from coconut oil and orgasms, Kate slithers into a dark red Forever 21 tank top and tiny black H&M shorts for an evening at the local sex club. As she slings on a vintage Danier leather jacket and looks at herself in the mirror before leaving the house, she feels her first glimmer in days of something like happiness. Maybe she'll flirt with a stranger tonight. Maybe she just won't cry in public. Either would be a victory.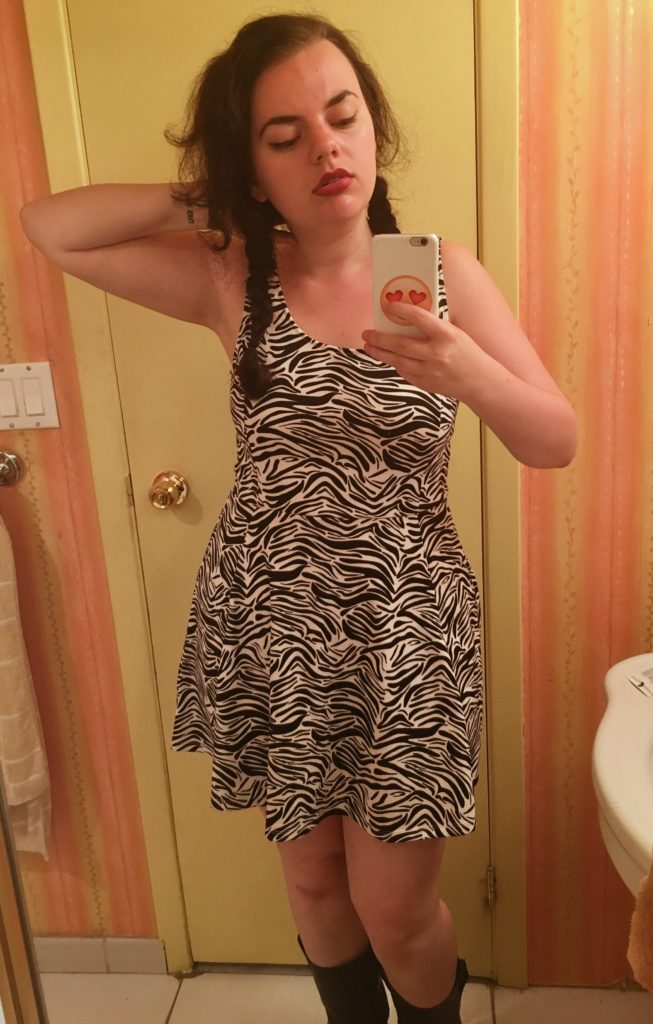 On the fourth day after her breakup, Kate's ex is coming by to pick up the last vestiges he left at her house (a book and some bondage rope), so obviously she has to look good, even though she's not actually going to answer the door because she's either an emotional masochist or a massive coward – who can say! This is truly the ideal outfit for today's activities: hiding under a blanket while rain pours down outside, and then trekking to a doctor's appointment while blinking back hot tears. Busy lady!
Kate's zebra-print fit-and-flare dress from H&M clings to her depression-dwindled curves in a manner that just screams "Help, I keep forgetting to eat, because my life is in shambles!" The wild-animal motif is an ironic twist, given that she's barely left her house in days. So-near-y and yet safari, am I right?!
Today's lipstick choice, Annabelle Twist-Up Crayon in "Vamp," is the exact shade her mouth would be if she bit into the throats of the people who've wronged her and gnawed mercilessly until their pathetic heartbeats skittered to a stop, not that she's planning on doing that or anything.
Her hair, still not washed, has achieved a strawlike texture that some people buy expensive salt sprays to achieve, probably.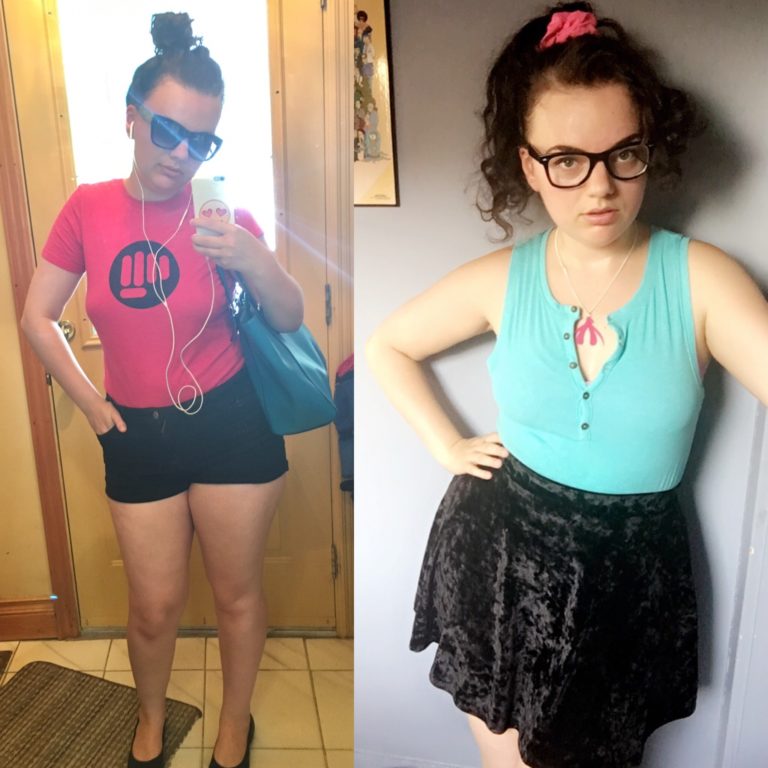 On the fifth day after her breakup, Kate's comfy-cozy in a Hole Punch Toys T-shirt she got on a road trip to Minneapolis. Wearing a sex toys shirt and headed out the door to write about sex toys at a café, she's reminded of her competency, her talent, and the friends she's made along the way. It's perhaps too much to read into a T-shirt, but hey, when one is mind-numbingly depressed, one takes what one can get.
Her cheap H&M shorts are covered in dirt, food stains, remnants of her own sexual fluids, and the aforementioned white hairs belonging to the cat of her ex. She really needs to wash them, but when getting dressed feels difficult, it's hard to part with something so sartorially versatile and easy to throw on for even as long as it takes to do a load of laundry. Plus she keeps thinking about how you could probably clone the cat using its hair. Not that she has access to that technology at present.
She's finally washed her hair, but it's been tossed up into a laissez-faire topknot, because today she can't even.
Later that night, getting ready for an ill-advised OkCupid date, she slips on a lace bralette in "Lacklustre-Libido Lilac" and a Henley tank top in "Terrified-to-Try-Again Teal." Her black velvet Forever 21 skater skirt creates the illusion of put-together elegance to impress her date, while really just existing to be comforting and comfortable. Joke's on him.
Hours later, in a near-stranger's downtown apartment, her Animal Hair internal clitoris necklace keeps falling into her mouth while she's trying to give a blowjob to an unfamiliar dick. She notices herself falling back on the muscle memory of techniques her ex liked, purposely choking herself on this cock in a masochistic manner that is probably lost on this vanilla boy. It almost makes her cry, and then she almost cries again later when her one-night stand sees her necklace and asks, "Is that the Special K logo?" Her ex would have recognized it. And then he would've demonstrated his knowledge on her actual real-life clitoris. Ah, to date a proper sex nerd again.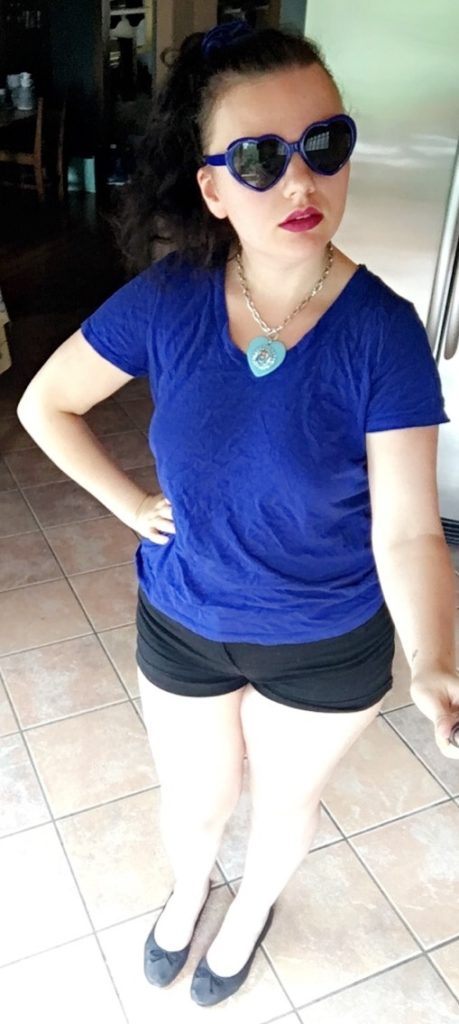 On the sixth day after her breakup, Kate is so over it (over existence in general, you understand; definitely not over the breakup) so she pulls a hole-ridden, stretched-out, pilling Forever 21 V-neck tee on over her braless boobs. Free the Nipple, Free Women From the Shackles of Convention, Free the Chronically Sad Girl From this Mortal Coil, and so on.
Her berry lipstick creates the illusion of a confident, self-assured woman who has her shit together. Haha. Hahahahaha.
Her black faux-leather flats are practically worn through on the bottom, owing to the many long walks she's taken recently, when it felt like she would fall into the earth and disappear if she ceased to constantly move.
Her wrists and throat are sparingly spattered with the Tom of Finland fragrance from Etat Libre d'Orange. On her skin, it registers as gentle, feminine, graceful and loving: all qualities she can't quite remember, and hopes to rediscover in herself.
Today's Tarina Tarantino heart necklace bears the image of Alice, as in Adventures in Wonderland – a figure with whom Kate strongly identifies, particularly now, as she's a little girl traveling through an alien terrain without a Daddy to make sure she's okay. She aspires to reach Alice's level of confidence in that final courtroom scene someday.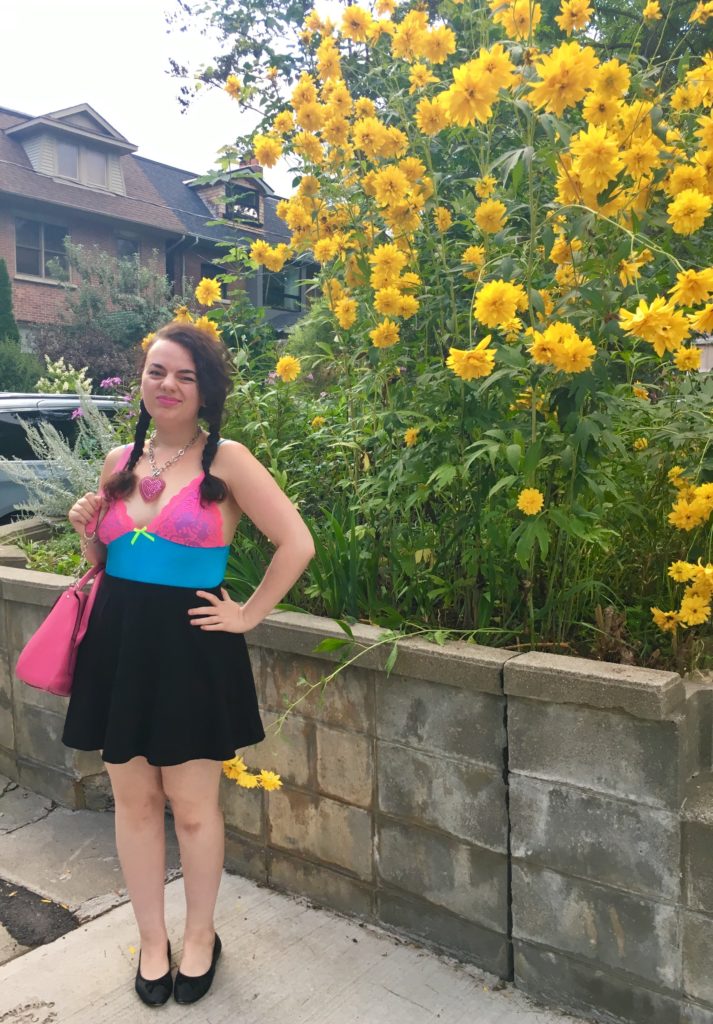 One week after her breakup, Kate steps into a pink and turquoise Leg Avenue lingerie romper, ordered off Amazon back when she was happy. Her then-boyfriend would've liked it; it's emblematic of the little-girl persona she often assumed around him, her Daddy. Maybe that's the only reason he ever loved her. Maybe it's the reason he left.
Her black ASOS skater skirt covers the lower half of the romper; the thought of going full-on little girl felt aggressively upsetting, so soon after being jostled from that role. Tonight her aesthetic is more akin to that of a grown woman who will someday tiptoe back into cathartic regression – when she once again has a partner she trusts to take her on that journey. Singlehood requires a fierce independence she feels she can't cultivate when she's little. Later tonight she'll curl up with a carton of ice cream and a comedy podcast and allow herself to be gleefully small, but not where anyone can see her.
In her hot pink Kate Spade satchel, she's got some business cards to pass out at the sex-themed variety show in which she'll be a resident sexpert tonight. During the on-stage interview about vibrators and dildos, she doesn't mention her breakup once. It's the first time in a week that this recent heartbreak hasn't felt like the central fact of her existence. Afterward, she even tipsily quasi-flirts with a cute co-performer. It's not much, but it's something.
Around her neck, she wears that Tarina Tarantino amulet again. It jangles and glitters when she gesticulates, casting candy-pink rainbows. Sitting on her chest all week, it's come to feel like a part of her. Like a shield for her heart. It won't guard her from future heartache – nothing can, not even staying inside her apartment, silent and uninvolved. But for now, she can pretend that she's safe.