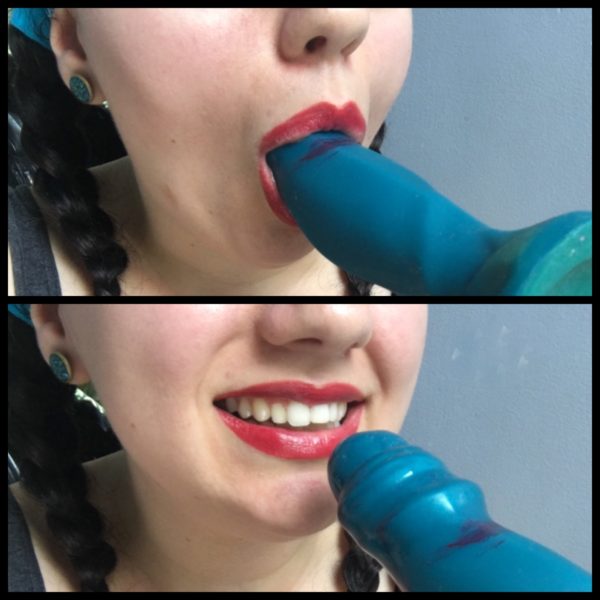 Two major things happened to me in February: I had one of the worst depressive and anxious spells of my life, and I became obsessed with giving blowjobs.
I don't think it was a coincidence that these things happened at the same time. We're drawn to what we most need at any given moment: when your body's deficient in magnesium, for example, you might crave chocolate. And likewise, I see now that when I most needed to clear my mind and focus up, I craved the sexual act that gave me that experience most readily.
This connection didn't really hit me until the owner of my favorite BJ dick skipped town and I found myself in a fellatio drought for a while. As my anxious and depressive episode worsened, I craved blowjobs the way I've craved other life-affirming touchstones: nutritious food, quality friend-time, creative expression, cat cuddles. It ran deeper than my typical carnal hankerings. It felt more like a core psychological need.
When you struggle with anxiety and depression, people constantly offer unsolicited advice. So I've heard it all. "Get more sunshine!" "Try yoga!" "Eat more greens!" One suggestion I've heard many times is mindfulness. This seems counterintuitive at first blush – if my issue is feeling sad and scared, won't focusing on those feelings just make me sadder and scared-er? – but I actually find it works the opposite way. Acknowledging my negative self-talk, greeting it like an old friend instead of slamming the door in its face, diffuses some of its power. And then I refocus on my breath and my body instead of my buzzing brain, and those quotidian sensations are calming in their simplicity. It's not a magic pill, but it's something.
That's what blowjobs can be for me: a venue for mindfulness. They force me into my body and don't allow me to fall back into my anxiety-brain until the deed is done.
When I first started giving BJs at age 19, I didn't find it hot at all. "My mouth just isn't an erotic zone for me," I remember telling a friend. I felt all those mouth sensations very vividly – the weight of a cock on my tongue, the texture of the skin sliding over my lips, the smells and tastes – and they captured my attention so completely that I couldn't focus on other things, like my own arousal or pleasure. I hadn't yet developed a concept of sexual enjoyment that didn't centre on my own genitals, so I interpreted my BJ dalliances as, "My mouth just isn't eroticized." Wow, how wrong I was.
That sensory overwhelm is the main reason I enjoy BJs so much now. They are unique among sexual acts for me in this way. When someone's fucking me, fingering me, or even going down on me, I can tune it out to some extent if I want to. My mind can wander into anxiety-land, and sometimes I need to remind myself, "Oh, right, I'm having sex right now!" I never, ever experience that with a blowjob. I can't. My mouth is so front-and-center in my perception that I can't think about much else when I'm slobbin' on the knob. It's just me and the dick, and nothing else matters.
Leo Babauta calls this concept "the universe of a single task" (albeit in a rather different context!). He writes that you should "make each task its own universe, its own specialness." This is an approach I try (and often fail) to bring to my relationships, my creative work, my very existence as a human. But for some reason, when it comes to blowjobs, I succeed. A beej can be my entire world for its whole duration and I don't feel deprived or distracted. It is my everything.
This is highly affirming at times when I feel like a fuck-up in every other arena. Maybe I've missed a work deadline, or I'm fighting with someone I love, or my financial situation is unsteady. It doesn't matter. Faced with a dick to suck, all that other shit fades away. A blowjob is a task with crystal-clear parameters and expectations, unlike many other challenges we face. I know exactly what I am supposed to do and how to do it, especially if the person I'm blowing is someone whose body and preferences I'm familiar with. I'm not an Olympic-level cocksucker, but I feel fairly confident in my skillz. Giving a good beej makes me feel empowered and successful even when I don't feel that way about my life as a whole.
Of course, I'm a kinkster, so my brain is forever swimming in kink, and that probably informs the psychologically restorative way I experience BJs. Being a good girl – in this case, by giving good head – is a way for me to feel valuable when I otherwise don't. My boss, editor, dad, and best friend could all be fuming at me, but if I'm pleasing a dom partner, that's all I'm thinking about at that moment – and I'll feel great about it. Maybe that's fucked up, but there've been times when the satisfaction I glean from pleasing a partner was the boost I needed after depression dug me into a hole in every area of life.
Giving head is also an activity that gives you moment-to-moment feedback on how you're doing. That is precious and rare in this world of anxiety-provoking uncertainty. I can try out a new trick during a BJ and know in under five seconds whether it's a flop or a worthy addition to my repertoire. Nifty!
This all makes it sound like I approach fellatio as a zen monk would approach his meditation cushion, and that's not quite right. True, sometimes kneeling at a partner's feet to take his dick into my mouth feels akin to prostrating myself before a statue of a revered deity. But there is, of course, a sexy element too. Beyond just having a straight-up BJ kink – which I absolutely do – I also think the psychological calm I get from sucking cock takes the pressure off my sexual brakes. The less anxiety and overwhelm I'm feeling, the easier it is for sexual arousal to flow into my body and mind. Abraham-Hicks says your mood is like a cork held underwater, and it rises fast as soon as you let go of it; I find it's the same with my arousal. The less I cling to my anxiety, the quicker I turn into a hot puddle of arousal in the presence of things that turn me on. Hence, a meditative blowjob – or other anxiety-quashers like marijuana, booze, and sleepiness – makes me hornier by sheer virtue of eliminating my stressors.
Naturally, this process relies on having a partner I trust – someone who I feel safe relaxing around. But I've found this penile peace with more casual partners, too. It's a nice moment for both of us – him luxuriating in pleasure, and me zoning out on his dick. It's why, for example, my Tinder hookup in Minneapolis asked me mid-beej if I wanted to "do anything else with that cock," and I looked up at him with confusion in my eyes and said, "…No." It had been a couple months since I'd had a hard dick in my mouth, and dammit, I needed my fix.
Do you find certain sexual acts meditative or calming? Got any stories or suggestions?