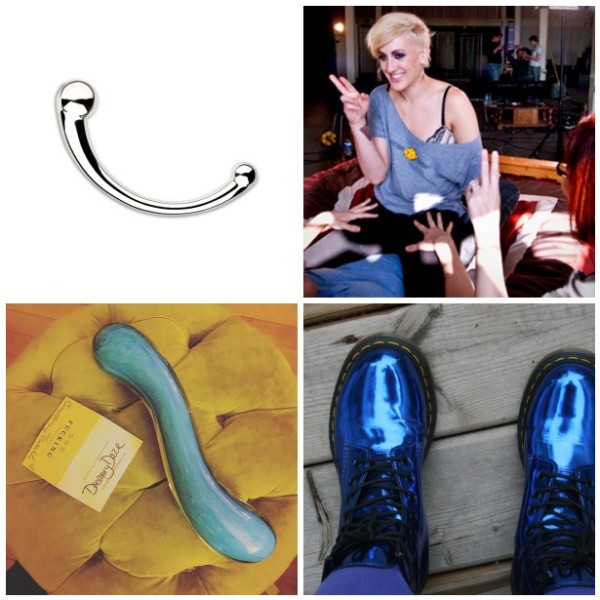 November was possibly the most sexually active month of my year so far, so that's pretty rad. Here are some of the things that made that possible…
Sex toys
• I had loaned out my Pure Wand to a friend, and when she returned it to me mid-month, I sure made up for lost time. I used it on myself during a threesome, and during many a solo sexytime session thereafter. It still provides a more intense sensation than I usually find pleasurable, but when I get into the right mood for it, nothing else will do.
• I bought a Fucking Sculptures Double Trouble this month. (Yes, feel free to "ooh" and "aah" here.) Mine is blue because it was the last remaining toy from the limited-edition "Dreamy Daze" batch Fucking Sculptures made in May. Swooooon. I will review it, eventually, when I can pry myself away from it for long enough to write a review…
• It's hard to come up with a 3rd item for this list, because I honestly didn't use a lot of toys this month. But I did have one particularly memorable session with the Tantus Uncut #1 that reminded me how lovely it is. Unf, dat foreskin.
Fantasy fodder
• I bought a Bright Desire subscription and I'm so very glad I did. Hot female-gaze-oriented porn filled with cuties. A database easily searchable by keyword. Behind-the-scenes director's comments available for practically every clip, incase you're a porn nerd (which I am). Too too too good.
• Please help me: I still have fantasies about a hot guy from my past who turned out to be a total asshole. He's just… so… attractive. Do you ever struggle with this dilemma? Does it leave you feeling guilty and depleted after you come incredibly hard? 'Scuse me, I'll just be over here in the corner, hanging my head in shame.
• Remember that Danny Wylde/Dylan Ryan scene I've been obsessed with for literal years? Yep, still in love. I pulled it out a few times when I was having trouble reaching orgasm, and it always helped. How are these two SO HOT? How is that amount of sexual chemistry even legal?!
Sexcetera
• After feeling kind of "meh" about cunnilingus for the past year, I got some incredible head from two different guys this month, and remembered how much I love it. I still haven't come from oral in about a year and a half, but I'm confident that it will happen one of these days…
• At various times this month, I had a bite mark on my neck, a bruise on my breast, and scratches up and down my torso. Only two out of those three were actually sex-related, but, damn, still pretty neat.
• I got spanked a lot this month. Hell yes. Isn't it fantastic when you find someone who loves to do the things you love to have done to you (or vice versa)?!
Femme stuff
• I bought my metallic blue Doc Martens when I was 18. I don't know when or why they fell out of my regular shoe rotation, but it's a travesty that they did. I pulled them out again for Playground Prom and now I kinda wanna wear them every day. How can you ever be sad when your feet look like laser beams?
• I've been really into sequins lately. As above, this was also kickstarted by Playground Prom, where the theme was "glitter Candyland masquerade." I went shopping for New Year's Eve clothes with a femme friend and bought a gold sequinned tube top, because I am a 16-year-old girl from 1984, apparently.
• Very, very enamored with EmMeMa's lingerie. Also, she's a total sweetheart. You should buy pretty things from her!
What were your November favorites?