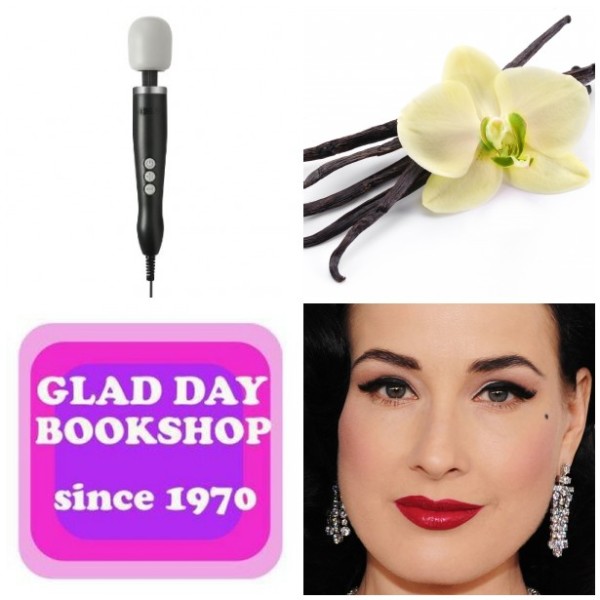 Shout-out to January 2016 for containing the highest number of sexual partners I've ever packed into one month: three. (Some of my friends would tell me that's "not that many," but, well, one step at a time, right?) I told you back in October that I was entering a "Slut Phase" and I was not lyin'. Although, secret confession: lately I've been craving some good ol'-fashioned emotional monogamy. Shhh, don't tell anyone.
But I digress… Here are some of my fave sexy things from the month of January. What were yours?
Sex toys
• Oh my, I loved the Doxy Wand this month. My review is comin' up soon, but here's a preview: rumbly, ergonomic, reliable. The Doxy is to the Hitachi as Bart Simpson is to Dennis the Menace: a cooler, slicker upgrade for the modern era.
• I bought a Fucking Sculptures Pussywillow at a New York sex shop last month. Honestly, it's not my faaaavorite Fucking Sculptures toy I own – that title still belongs firmly to the Double Trouble, like I've said before – but I'm still enjoying it. The bloops are satisfying and the gold glass is absolutely beautiful. (As above: review to come!)
• There's a local leatherwares company here in T.O. called Unicorn Collaborators. They don't have an online shop currently, but I will keep you posted if that ever happens. One of their products is a two-tiered leather bracelet that transforms into highly secure bondage cuffs when you flip one side onto your other wrist. My friend got me one in seafoam blue as a Christmas gift and I am obsessed. Aaaall the bondage adventures in 2016, please.
Fantasy fodder
• A dom-y partner has been helping me explore my DD/lg (Daddy Dom/little girl) kink, with the baby-est of baby steps. He'll call me "princess" and "little one" and tell me what a "good girl" I'm being, and on the one hand, I find it really fucking hot, but on the other hand, it absolutely terrifies me. I constantly feel like I'm on the precipice of triggering icky feelings in myself and wanting to call the whole thing off. But I guess that's just the nature of edgy kinks sometimes, huh?
• I'm not normally a domme at all, but one of my boycrushes/occasional play partners is very subby, and my deep affection for him seems to activate some toppiness in me each time I see him. I spent a night (and a sleepy sunlit morning) with him this month and it filled my head with notions of sitting on cute boys' faces, riding their cocks, holding their wrists down, etc.
• This month I found and re-watched a video of myself having sex that I made when I was, um, too young to be doing such things. It was brutally awkward and badly shot, but it did get me thinking about early sexual experiences and how hot they can be (in fantasy, at least). Maybe it's because of my aforementioned DD/lg kink, and inhabiting that "virginal little girl" mentality, but the freshness of trying new things in bed is really exciting to me.
Sexcetera
• I did so much porn-y stuff this month! First I shot a hella kinky scene for Spit – it was one of my first sexual encounters of 2016, which bodes well for the year, I think! – and then I posed for some cheeky pinup photos in the Glad Day Bookshop for Taylor J. Mace. (There was so little time between those two sessions that I still had a bruise on my ass from Spit when I shot with Taylor. Whoops!) I felt a little shy and awkward during both shoots, but less so than I was expecting to, actually. There are some more porn things on the horizon for me (follow my porn-y alter-ego on Twitter for updates) so it looks like this is A Thing That I Am Doing now!
• This month I reflected a lot on the importance of sexual mentors. I have a friend who's just beginning to explore her kinks, especially spanking, and I've been trying to impart what little wisdom I've amassed on those topics. I also owe so much to the sexual role models in my own life, most of whom are strong, badass women. Here's to sex-positive superheroines!
• After having a bit of a kink disaster mid-month, I found myself craving gentle, vanilla, kinda romantic sex. I was able to make that wish come true later in the month and it was so nice. Much like switching to apple juice after doing a flight of gourmet hoppy beers, sometimes it can be so sweet and healing to go back to basics. And while vanilla sex is considered boring by some, there are times when it is everything I need.
Femme stuff
• I now own the American Apparel Nylon Tricot Figure Skater Dress (phew, what a mouthful) in three different colors/prints: navy, floral, and leopard. Never enough slutty dresses!! This one is cut to be super flattering, making my waist look slimmer while playing up my curvy hips and boobs. I kind of want to buy, like, eight more of them…
• Sometimes my self-care practice manifests in very femme ways. This month, whenever I was stressed out or sad, it seemed all I wanted to do was pincurl my hair. I do it by curling small sections of hair with a curling iron and then pinning the still-coiled curls to my head with bobby pins until they've completely cooled. I find this method less time-consuming and frizz-inducing than the traditional "wet-set" method. There's nothin' quite like a bouncy head of hair to put a saucy spring in your step.
• Caitlin showed me this video of Dita von Teese applying lipstick, and it made me want to invest in a decent lipliner and wear bright lipstick every single day. Maybe that should be a goal of mine for February!
Did you have a sexy January, my loves?