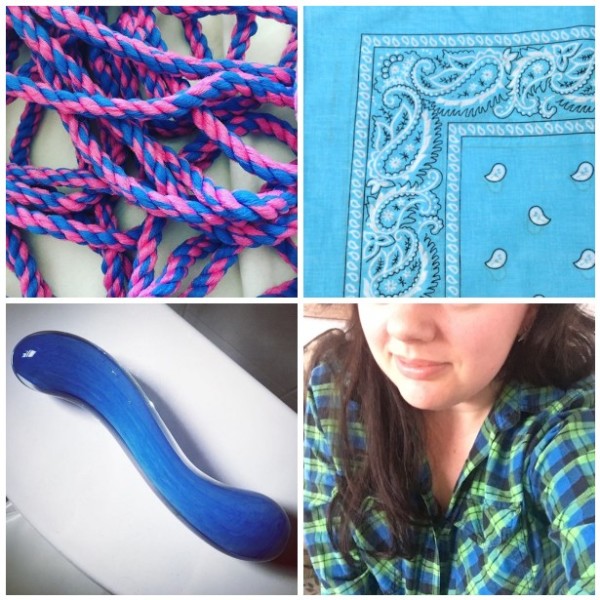 Like last month, this was a tough one for me: my mood disorders were all over the place and I found it difficult to function a lot of the time. Luckily, sex stuff (especially certain types of kink) is helpful to me in that regard. Hooray for sexual healing!
Sex toys
• I'm never getting over the Double Trouble. It provides the most consistent and fulfilling A-spot stimulation of any toy I've ever used. (But, secret confession: it still doesn't hit the spot quite as well as my partner's fingers.)
• While I'm still annoyed with the controls scheme of the Shibari Mini Halo Wand, it nonetheless got a lot of love from me this month. Sometimes my clit craves rumbly vibrations in a shape smaller than the Hitachi but bigger than the Tango, and the Shibari Mini is ideal when that's the mood I'm in.
• SheVibe sent me a green and yellow Godemiche Adam and it's gorgeous. The super-defined coronal ridge doesn't always agree with my vagina (more detail to come in my review), but I'm pretty into the toy's dimensions. Plus it looks badass in my harness.
Fantasy fodder
• So, this is a new thing for me: I've been having fantasies about being collared and owned. Often these aren't even sexual fantasies; I just take comfort sometimes in imagining myself being a dom person's good little pet, sitting at their feet and attending to their needs. (Now I just need an Aslan collar… and a dom-y person to put it on me…)
• Currently my favorite thing is getting fucked – with fingers, a toy, or a dick; the tool itself is inconsequential – while being held down. Early this month, I went on a first date with someone who (at my behest) pounded me with my Eleven while putting steady weight on my upper chest with one hand, and, oh my god. Give me that, always, please.
• My new beau has a thing for hickeys. I used to love these back in high school, because they were tangible proof that I was liked; just spotting a hickey on myself in the mirror was enough to put a big goofy grin on my face. Now I wonder if that affection for hickeys was also a sign of my burgeoning kinks, because there is something about feeling "marked" that is so sexy to me now. My boyf likes to leave a purple mark of ownership in the middle of my chest, and I wear it like a badge of honor.
Sexcetera
• I bought some blue and pink bondage rope and have been learning some rope basics. This is a fun skill that I hope to explore more!
• I'm in a Facebook group for local kinksters and it's the best. It's reminding me of the importance of community, and of being around like-minded people, even just in a digital space. Plus there are a lottttt of hotties on there; holy fuck. Can I smooch all the dom cuties' faces?!
• March 27th was my 4-year blogiversary. I didn't write a celebratory post like I did last year or the year before, but rest assured: I love you all very very much and I'm grateful every day to have this platform and this community. Four years ago, it was my dream to write about sex for people as nerdy and passionate about sexuality as I am, and that wish has come true many times over. Thanks, babes!
Femme stuff
• My boyf gave me one of his flannel button-down shirts to wear. It's soft, and warm, and wonderfully too-big on me. I love wearing clothes and accessories that were given to me by people who care about me, especially at times of emotional distress, because it reminds me that I'm capable of being adored. I spent many a stressed-out day this month snuggled up in my beau's cozy shirt, thrown over a nightgown or a T-shirt or nothing at all.
• I was told to wear gold for the Smut in the 6ix promo shoot, so of course I made a trip to American Apparel immediately. (It is the place to find over-the-top, porn-friendly clothes, don'tcha know.) I bought a ridiculous gold lamé halter bodysuit and it's excellent.
• I recently acquired a light blue handkerchief and have been wearing it on my right wrist, as per the hanky code. Probably very, very few people I encounter even know what this means, but it gives me a private thrill nonetheless.
What were your faves this month, cuties?