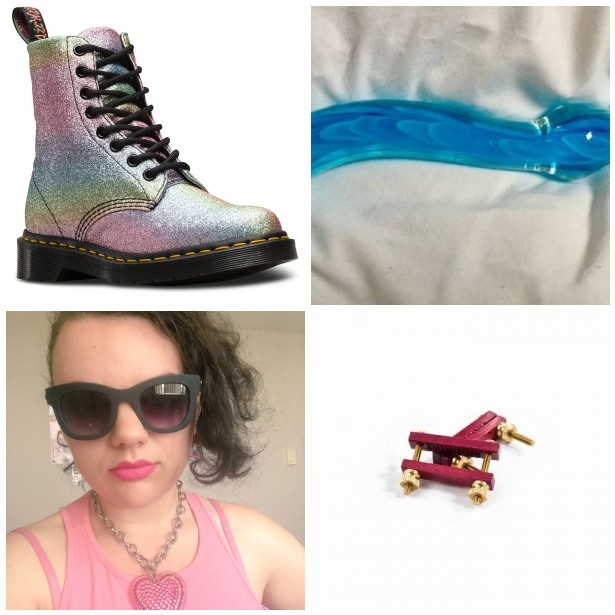 It wasn't my most libidinous month, on account of mental and physical illness, but I managed to squeeze in some good experiences nonetheless! Here were some of my fave things in September…
Sex toys
• The Standard Glass S-Curve has been my favorite dildo all year and this month was no different. It's just… so… good.
• I moved out of my parents' place earlier this month, taking with me all the toys I actually use regularly and leaving behind the rejects and redundancies. I'm glad, however, that one toy I left behind is the original Doxy wand (I took the slicker, rumblier Doxy Die Cast with me to my new place). With a Doxy at each house, I'm guaranteed giant, thrumming orgasms whether I'm at home or staying at my family's for a night. Perfection.
• You might know Weal & Breech for their amazing handmade wooden paddles (and if you don't, you SHOULD), but did you know they also make wooden nipple clamps now? I bought a pair of purpleheart ones this month and they are very pretty (and highly effective).
Fantasy fodder
• Sensory deprivation orgasms (like in this porn scene) are carnally intriguing to me! Now I want some cute domly person to strap me down, blindfold me, put noise-canceling headphones on me, and "torture" me with a wand vibe… I mentioned this to a new beau and he said he's interested in trying it, though I think I'd reeeally need to trust someone before I'd feel comfortable letting them do that to me.
• There is so much filthy Brooklyn Nine-Nine fanfiction out there, y'all. This one is a recent fave. Brief "plot" summary: Jake quizzes Amy on historical facts and police trivia as part of a teasing foreplay game. (Send me your dirty Jake Peralta and/or Rosa Diaz fanfic links + headcanons, please. They nourish my soul.)
• I sexted with a Twitter crush this month, and mid-cyber-fingerbang, he noted that good sex is a blend between pleasure and tension. (See also: TEASING IS GREAT.) Sometimes a good tease turns me on more than the part that actually gets me off, y'know?
Sexcetera
• Some of my work elsewhere this month: I consulted and reported on the Sex Toy Awards story in the new print edition of Glamour. I wrote about gags and muzzles for Stockroom. I was interviewed about ageplay and communication for the Off the Cuffs podcast. Pedro Marques interviewed me about my career. I reviewed one of the new Fun Factory Battery+ vibes for Peepshow. On our podcast, Bex and I talked about platonic kink, exhibitionism, orgasms, and interviewed Sunny Megatron and Ken Melvoin-Berg.
• Orgasm stats: this month I had 24 orgasms, an uncommonly low number for me, due to the aforementioned depression and sickness. Two of them (8.3%) were from a partner. That brings my total for the year up to 247 so far.
Femme stuff
• I ran out of my perennial favorite pink lipstick, Bourjois Pink Pong, so I've been wearing Sugarpill lipstick in Girl Crush a lot instead. I don't like the formula quite as much (it's a bit drying), but the shade is fantastic and I love the glittery, hyperfemme packaging!
• I'm currently haunted by the new rainbow glitter Doc Martens, which don't seem to be available in Canada yet but which I desperately need. (Um, send me an email if you're feeling generous!)
Little things
My new room! Making out with a random guy who recognized me from Instagram at the Horseshoe Tavern (#SlutLyfe). Finding new favorite haunts in my new neighborhood (ya gotta have a café, a bar, a 24-hour grocery store, a bookstore, and a sushi place, at the very least). Listening to the Flop House endlessly. Working on my boundary-setting. Visiting the Condé Nast offices in NYC and having great chats over coffee with my editor at Glamour! Seeing the McElroy brothers do a live show in Brooklyn, making friends with the girl sitting next to me, and drinking a giant, bright green Long Island ice tea-esque cocktail while laughing my ass off. Spanking Bex at their birthday party. Going to the theatre with my mom. Hitting 6,969 Twitter followers. Wine and pizza night with a fellow femme. The woman in front of me at Waiting for Godot who got so offended by how much I was laughing at the play that she left at intermission (!). Catching up with my little brother over coffee. A photoshoot in pink leather on my balcony (oh, just you wait!). Tiny shorts weather.