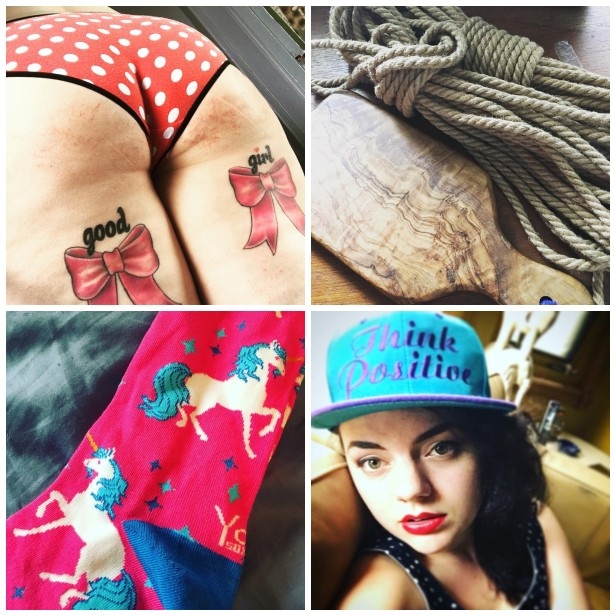 Woof. I had a lot of sex this month. Like, a lot. I have a new partner and he is an insatiable perv comme moi, so, y'know, lots and lots of fucking. I hope this trend continues all summer, because frankly, my vagina deserves it. Here are some of the things I enjoyed most in May…
Sex toys
• Full review coming soon: I am loooving my new-ish Swan Wand. Two rumbly motors in an ergonomically-shaped, hot pink beauty of a toy. Très bien!
• Like I told you on Monday, I'm really digging my Sportsheets under-the-bed restraints lately. Nothin' quite like getting securely immobilized during sex at a moment's notice. *swoon*
• My boyf rescued an old telephone table and we repurposed it as a spanking bench, obviously. I love the resourcefulness of kinksters.
Fantasy fodder
• Here's some exciting news: it's been almost two years since I first realized Daddy Dom/little girl dynamics turn me on, and now I'm dating someone who is into that dynamic too, and I am FEELING SOME WAYS about it. Let's just say that the "fantasy fodder" column of my orgasm spreadsheet is even more rife with instances of "princess" and "little one" and "good girl" than usual lately.
• In exploring kink stuff with my new boyf, I've noticed that a lot of the kink activities I previously thought I didn't like, I actually just didn't like with previous partners. Many of the doms I've banged before have turned out to be assholes – or, in some cases, abusive assholes – which obviously colored my perception of the things we did together. With my new darlin', there are some things I've always thought I'd hate forever, like being choked, facefucked, and slapped across the face, that actually feel fine (and even hot) because I'm doing them with someone I care about and trust. Kink is fascinating!
• As I've told you before, getting fisted is one of my major sexual goals. I've known for a long time that I wanted my First Fister to be a dominant person I feel emotionally connected to, who ideally has small hands, and I finally feel like that person has actually come along. This month, me and my beau went for coffee with my friend Taylor to talk fisting logistics (lofistics?!) since Taylor is a fisting expert of sorts. We learned a lot, and now I can't stop thinking about my bossy boyfriend wearing a black nitrile glove, three knuckles deep inside me, telling me sternly to take a little more for him…
Sexcetera
• Some of my work elsewhere this month: I tried the teddy bear vibrator for Glamour (spoiler alert: I did not like it). I detailed the best and worst parts of being a sex toy reviewer for Daily Xtra. I wrote about realistic dildos, friendships with benefits, and iconic sex toys for Ignite, and powerful vibrators for Peepshow. I had some feelings about my favorite boy band and how they relate to pleasure under patriarchy. On our podcast, Bex and I discussed the porn festival, aftercare, sexual astrology, and kissing, and we interviewed my mom.
• In May, I had 25 orgasms, an uncommonly high (for me) 64% of which were from a partner, with the other 36% being from masturbation. I wasn't too keen on solo sex this month, in part because I'm so hyped on my new partner and in part because I've been intermittently depressed and have therefore lacked the libido and motivation to masturbate as often as I otherwise might.
Femme stuff
• I had so much sex this month that I didn't spend much time wearing clothes, honestly. But MeUndies are still doin' me right. They make a real good backdrop for spanking bruises.
• Gawd, I love Yo Sox. They have a brick-and-mortar shop here in Toronto the very sight of which fills me with glee. Ever wanted to adorn your feet with unicorns, hearts, or whales? I certainly fucking have. And now I can. Eee!
• I've been catching up on The Dry Down and, as always, it's making me want to buy/try new perfume samples. Right now I'm really into dark, smoky, "masculine" scents with notes like sandalwood, balsam, and rum. (État Libre d'Orange's "True Lust" and John Varvatos' self-titled fragrance are two current faves.) I also like layering leather cologne over whatever I wear, for an extra kinky kick.
Little things
Nathan Stocker's vibrato fingers and rock-star hair. The way my beau always smells like sandalwood and the scent lingers on my bed/hair/skin after he leaves. Taking friends lube-shopping. Being productivity-dommed. Cuddling with a chill-as-fuck cat. "Apparently I'm a genius!" Sunny park hangz with my darling. Talking about fisting while sipping mint tea in a crowded café. Snapbacks as a way of accessing my tomboy side. That time a barista gave me a spanking so thorough that he bruised his hand and told me he would think of me every time he tamped a shot of espresso until the bruise healed (hnnng). Receiving a "Still thinking about that BJ" text the morning after a hookup. Playing Scrabble with people who are better than me at Scrabble. Honey liqueur. Nutella donuts. Vegan mac and cheese. Tinder boys with good winks. "Dad Squad" jokes at the Victoria Day fireworks with Max. A punny dinner with porn pals. Vanilla cold brew. Good editors.