On Friday night I cracked open a fortune cookie and it told me my life is becoming more of an adventure… in bed. I didn't give this prediction much thought, because, you know, it came from a fortune cookie.
But then, the next night, I had my first threesome, so maybe the cookie was onto something.
I have a beautiful, blonde, effervescent friend who I've known for almost 10 years. We met through Livejournal and bonded over a shared dorky enthusiasm for musical theatre. As it happened, we both ended up running in the same sex-positive feminist circles as we got older, so we've been reconnecting recently after a long period of mostly being casual-pals-from-afar.
She invited me over for what we thought was going to be a quiet night: dinner, conversation, and "Netflix and chill" in the literal sense. But then we went a little hard on the wine, some clothes came off, and we got into some slutty chats with her rowdy roommate… One thing led to another, and it was decided we should go out. My friend gave me a cute dress and jacket to wear, and we put on some sky-high heels and headed out to a loud underground bar.
She and I got to talking about a dapper dom guy we both know and have both banged, and we agreed (half-jokingly, except completely-seriously) that we should have a three-way with him someday. I am standing on the precipice of having a full-on Slut Phase and my blondie pal had agreed to be my mentor in this endeavor – my Slut Sherpa, or the Dumblewhore to my Ron Sleazy, if you will – and orchestrating a threesome seemed like a great way to kick that off.
When I get tipsy, I get flirty and text-happy, so of course we notified our mutual bang-buddy of our plan, not really expecting him to take us seriously. But, y'know, we're foxy babes with feminine wiles, so he agreed pretty quick. "That's a lot of babe for one dude," he texted, to which I replied: "I think you can handle it."
He met us at the bar and we cabbed back to his place. We talked for a long while, and did that tipsy thing where you all giggle over Facebook photos of your exes, and the boy let me borrow a pair of his socks because my feet were cold (quel gentleman). And then we migrated to the bed and cuddled a bunch. And boobs were (consensually) shoved into faces, and then she started giving him a blowjob while I kissed him… which I wish I'd been more alert/sober for, honestly, because holy shit, it was the logical next step in my blowjob porn obsession. Hnnnggg.
It's often hard for me to remember the order of events in sex with just two people, because bodies blur together and pleasure makes brains into mush… so with three people, obviously this problem is exacerbated. Plus, when cute people are doing pleasurable things to me, my eyes tend to drift closed, making it hard to follow the action. But I do remember a cock in my hand, and mouths on my nipples, and a hand rubbing me through my panties, and fingers in my mouth, and a hand on my throat, and my tits being slapped, and and and…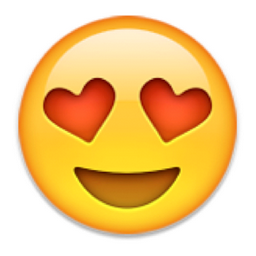 Eventually my beautiful friend took off my panties and started going down on me. She had already displayed her blowjob prowess earlier in the night and now she was proving her cunnilingual skills too. I don't know if you have ever had the experience of knowing someone platonically for a long-ass time and then having sex with them, but… wow. It is eye-opening and strange and fantastic.
If our threesome was a porn scene, what happened next would've been the centrepiece shot: he started fucking her from behind while she continued licking and finger-fucking me. His thrusts reverberated through her body so I could feel their impact too, so it was like he was fucking both of us. Ummm, yes.
I can't remember too clearly but I think we wrapped things up with him coming in her mouth while I dozed beside them. (I am a sleepy person and had had a lot to drink, okay?!) And then we cuddled some more, and checked in with each other about our feeeeelings, and it was niiiice.
Afterwards, the boy asked me, "How many threesomes have you had before?" and I sleepily held up my hand in an "O" shape and said, "This many." And then probably grinned like an idiot.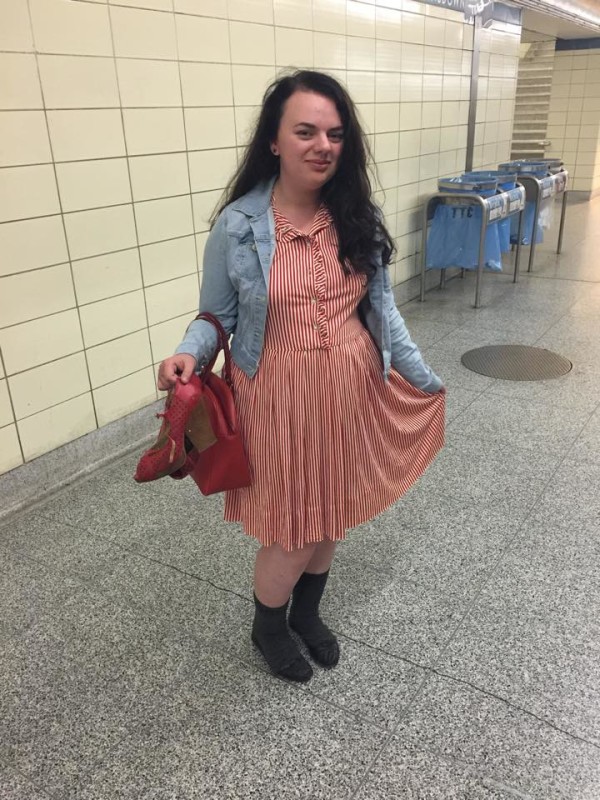 When we got up to put our clothes back on, I found that my friend had neatly folded my underwear and the dress she'd let me borrow, and had put them in a pile for me. (Perfect sex partner etiquette.) We kissed our gentleman-pal goodbye and walked to the subway station together. She took this photo of me on the platform, and it sums up the whole evening pretty well: dishevelled post-sex hair, cute dress and jacket borrowed from her, warm boy-socks borrowed from him, red wedge heels I'd switched out for flats, and a goofy, sleepy smile on my face.
Shortly after this photo was taken, a random guy came up to us and asked us how our night had been. We burst out laughing, and my lovely amiga told him we'd "cemented our friendship" that night. He kept pressing us for details, and I don't know if it was because I was tipsy or tired or just bursting to share the news with someone, but eventually I told him, "We just had a threesome with a guy we've both banged before." The dude's eyes practically fell out of his head, and we just laughed.