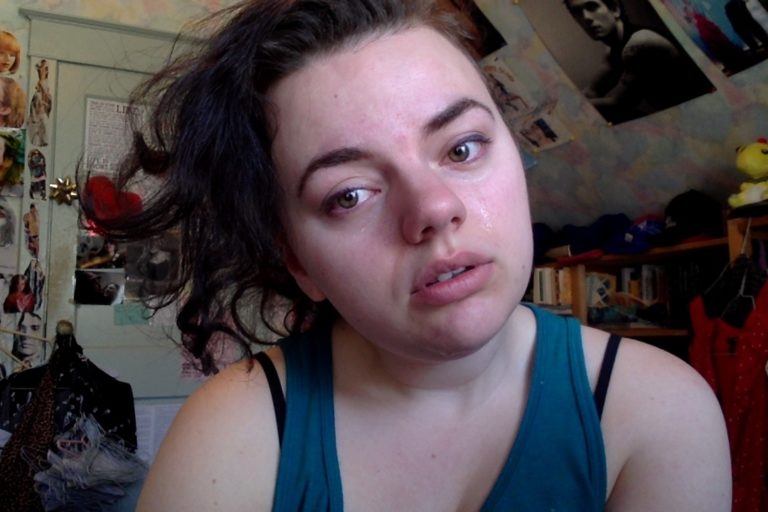 One night, in the throes of a mind-numbing depression, I nuzzle my nose into my boyfriend's chest. He tells me he's feeling out of sorts as well, and sex is off the table tonight. "You are more than welcome to masturbate, though," he adds.
"Nah, I don't want to do that," I reply instantly. I don't mean it as the guilt trip it probably sounds like; it's just that masturbation holds no appeal for me now, while sex still does. Partnered sex, when I'm depressed, is like visiting another world – a world where my selfish problems are distant and unimportant, where everything boils down to connectivity and sensuality, and where my pleasure is useful to someone other than myself. Sex is a mutual joy that brings me out of my self-absorbed misery and into the light of another person's gaze. I can be someone else when I'm having sex, someone who isn't depressed, if just for a little while.
We don't have sex that night, and we don't masturbate, either. We connect physically in other ways – touching, kissing, cuddling – and it feels like almost enough.
In the morning, I hold his hand while we walk dazedly down the street, and I confess I haven't masturbated in over a week. A long time for me. "I think tonight I'm gonna get high and party down with my Hitachi," I say, noticing immediately how much the idea does not appeal to me, while also recognizing how necessary it is to my wellbeing.
"I'll help. I'll sext you," my partner replies, and I want to cry because it is the most selfless thing I have ever heard.
---
Many people report that when they're depressed, their libido goes away. Mine rarely works that way. It goes deeper underground, maybe, or I get distracted from it for a while – but it's always there.
But masturbating while depressed is a task and a half. It's like trying to go ballroom dancing with an anvil chained to your ankle. Sure, you can do it. But it's probably gonna be fucking miserable and you're gonna feel exhausted the whole time.
When I'm depressed – whether due to situational factors, biochemical factors, or both – I often think of masturbation as a medicine I must force-feed myself. It won't be pleasant or fun, in the way masturbation is "supposed" to be. But it'll shift my neurotransmitters just enough, lift my crushing depression just enough that I can get out from under it for a little while.
The entire process may feel unappealing from start to finish – but at the very least, it'll remind me that my body is capable of pleasure. Even if the pleasure is muted. Even if I feel undeserving of any pleasure at all.
---
Sexual fantasies are supposed to be fun. What happens when they aren't anymore?
What happens when the person who fucks you most reliably in your fantasies is also the person who broke your heart? What happens when thinking about them makes you cry, but you can't get off without thinking about them? When your precious, elusive orgasms hinge on replaying memories that make you want to weep and hurt yourself and give up on love forever?
Sometimes you find distraction tactics, workarounds. You mentally replace the object of your affections with a beloved celebrity or fictional character: Jim Halpert, John Watson, Rosa Diaz. You seek out new porn or erotica to repopulate your sexual fantasies with people and situations that don't hurt. You cultivate a crush on a fresh new human, a crush for the sake of crushing.
Other times, though, you wade headlong into your heartbreak. You spritz on the cologne of the person who wrecked your heart, murmur to yourself all the dark hot things they said to you, and try to fuck yourself like they did – in that sweet special way you worry no one will ever fuck you again.
In discussing the ends of relationships, we rarely mention the unique pervy grief of missing the way your lost love fucked you. In losing them, you are also losing that particular flavor of sex you loved so much. Maybe no one else will do those particular things to you ever again – or maybe they will, and it'll just be different; better, even. But sometimes, for the time being, you just have to mourn melancholically for that particular flick of their wrist, that one thing they could do with their tongue, those magnificent words they knew how to whisper at the always-perfect moment.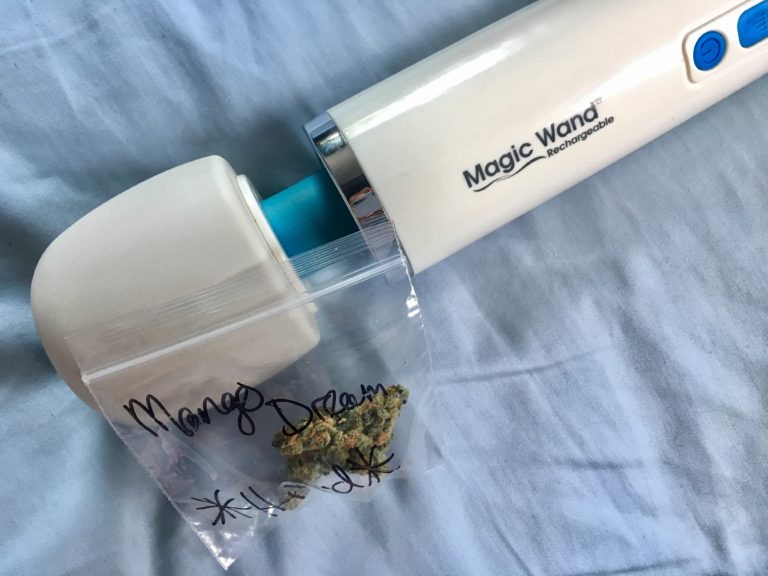 Two tools I return to in my saddest masturbation sessions, time and time again, are the Magic Wand Rechargeable and marijuana.
Weed can make me horny when seemingly nothing else can. It lifts the pressure of my sadness slightly, just enough to let arousal flow in. I might still be aware of the heartbreaks weighing on me, but they seem less impactful – like how weed makes physical pain feel like pleasure to me. I am aware that it hurts but, absurdly and blessedly, I do not mind.
The Magic Wand, on the other hand, gives me the distance from my genitals that I seem to need when I'm depressed. When the very idea of sticking my hand into my panties feels distasteful, when even contemplating my own heat and wetness and skin feels unsettlingly intimate, a wand vibe can save the day. I just turn it on and press it against myself through layers of fabric, and it does what it's made to do – no nauseating touchy-feeliness required.
Sometimes my third go-to when cryin' and jerkin' it is reliable porn – reliable in the sense that it almost always turns me on and helps me get off. For me, this category is basically limited to Heather Harmon's POV blowjob videos. But even Heather, in all her dependable beauty and skill, sometimes makes me sad when I'm sad already. I contemplate the rumors that she divorced her husband, which would prove once and for all that even terrific sex full of care and love cannot always save a relationship. Or sometimes I just stare jealously at Heather and Jim's sexual rapport, profoundly bitter I've never felt as connected to anything as Heather seems to feel to her husband's dick.
Look, porn is great, but sometimes I just need to turn off my brain and focus on the vibrator thrumming against me. Orgasms don't have to be about anything. Sometimes they can just happen, unmoored and isolated from any mental stimulus. Sometimes that's the exact type of orgasm I need, or the only kind of which I'm capable.
---
Though my partner's explicitly offered to help me get off by sexting me, I'm too anxious to ask directly – knowing he's not in the sexy headspace that could make sexting a fun thing for us rather than just for me. I ask for it in a way that feels safe. "If you felt inclined to tell me some hott things to help me in my quest, I would be amenable to that," I hem and haw.
"Has your quest already begun?" he asks, and we're off to the races.
He guides me through a sext-a-thon that feels more meditative than sexy – like when a yoga teacher asks you to visualize a waterfall, an ocean, a bold white light spreading through your body from the inside out. "Imagine me putting my hands on you, kissing you," he texts. He doesn't need to describe how he would kiss me if he was here; I already know. "I'm going to slide my hand between your legs, over your panties. I can feel you getting wet already." He's right. I am.
In sext-land, he chokes me, fucks my face, pushes his fingers inside me. I can see it, feel it, and it's some semblance of something I deeply need. Hot tears drift down my cheeks and dry on my lips as I pant and moan. He is so sweet and selfless to type these words of salacious encouragement into his phone for me, when I know he doesn't feel like it. He understands that this sexual interaction is more than sexual to me; it's life-affirming, mood-lifting, intimacy-building. It's a "sexual favor" in the sense that it's sexual and a favor, but it's so much more than that.
"I know you're going to come for me like a good girl," he writes. "Turn that toy up higher."
I crank the wand. I'm surprised at how close I am, in almost no time at all. For a week, arousal's felt like a jewel in a locked treasure chest – and here he is, handing me the goddamn key.
"I'm so close, daddy," I tell him.
"I want you to come for me, princess," he writes back.
I do. It's delicious and deep. I feel something shift in my brain – something small but important.
"Mm, I did it, daddy. That was really nice," I type. "Thank you."
"Good girl," he responds, and for the first time in days, I feel like I might actually be a good girl. A girl whose brain isn't swimming in depression. A girl who believes in herself, and can accomplish things. A girl whose daddy wants her to be happy, and who can therefore soldier on.
I set my Hitachi down, put my phone away, wipe off the tears half-dried on my face, curl up contentedly, and go to sleep. Maybe I'll be okay after all.