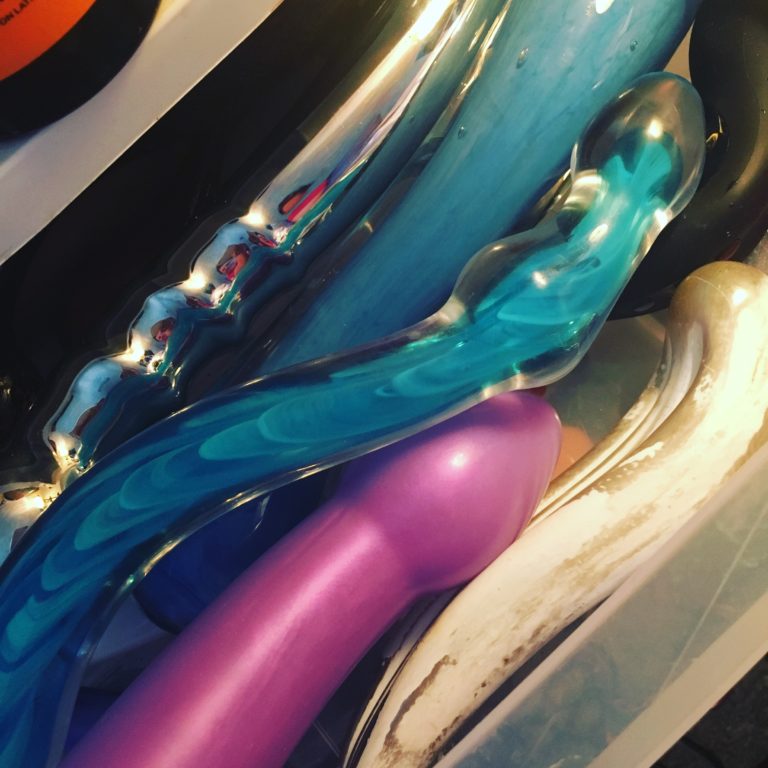 • I love this comic about how toxic masculinity fucks up your sex life. "Sex is not something you do to somebody, it's something you do with somebody." Amen!
• This article is about femme fisting covens and you don't need any other reason why you should run-don't-walk to read it.
• Apparently T-rexes may have engaged in foreplay. This article says that the T-rex was therefore "a sensitive lover," but I don't think prioritizing foreplay is necessarily something you do only for your partner's sake: it makes sex better for you, too!
• After the above article came out, Tracy Moore wrote about how to fuck like a T-rex. Amazing.
• This article about bionic penises is fascinating. C. Brian Smith is one of my favorite sex journalists, and he shows why here: he went above and beyond reporting on the scientific/mechanical story of penis reconstruction and found, in addition, some conflict between his two main subjects (apparently they hate each other). What a story!
• Here's an interesting article on why rapists rape, and how our cultural ideas about rapists' motivations have shifted over time.
• Consistently good sex with a partner takes consistent work, practice, and conflict resolution, according to a new study. So next time you have bad sex with a new partner, don't think of it as proof you're not meant to be with them – maybe view it as an opportunity for growth and improvement instead!
• I found it cathartic to read women's responses to straight-dude Tinder clichés. God, why are most straight men on dating apps so dreadfully boring?!
• Is Tinder the new meet-cute?
• And while we're talking about Tinder… Here's why people are getting bored of it and what might come next.
• Okay, one more Tinder thing… I loved this essay about dating-app fatigue, particularly this revelation: "Just knowing that the apps exist, even if you don't use them, creates the sense that there's an ocean of easily-accessible singles that you can dip a ladle into whenever you want… the apps' actual function is less important than what they signify as a totem: A pocket full of maybe that you can carry around to ward off despair." YUUUP.
• A very sweet and smart reader of mine wrote this response to my post about the orgasm gap. It explores these issues from a (cis-het) male perspective: the frustration of not being able to get a female partner off, and some ways to center female pleasure without being overly pressure-y or goal-oriented. I wish more men had this attitude!
• The great Alana Massey wrote about how the internet never forgets anything. Here she is, mirroring my own childhood back at me: "A born adventurer and a blossoming pervert, I regularly pretended that I was a hot and bothered 19-year-old, and lured men away from group chat rooms to private chats where my digital captive and I would proceed to have cyber sex…"
• On porn sites and encryption. I'm not as savvy as I would like to be about this kind of stuff, so this article was illuminating for me.
• Many people have written about why you should watch porn with your partner; here's the case for why you shouldn't. This made me think long and hard (har har) about my own porn preferences and how a partner might interpret them.
• I know why men announce when they're about to come, but this article on it was an amusing read nonetheless. "So we agree this is a very useful behavior in men and women, gay and straight. Cumming must be announced, and should be announced. Declared, even."
• Two of my current favorite writers, Helena Fitzgerald and Alana Hope Levinson, both wrote about the "boyfriend shirt" and why we love/want/crave 'em. (I am guilty of this. And admittedly not just with boyfriends.)
• Catcalling and sexual harassment are normalized in our culture and nobody knows how to "properly" react to them. Ugh. Fuck the patriarchy!
• Nicole Cliffe wrote fanfiction about what life would be like if Benedict Cumberbatch was her lover, and it's divinely funny. "I had decided to play Irene Adler, of course." "Such a brave choice, considering you are not particularly attractive, and have never acted nor shown any aptitude for it."
• Ever wonder how the concept of a fetish came into being? Here's a psychological history of the fetish. Particularly interesting to me: sexually progressive physician Havelock Ellis was apparently an impotent virgin until the age of 60, when he saw a woman peeing and realized he had urolagnia (a urine fetish). Brains are so cool!
• What should you do with a condom after sex? "You can also tie the condom off before tossing it to work on your career as a balloon animal artist," Tracy Moore reports. (God, I love her.)
• The science is in: what makes a relationship last is good talkin' and good fuckin'. This does not surprise me, but it sure is affirming!
• Timely: last month I got fucked with a penis extender and this month there's an article on MEL about them. I, for one, always celebrate there being more options in the "toys for penises" category. I can also vouch for the fact that you don't have to be insecure or have a small penis to derive some enjoyment from using these; the partner of mine who wanted to try an extender with me is quite well-endowed as is, and just wanted to explore a fantasy and try something new. Yay, sexual freedom!