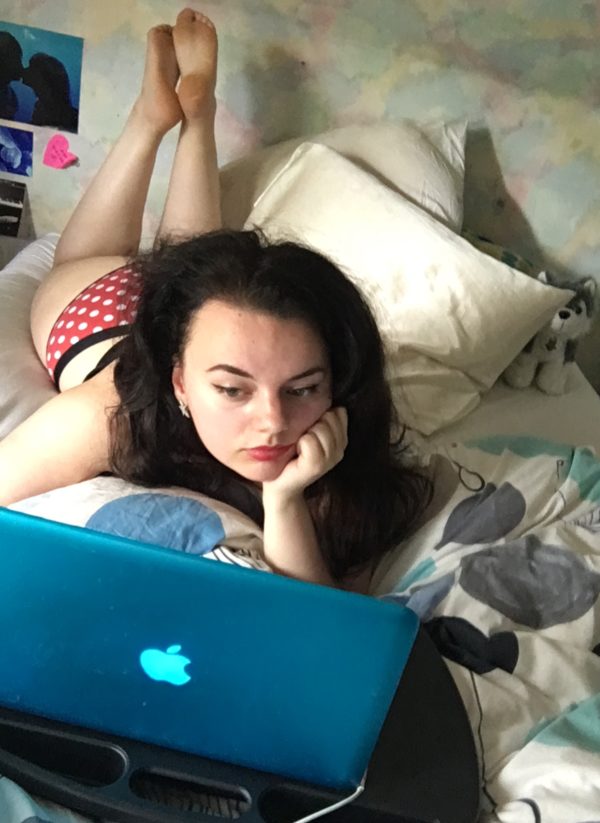 I was creepin' through Gala Darling's blog recently, as I do more often than I care to admit, when I rediscovered a post where she talked about her writing process and the motivation behind her lifelong writing habit. I thought I'd pilfer the questions and answer them on my blog, too. I've done something similar before, but that was almost two years ago, and the creative process is always shifting and changing – so here are some reflections on my #WriterLyfe!
What am I working on?
Post ideas for this blog are always swirling around in my head. Here are some concepts I'm ponderin' lately: a part 2 to my blowjob lipsticks post, a meditation on how and why I started loving giving head all of a sudden this year, a detailed recount of the genesis of my friendship with Bex, and a series about the sexual proclivities of fictional characters.
I'm also always chipping away at the ever-growing backlog of toys I'm supposed to review. Currently my "to test out" basket contains a leather collar, five vibes, two semi-realistic dildos, and a butt plug. I find product reviews more labor- and time-intensive than the other kinds of writing I do, but I promise I will catch up eventually!
Outside of this blog, I have a couple writing deadlines coming up. A cool online feminist publication green-lit my pitch about dating feminist men, so I'm working on that. And I've recently been hired by an online sex shop to write some informational posts for their blog, so I've got those on the go. Bizzy bee!
How does my writing differ from others in its genre?
A lot of sex blogs are either very sexy or very informational, and while I respect those approaches immensely, I don't have much interest in (or talent at) writing about sex in either of those ways. My approach to sex writing – and to sex itself, actually – is goofy, relaxed, exploratory and fun. I write about whatever sexual topics are authentically capturing my attention at the moment, whether that's threesome-planning, ethical fetishism, sexy fanfiction or dildo-based makeup looks. My favorite sex writing – the type of stuff you'd see on Nerve or in the portfolios of people like Grant Stoddard and Sinclair Sexsmith – combines sexiness with psychological insight, cultural critique, and the writer's own flaws. That's ultimately what I aspire to do with my work.
Though this is "technically" a sex blog, I've also never been married to the idea of writing exclusively about sex. I basically write about anything that informs my sexuality and/or is informed by it, which can range from fashion and beauty to relationships to mental health. I think I would get bored and feel trapped if I forced myself to only write about things that a sex blogger "should" write about, so I let myself branch out as much as I want and it's kept me very happy.
I asked my Twitter followers what makes my writing different from that of other sex bloggers, and some of the words that came back to me were: "honest, relatable, self-deprecating, knows and trusts her audience, grounded, unafraid, funny." Well, color me flattered!
Why do I write?
I've always, always written. I have messily-scrawled journals dating back to the mid-nineties, when I was but a wee little masturbator. My parents have both written professionally at various times in their careers, so it runs in my family, and they always encouraged me to document my life as I was growing up.
Being an anxious person prone to obsessiveness, I've always found writing a helpful tool in processing, managing, and deconstructing my feelings. If something's upsetting me or confusing me, chances are excellent that writing through it will help. The extent to which I am sane and balanced (which, admittedly, often isn't much) is made possible for me by daily writing.
There's also a "chicken or the egg" element to my pursuit of the writing life: I've always been good at it, and received praise for it, which makes me want to do it more. (Or is it the other way around?) My English-class grades have been stellar my whole life and I've been told by many, many teachers that I shouldn't squander this aptitude. So I don't.
Finally: a lot of what I write, I write because I wish I'd been able to read something like it when I was younger. Most of my writerly heroes (like Gala Darling, Alexandra Franzen and Alana Massey) are my heroes not just because they're excellent writers, but also because their writing woke me up in some way, taught me something about myself, encouraged greater bravery or positivity or adventure in me. There is always the hope with writing – especially when writing about something emotionally charged like sex – that your readers will come away improved or emboldened in some sense.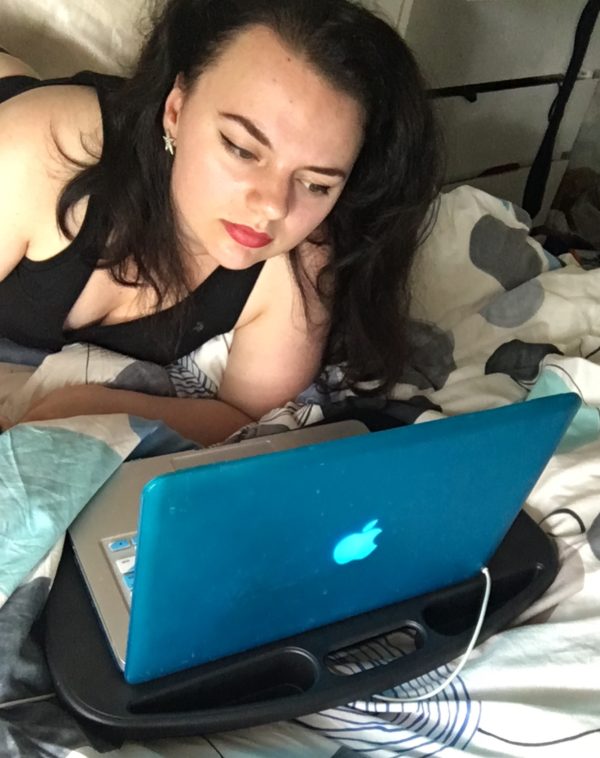 How do I write?
As much as I would like to be one of those crack-of-dawn, early-start writers, I can't: my dayjob starts at 6AM so I spend most of my mornings in a grey office uptown, doing customer service while listening to podcasts to pass the time. However, the best thing about this job is that my shifts end by noon, so that the entire remainder of the day stretches deliciously ahead of me. If I'm not too burned out after work, I'll grab my laptop, notebook and headphones, and trot off to a nearby coffee shop. Cafés are my favorite place to write; the caffeine and commotion keep my creativity buzzing along, and I find it motivating to go somewhere with the explicit intention of getting work done there.
I work at home sometimes, too. I have a lap desk, a real desk, and a kitchen table with a beautiful view.
While I'm writing, I like to munch carrots and hummus, or a muffin, or edamame. I like to sip a soy latte, or genmaicha, or ginger ale. I have to be able to stare out a window aimlessly while I think, and maybe throw an occasional tantrum when the words are flowing thick and slow. I like to listen to non-distracting instrumental music while I write. Sometimes I wear lipstick. Sometimes I like to have a friend with me, working on their own stuff, so we can bounce ideas off each other. ("If I just say the word 'mons,' do you think people will know what I mean?" "Do Americans know who Jian Ghomeshi is?" "What are the sociopolitical implications of throat-fucking?!")
For the past 5 years, I've done all my journalism and blogging on my beloved mid-2011 MacBook Pro (pictured in the photos above), but I just upgraded to a sleek new MacBook Air (ah, sweet mystery of life, at last I've found you!). I write blog posts in WordPress, and everything else in Google Drive; both of these platforms auto-save everything constantly so I don't have to worry about losing my work accidentally. If I get an idea while I'm out and about, I type it into my phone's Notes app. When I'm working on a big piece of journalism, like a feature story with tons of interviews and web sources, I synthesize all that stuff in Evernote. All my analog journaling is done in large hardcover ruled Moleskine notebooks with Pilot Precise V7 pens (I am a writing-supplies snob!).
How do I get past writer's block?
I'm obsessed with sexuality, kink, and relationships. Sometimes it feels like I literally never stop thinking about, talking about, and writing about those topics – except when I'm asleep! So, for me, coming up with ideas is just a matter of recording my weird thoughts and feelings as they show up, so I'll have something to refer to later when I'm writing a post.
If I'm feeling uninspired, sometimes I'll go out with a friend and catch up with them on what's afoot in our respective sex lives. Talking through our issues and stories, and seeing what patterns and problems come up again and again, can kickstart my creativity into gear.
It's also helpful to keep an eye on Twitter, Reddit, the news, and so on. Sex is inextricably hooked into culture at large, and viewing the events of the world through my sex-nerd lens often gives me ideas.
What's your writing process like? What are your must-have tricks and tools? What do you write about when you're not sure what to write about?