It's no secret that I have a thing for blowjob porn. It's been a consistent favorite genre of mine for the past five years or so. While I occasionally scroll through other categories on porn sites, I've learned by now that if I want a quick and certain orgasm, I should load up a blowjob scene.
For a long time, this didn't make sense to me. I wasn't particularly partial to giving BJs in real life, so I couldn't figure out why I was so drawn to them in porn. But then I found partners whose dicks were compatible with my mouth, got over some of my old BJ anxieties, and realized I actually love giving head – when the dynamic is right and I'm in the right headspace, so to speak.
And guess what? That realization made me even more obsessed with BJ porn. So I've partnered with Pornspot to show you five of my favorite blowjob scenes from their site!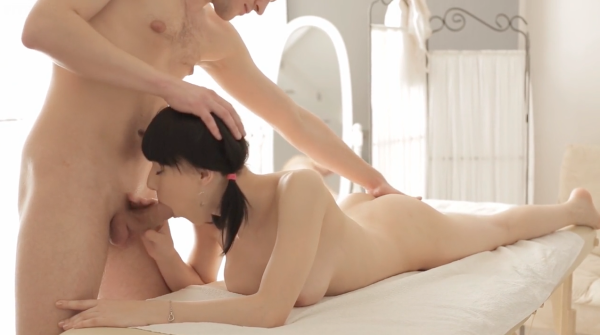 "Sexy Brunette Gets Fucked During Her Massage" is a nice relaxing clip that depicts what is one of my recurring fantasies: a "happy ending" massage. But because this is mainstream porn, and mainstream porn rarely centers female pleasure, there's a blowjob too. (Good thing I like those, huh?)
I'd be more into this if there was more dialogue. The reason masseuse-sex is my fantasy jam is that it involves someone who's otherwise incredibly professional but just can't resist the carnal pull of their client – so it would have amped up my arousal to have a little more reticence and uncertainty from the masseuse, at least at first. But, y'know… he's got a great dick, so, s'all good.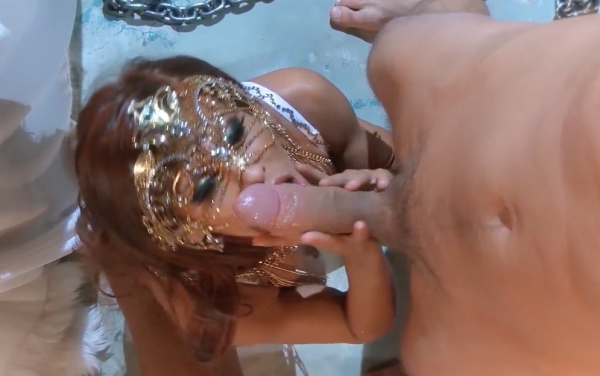 "Slave Fucks His Queen in the Ass and Makes Her Cum" doesn't sound like a BJ scene, but indeed, the aforementioned Queen blows her slave for a good long while in this clip. I found this scene interesting because it subverted the typical hetero-patriarchal idea that a blowjob is a subservient act of service a woman performs for a man. That's the dynamic I prefer to inhabit (consensually!) when going down on someone, but it's not the only option out there, obviously! And that should be reflected more often in porn.
I like that the blowjob in this scene feels like something the "Queen" genuinely wants to do. After all, she's in power; she gets to call the shots. And indeed, at one point she says, "I need this dick. I want it." It felt like she was tasting him for her own enjoyment, like a fine hors d'oeuvre at a royal soirée.
"Busting a Nut in Her Mouth For Her to Swallow"… Man, what a mouthful of a title. (Heyoooo!) This video seems to have been shot by an amateur couple on their old-school webcam, and it's cute as hell. The lady has fantastic hair that looks fun to pull. There are times when she seems bored or distracted, but to be fair, I was pretty distracted too, by the galloping horse on the wall behind her, so I can't even talk. And she finishes the beej with aplomb.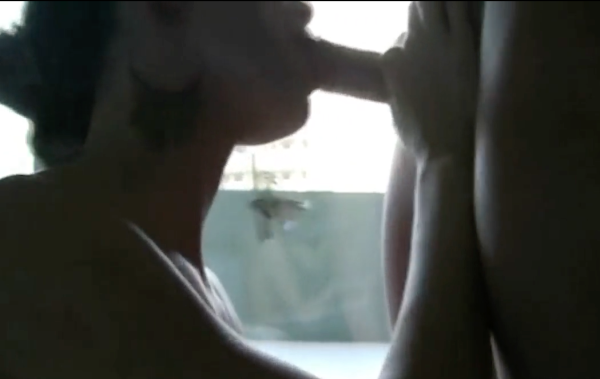 "Jenni Lee Getting a Surprise Cumshot in Mouth During Her Blowjob" is amateurishly shot and badly lit, but it's still one of the hottest clips in this list, IMO. The giver seems genuinely enthusiastic about what she's doing, and the receiver actually makes noise – hooray!
Enthusiasm is the main thing that turns me on in any kind of porn, but especially porn involving oral sex. It's hot to be that enthused about another person's genitals, and it's hot to get head from someone who is that enthused. I feel like this clip encapsulates that hotness!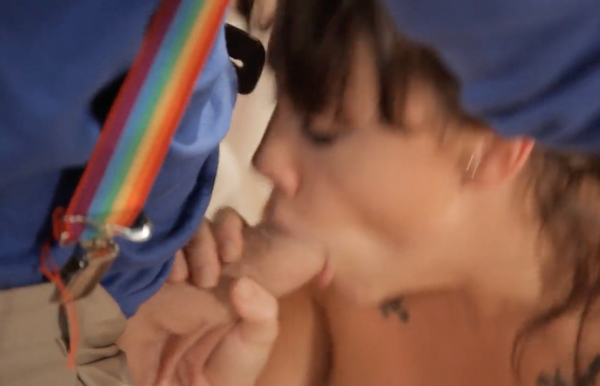 "Mork Eats Ass and Gets a Blowjob for the First Time" is, indeed, what it sounds like: a scene from a Mork and Mindy porn parody. It features Evan Stone as Mork, and he does an admirable job of channelling Robin Williams' zany, iconic character while fucking the shit out of his lady-friend.
The highlight of the blowjob is Mork singing operatic notes in pleasure, and then making Mindy sing too. So adorable! And, naturally, he keeps his curly wig and rainbow suspenders on for the whole damn scene.
What are your favorite blowjob clips? (No, seriously, tell me. I need BJ porn to survive.)
Thanks to Pornspot for sponsoring this post!